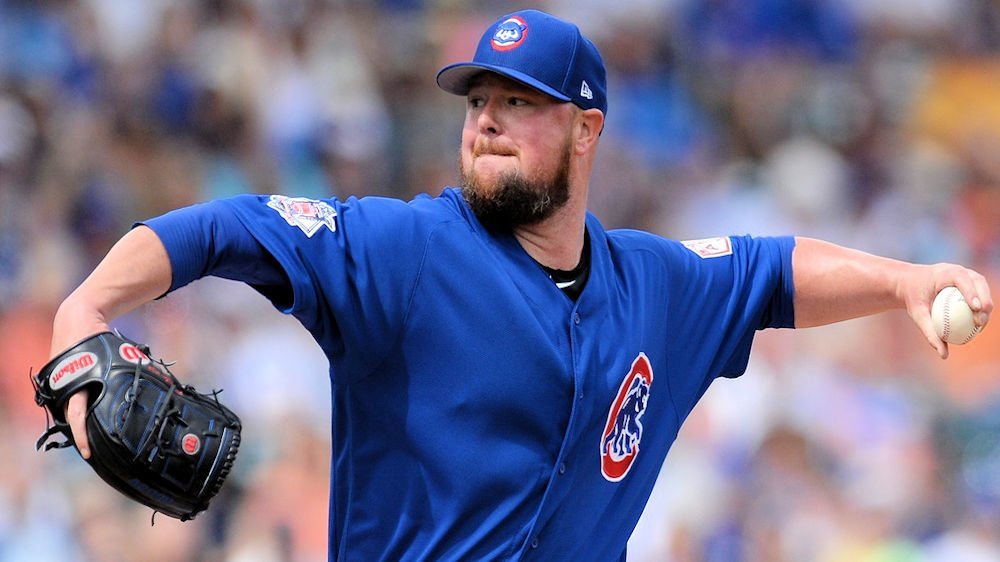 | | |
| --- | --- |
| Cubs-Braves Preview, Edwards with illegal motion, NL Central standings, and MLB news | |
---
Next Game: Today, 6:20 PM (CDT), Cubs @ Braves. Jon Lester (1-0, 3.00 ERA) vs RHP Julio Teheran (0-1, 5.40 ERA)
Cubs' Home Opener: 5 Days. April 8 vs. Pirates: Game time: 1:20 PM Central. (ABC-7, MLB.TV)
Wednesday's Game Preview: Jon Lester managed to get the Cubs their only win of the season on Opening Day, with six solid innings of work, allowing two runs on four hits with three strikeouts and a pair of walks. In his nine career starts against Atlanta, Big Jon has gone 6-2 with a 2.47 ERA.
Righty, Julio Teheran, pitched Opening Day for the Braves, and while he took the loss, his four-seam fastball velocity was averaging 91.3 mph, which would have ranked as the third fastest average speed against all of his starts last season. David Bote is the only Cub who's never faced Teheran, but Teheran has otherwise had success with the majority of the Cubs' roster. In 65 team at-bats against him, the Cubs have managed only two homers and six RBI, with a team batting average of only .167. Kyle Schwarber seems to have Teheran's number though, as he's managed a .429 batting average against him in seven at-bats.
CUBS NEWS AND NOTES:
Off the deep end: My colleague, Dan Marich, seems to think when the Cubs play poorly, I resemble the young woman in the video below. #1: I'm not quite that bad. #2: I don't have nearly that much hair (quite possibly due to the abrupt end of last season).
MOOD @CUBS pic.twitter.com/pNnBUowgYn

— Nathan Marzion (@natemar3i0n) April 2, 2019
Joe Maddon: (on Monday's loss to Atlanta): "I know if it was their home opener, but we did not have to cooperate that much. It was just a really poorly played game on our part."
Carl Edwards, Jr.: I figured it was a matter of time. MLB has handed down a ruling to Edwards and the Cubs. They were informed his "toe tap" pause was deemed illegal.
Edwards wasn't overly upset but said, "It would have been nice if they would have told me in spring training." Maddon said he was told at the very end of spring training and then it came up the other day in Texas. So, he's back to his old delivery.
Ugly: The Cubs loss on Monday night marked the first time since July 29, 1965, that they were shutout while committing six or more errors. For the record, those errors accounted for six unearned runs out of the eight that Atlanta scored. The last 9-inning Cub game with six errors was 6/14/1982: 3 by Sandberg, two by Bowa, one by Bump Wills.
David Bote: (On Monday's loss) "Only on April Fools' does a game like that happen." Bote committed 1 of the Cubs' 6 errors in the game (throwing error).
Kyle Hendricks: "We see exactly where we're at, things we got to clean up. We (have) to get back to the fundamentals: Good pitches, get ahead of guys, put 'em away and play good defense. At the end of the day, we know where our focus needs to be and we'll get there. It's Game 4."
Len Kasper: One rule of baseball broadcasting to which I will ALWAYS adhere whether anyone else likes it or not — no matter the score we will always have fun. Always. It's our mantra."
Cub Birthdays: Birthday wishes (yesterday) to ex-Cubs Hisanori Takahashi (44), Jon Lieber (49), Al Nipper (60), Héctor Cruz (66), and posthumously, Dick Radatz (82), Art Ceccarelli (89), Joe Stanley (138), and Charles "Jack" Harper (141).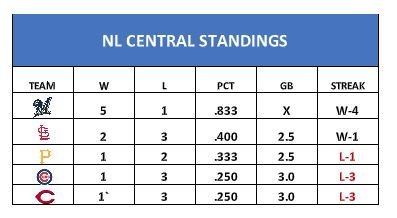 NL CENTRAL SCHEDULE (March 31 – April 6, 2019)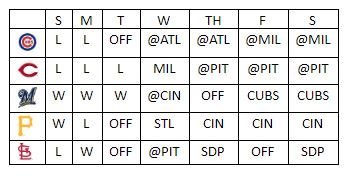 TUESDAY'S SCOREBOARD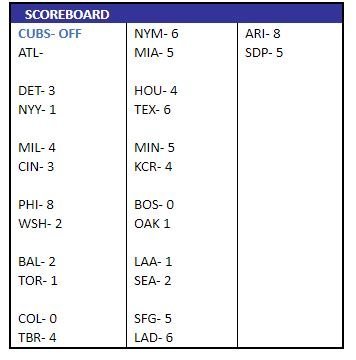 MLB News:
Braves: Ronald Acuna, Jr. and the Braves have reached a very team-friendly, 8-year, $100M extension deal. In a best-case scenario, the Braves will have Acuna for ten years at a max price of $124M.
Dodgers: The Dodgers have agreed to a minor league deal with RHP Zach McAllister. After spending some time with Dodgers' minor league affiliate last year, McAllister was signed to a big-league deal by the Rangers but was cut loose at the end of Spring Training.
Giants: Sf has acquired outfielder, Kevin Pillar from the Toronto in exchange for righty, Derek Law, infielder, Alen Hanson and righty, Juan De Paula.
Orioles: Orioles' manager and former Cubs' bench coach, Brandon Hyde, is taking fire from the fans over lifting starter, David Hess from Monday's game. Hess was 6-1/3 innings into a no-hitter, but fans fail to realize that he was working on three days rest, following a 42-pitch relief outing on Thursday.
Rangers : Texas has struck a deal to swap righties with Mariners. Seattle gets Connor Sadzeck, while Grant Anderson gets shipped to Arlington.
Reds: The Reds have announced that their top pitching prospect, Hunter Greene will need to undergo Tommy John surgery to repair his elbow.
Rockies: Manager, Bud Black, says that the finger injury suffered by former Cub, Daniel Murphy will have him sidelined for at least a month.