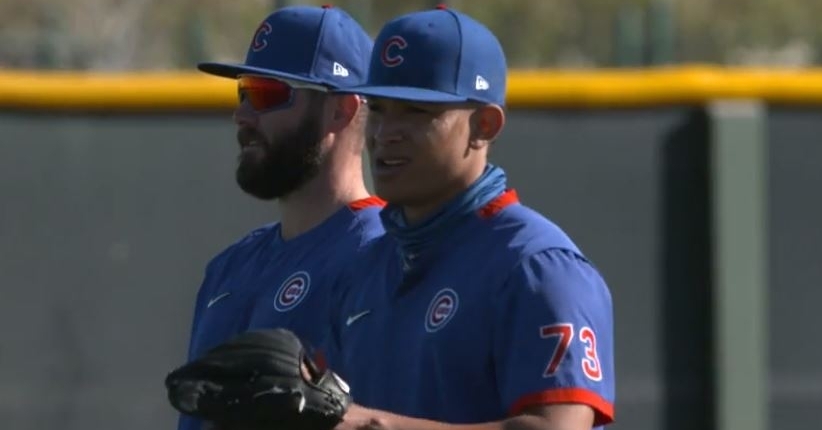 | | |
| --- | --- |
| Cubs News and Notes: Arrieta mentoring Alzolay, Jenkins gets 2 shots, El Mago falls, more | |
---
| | | |
| --- | --- | --- |
| Monday, February 22, 2021, 7:54 AM | | |
Hello, Cubs fans out there! Hope everyone is having a great day.
Check out the latest news, photos, and tidbits from spring training with the Cubbies with our latest edition of Cubs News and Notes.
We will try to have this feature a few times a week, so everyone gets a summary of what is happening regularly at Cubs camp.
Let's get right to the Cubs tidbits!
Check out a few photos showing Jake Arrieta as a mentor to young pitcher Adbert Alzolay during the early stages of spring training.
During Sunday's workout, @adbert29 is absorbing as much as he can from @JArrieta34 #SpringTraining pic.twitter.com/NZrN2uUsHI

— Scott Changnon (@ScottyChags) February 21, 2021
Arrieta talks about Alzolay during his media session this past weekend:
"He's a guy who, from the get-go, I can tell that he wants it," Jake Arrieta said of Adbert Alzolay.

Story on how Arrieta can influence Alzolay and other young Cubs pitchers, by @maddie_m_lee: https://t.co/igkYo3emKh pic.twitter.com/7QSi5Uk40j

— Cubs Talk (@NBCSCubs) February 21, 2021
Check out Arrieta back in 2014 and now in 2017. Doesn't look that different to me besides the jersey colors and a little more facial hair.
Just for fun, Jake Arrieta in his first Spring Training with the Cubs back in 2014 and Jake Arrieta at Spring Training 2021 pic.twitter.com/hRl7jRWbxU

— Cubs Insider (@realcubsinsider) February 21, 2021
Hall of Famer Fergie Jenkins announced on social media that he got his second shot to prevent him from getting COVID-19.
Great news as Jenkins is truly a true Cubs ambassador for all ages and a great follow on Twitter!
2 for 2. Grab some bench COVID! pic.twitter.com/GYsMXMHMzR

— Fergie Jenkins (@fergieajenkins) February 21, 2021
The second base issue has been on the forefront of many Cubs fans this offseason as youngster Nico Hoerner will likely get a ton of reps without playing many games in the minors.
However, according to observers Sunday, Hoerner was raking, showing off some added power in his bat. Great sign for Nico and Cubs fans!
Nico Hoerner showing off some impressive pop during BP this morning.

He nearly hit one to the highway, off the top of the net by that pole on the far right. Next round, he hit one over the net and then cleared the scoreboard in left-center. pic.twitter.com/hKOz6PRngh

— Tony Andracki (@TonyAndracki23) February 21, 2021
New Cubs announcer 'Boog' Scambi is over pitchers hitting in the National League.
I used to be a very old-school traditionalist on this issue, but I am warming up to the idea to watch more hitters hit and just let the pitchers throw. It seems like every year more pitchers are complaining about having to hit.
"I don't want to watch pitcher's hit. Not anymore. I'm good."

Don't miss this week's episode of Unwritten Rules with @BoogSciambi!

?? >> https://t.co/77W9dfSSAW pic.twitter.com/hVtSFiXsUG

— Iowa Cubs (@IowaCubs) February 20, 2021
Javy Baez appeared to fall during Sunday's practice session while chasing a baseball in the gap as J-Hey looked on and smiled.
Fortunately for the Cubs, 'El Mago' was fine, and everyone had a good laugh about it. Great pics of the scene from Tony Andracki from Marquee Sports Network.
A story in 4 parts:

Javy chases ball in the gap during BP
Javy falls
Javy waves that he's OK
Heyward laughs at Javy pic.twitter.com/29EMf7Yvmg

— Tony Andracki (@TonyAndracki23) February 21, 2021
Cubs third baseman Kris Bryant AKA Kyler's Dad was spotted on Sunday:
Spotted at #SpringTraining: Kyler's dad pic.twitter.com/VAc3FGSFjN

— Chicago Cubs (@Cubs) February 22, 2021
The Cubs are doing their 'Cubs UNconventional' event for the next few days with a lot of giveaways and promotions.
Check out a few printable Cubs coloring pics for the youngsters. OK, adults can do it too. :)
Have some fun with our kids coloring books!

???: https://t.co/J2h0YJNVlq
???: https://t.co/ohu5DBcO3K
???: https://t.co/FbTjaRpeDf#CubTogether pic.twitter.com/G0CcZ9q3mk

— Marquee Sports Network (@WatchMarquee) February 21, 2021
Cuteness alert, as a few young Cubs fan, call a play where 'El Mago' steals home as part of the 'Cubs Unconventional' event.
Adorable kids talking about Javy Baez stealing home, courtesy of the Marquee Sports Network.
Javy stealing home is better with kids on the call!#CubTogether pic.twitter.com/GiGyI88y2V

— Marquee Sports Network (@WatchMarquee) February 21, 2021
More cutness as a few kids ask the tough questions during a 'Kids only Press conference' to several Cubs players including catcher Willson Contreras:
The moment we've all been waiting for! https://t.co/en7NttovrS

— Clark the Cub (@ClarktheCub) February 21, 2021
Cubs outfielder Ian Happ has the chance to get even better in 2021 as a possible breakout player.
Tip -- Get him on your fantasy baseball team while he is still cheap.
Ian Happ is one of the best draft values in 2021. NFBC - 163

19'+20' through 9/3
302PA
.286/.365/.603
.323 babip
21HR 3SB
12.3% BB
24.8% K

9/3 fouled ball off face, bruised eye. Returned 9/5 and finished .171/.259/.276 in 85PA.

The breakout season is coming. #FantasyBaseball pic.twitter.com/3ebEF2kyKx

— Jorge Montanez (@Roto_Nino) February 20, 2021
Wrigley Field always looks beautiful but check it out all snow covered recently:
White Wrigley (try saying that ten times fast). pic.twitter.com/VeVrvaBOBL

— Wrigley Aerials (@WrigleyAerials) February 21, 2021
Lastly, check out a vintage picture of Hall of Famer Lee Smith. He was certainly a stud on the mound.
Lee Smith, coming right at you. @Cubs pic.twitter.com/ZmnH9ySN65

— Vintage Jerseys & Hats (@PolyesterUnis) February 21, 2021