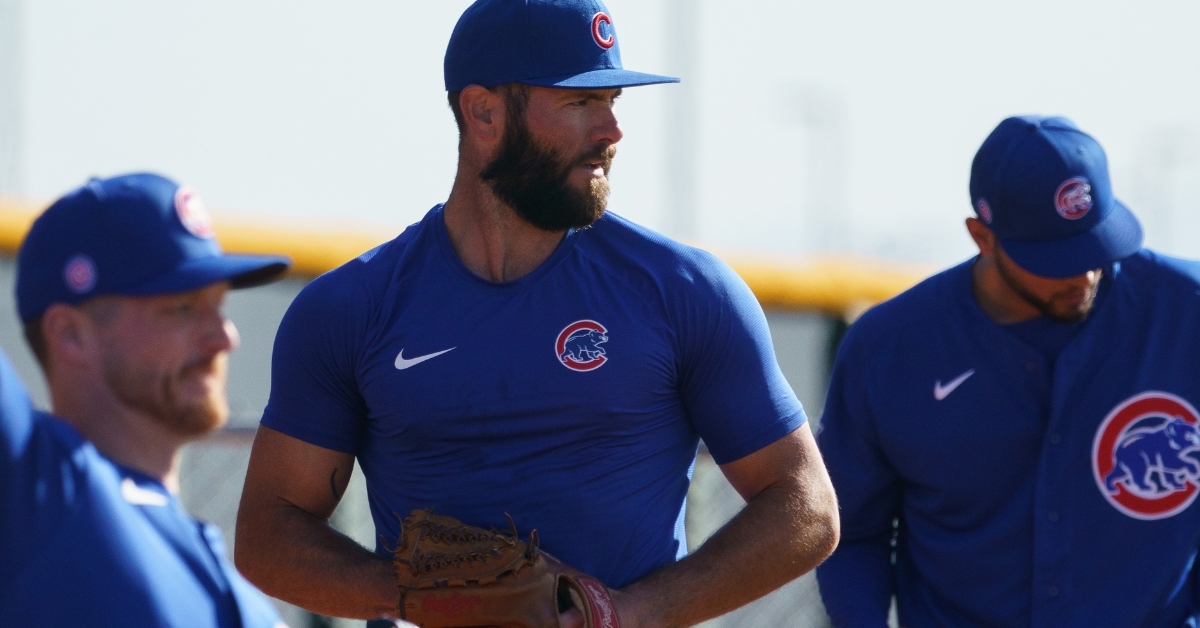 | | |
| --- | --- |
| Cubs News and Notes: Arrieta on his love of Chicago, Stropy time, Bote at 2nd base, more | |
---
| | | |
| --- | --- | --- |
| Sunday, February 28, 2021, 11:27 AM | | |
Hello, Cubs fans out there! I hope everyone is having a great Sunday and ready for the upcoming baseball season.
Check out the latest news, photos, and tidbits from spring training with the Cubbies with our latest edition of Cubs News and Notes.
We will try to have this feature several times a week, so everyone gets a summary of what is happening regularly at Cubs camp.
Let's get right all the Cubs notes!
A good look at Sloan Park in the morning:
Good morning from Mesa. pic.twitter.com/wZQQBrFr10

— Jordan Bastian (@MLBastian) February 27, 2021
Some really good bullpen action with a trio of Cubs pitcher:
Shelby Miller, Arrieta and Tyson Miller bullpen action. Strop in uniform watching by the fence. pic.twitter.com/Q99P9PsLnS

— Meghan Montemurro (@M_Montemurro) February 27, 2021
Cubs top prospect Brennan Davis sighting at Cubs camp. Listen to the loud crack of the bat when he barrels up the baseball:
May we interest you in @BrennenDavis__ BP? ?? pic.twitter.com/60MZJ7gRTW

— Marquee Sports Network (@WatchMarquee) February 27, 2021
A smiling picture of Kyle Hendricks today:
Hey, we know that guy! @Cubs @kylehendricks28 #BigGreenBigLeaguers pic.twitter.com/GRVASLjDaF

— Dartmouth Baseball (@BigGreenBasebal) February 27, 2021
Marquee Sports Network's Andy Martinez believes that several Cubs stars will have bounce-back type season in 2021:
.@amartinez_11 is expecting bounce-back years from Rizzo, Contreras, Báez & Bryant.

Video: https://t.co/qqqdtewDox
Apple: https://t.co/H5Ib8HEzIm
Spotify: https://t.co/bEK61Hoe9G@Wintrust | https://t.co/mghJDV112s pic.twitter.com/rPyVdUmr30

— Marquee Sports Network (@WatchMarquee) February 27, 2021
WARNING! Hats to the left once again!
Veteran pitcher Pedro Strop is back for another run with the Cubs. This time as a non-roster invite on a minor league deal:
Hats to the left pic.twitter.com/BGV0waTRYd

— Marquee Sports Network (@WatchMarquee) February 27, 2021
Some more great smiling pictures of Stroppy:
IYKYK. ???? pic.twitter.com/Mxlb6uVvho

— Chicago Cubs (@Cubs) February 27, 2021
Strop throwing in the outfield for the first time in 2021:
??Pedro Strop arrival??

First day at camp for the former (now current) reliever—

??: @GDubCub pic.twitter.com/WbD8sVVRd9

— Cubs Talk (@NBCSCubs) February 27, 2021
Jake Arrieta talks about his several different reasons for coming back to the Windy City:
.@JArrieta34 on what brought him back to Chicago! pic.twitter.com/E7QjgAhrM1

— Marquee Sports Network (@WatchMarquee) February 27, 2021
It is easy to forget but Cubs manager David Ross has a lot of experience catching Jake Arrieta back in the day:
David Ross was very involved in giving feedback during and after Jake Arrieta's bullpen session today. Arrieta had a 1.43 ERA in 82 innings with Ross during their days as teammates.

Ross: "I can pull from experiences. I think that's extremely valuable." pic.twitter.com/mhyM0VHCic

— Jordan Bastian (@MLBastian) February 27, 2021
Cubs infielder David Bote talks about the three-man race for the second base job for the Cubs:
Our Gordon Wittenmyer caught up with David Bote about the three-man race for the second base job.

Fans: Will Bote get the nod or does Nico Hoerner or Ildemaro Vargas get the call?

??: @GDubCub pic.twitter.com/cNABd7HXUE

— Cubs Talk (@NBCSCubs) February 27, 2021
It was Glove Day for some of the Cubs players:
Glove day is the best day @RawlingsSports pic.twitter.com/f0bKunIbUL

— Trevor Williams (@MeLlamoTrevor) February 27, 2021
A slow motion view of Adbert Alzolay's classic pitching motion at Cubs camp:
Adbert Alzolay pitching in slow motion is a thing of beauty ?? #Cubs

(??: @Cubs) @adbert29 pic.twitter.com/tMtU2jS6KM

— Cubs Zone ™? (@CubsZone) February 27, 2021
Alzolay is having some 'good vibes' at Cubs camp:
Good vibes ?? pic.twitter.com/kktRcakXW9

— Adbert Alzolay (@adbert29) February 27, 2021
Best of luck to former Cub Robel Garcia as he was claimed by the Astros:
Former #Cubs infielder claimed by Astros: https://t.co/iVkOyiPIr8 pic.twitter.com/lX4DyASGwZ

— CubsHQ.com (@ChicagoCubsHQ) February 27, 2021
Former Cub Kyle Schwarber taking batting practice for his new team:
Kyle Schwarber came here to chew gum and hit dingers and he's all out of gum.@kschwarb12 // #NATITUDE pic.twitter.com/u12HCKVi9v

— Washington Nationals (@Nationals) February 27, 2021
Cubs Single-A pitcher Zach Bryant was traded to the Red Sox to finalize the Josh Osich trade:
Red Sox acquire pitcher Zach Bryant from #Cubs: https://t.co/jtCBxml032 pic.twitter.com/K0taZXZCoR

— CubsHQ.com (@ChicagoCubsHQ) February 28, 2021
Interesting TikTok video from the Cubs featuring a few players:
When you find the perfect sound on TikTok, there's no need to go edit crazy. Find the footage that fits & keep it simple.

Great one from the @cubs. pic.twitter.com/D8yQE0XDM2

— Jess Smith (@WarJessEagle) February 27, 2021