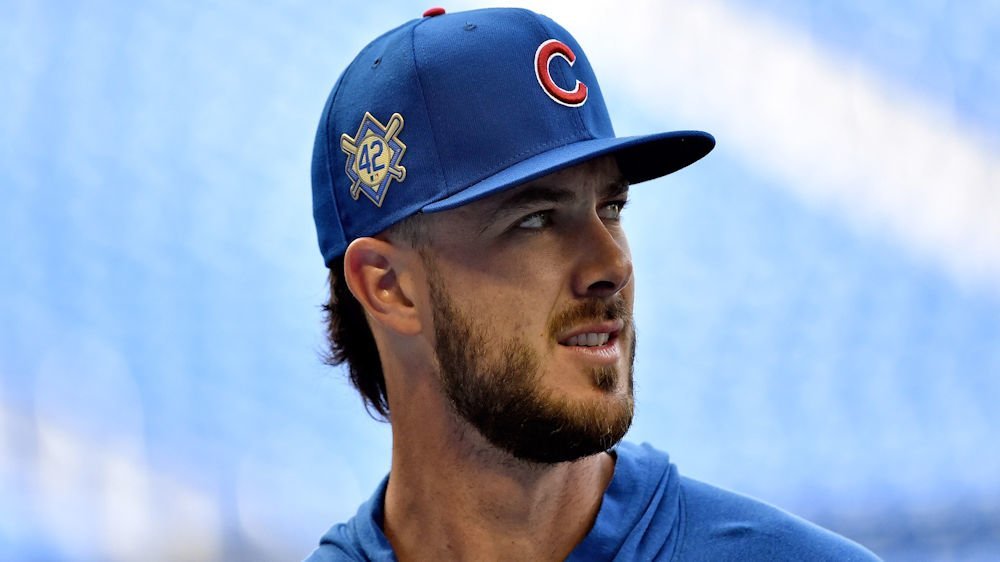 | | |
| --- | --- |
| Cubs News and Notes: Bryant's grievance timeline, Cubs' lack of cash, Kintzler, Hot Stove | |
---
CUBS NEWS AND NOTES
Bryant's grievance: According to Evan Drellich of The Athletic, briefs from both sides regarding Kris Bryant's grievance over service time were due yesterday. According to Drellich, no decision will come before the New Year, and it's unclear if the decision will even be made in January as there are hundreds of pages to sort through by arbitrator Mark Irvings.
Not that Irvings should have to be expected to rush to judgment, but this matter has been ongoing for over three years at this point. While Bryant isn't likely to win the grievance, the delay in rendering a decision serves little purpose other than to muddy the waters for Theo Epstein's agenda and any possible plans he has to deal KB this winter.
Been on the edge of your seat waiting for news regarding Kris Bryant's service-time grievance?

If so, sit back, relax and enjoy some quality holiday time with your family.https://t.co/BcU5dZ4UJB

— Cubs Talk (@NBCSCubs) December 21, 2019
Also holding up a potential KB trade is Josh Donaldson, who's currently being courted by the Twins, Nats, Dodgers, and Braves. According to reports, Donaldson would prefer to stay in Atlanta, though the Braves remain engaged in talks with the Cubs over KB.
Is it Ricketts' fault? An ESPN poll on Saturday asked whether Tom Ricketts slamming the checkbook on Theo equated to him also slamming it shut on Cubs fans. Over 64% (1,013 votes) felt that Ricketts' actions were closing the door on another winning team, though Tom pointed out recently that the amount of money that the team has spent on free agents hasn't come back in the form of wins.
Tom Ricketts has closed Theo's "bottomless checkbook".

Do you feel Ricketts has also closed the check book on Cubs fans?

— ESPN 1000 (@ESPN1000) December 21, 2019
"As much credit as Theo Epstein deserves for finally turning the Cubs into a winner, the blame falls at his feet as well for the current state of affairs. Something has clearly gone awry when the Cubs are so short of cash that they can't even outbid the Brewers for low-cost free agents like lefty Alex Claudio, who signed for $1.75MM.
The problem isn't that the Cubs are cheap (they had the third-highest payroll last season), but Epstein hasn't made the best use of their funds. With one of the highest budgets in baseball, Epstein ought to have enough resources to maintain a winner in Chicago – instead, he's bargain-hunting for the second consecutive offseason. -TC Zencka, MLB Trade Rumors
Cubs miss again: Despite rumors just yesterday that the Cubs were "in" on Dallas Keuchel, Theo missed the boat again. Keuchel did sign with Chicago, but it was the American League version… Tyler Chatwood's chances of earning that fifth spot in the rotation seem to be improving with each passing day.
Keuchel terms with #WhiteSox, per source: Three years, $55.5M with vesting option. First with terms: @JonHeyman.

— Ken Rosenthal (@Ken_Rosenthal) December 22, 2019
Brandon Kintzler: According to an MLB Trade Rumors article, (now former) Cubs' reliever Brandon Kintzler is drawing "plenty of interest" on the free-agent market. While MLBTR mentioned no specific teams, I recently spoke with someone close to Kintzler, who stated to me that there were a handful of interested parties.
Kintzler wants to stay in Chicago, and he isn't looking for a huge deal, but whether or not Ricketts will allow Theo Epstein to make an offer remains to be seen.
Cubs' Birthdays: Celebrating yesterday, were ex-Cubs Brian Schlitter (34), Taylor Teagarden (36), LaTroy Hawkins (47), Dave Kingman (71), and posthumously, Bob Rush (94), Floyd "Pete" Scott (122), Fred "Cy" Williams (132), Conrad "Dell" Darling (158), and Bill Traffley (160).
Baseball Quotes: "I'm a power pitcher. There's a time when you need a one-pitch out. I'm fully aware of those situations. But nobody on, nobody out? I'm trying to get you with three pitches." -AJ Burnett
Izzy Alcantara wasn't happy with getting thrown at… ????

pic.twitter.com/weDVO116sq

— Baseball Quotes (@BaseballQuotes1) December 17, 2019
MLB and the Hot Stove
NL Central News:
Cardinals: The Cards have traded outfielder Adolis Garcia to the Rangers for cash.
Reds: Cincinnati has signed veteran reliever (RHP) David Carpenter to a minor league deal with an invite to Spring Training.
From the Rest of MLB:
Marlins: Miami has designated RHP Kyle Keller for assignment.
Tigers: The Tigers got busy today, easily surpassing the Cubs in terms of talent being signed. They've signed free agent 2B Jonathan Schoop to a one-year deal worth $6.1M. The team says that Schoop will be their everyday second baseman and will likely hit in the middle of the order. Next, they inked first baseman CJ Cron to a one-year deal worth another $6.1M.
The Detroit Tigers are in full rebuild mode at this point. They didn't have to sign C.J. Cron or Jonathan Schoop. They did anyway. It's not going to win them the AL Central, but at least they're trying to be better — and that's more than some rebuilding teams can say right now.

— Jeff Passan (@JeffPassan) December 21, 2019
Detroit has also signed RHP Zack Godley to a minor league deal and invitation to Spring Training. In a corresponding move, Detroit has designated utilityman Brandon Dixon for assignment. Dixon could prove to be an affordable choice for the Cubs, should he elect free agency.
Red Sox: The Sox have claimed righty Chris Mazza off waivers from the Mets.
Astros: Houston has re-signed catcher Martin Maldonado to a two-year deal, with a guaranteed $7M salary.
Angels: Los Angeles has signed RHP Neil Ramirez to a minor league deal. While no official announcement was made, it is presumed that Ramirez will receive an invite to Spring Training.
Indians: The Indians have outrighted utilityman, Mike Freeman, to Triple-A Columbus. Freeman was designated for assignment last week in the wake of the trade that sent Corey Kluber to Texas in exchange for outfielder Delino DeShields and reliever Emmanuel Clase.