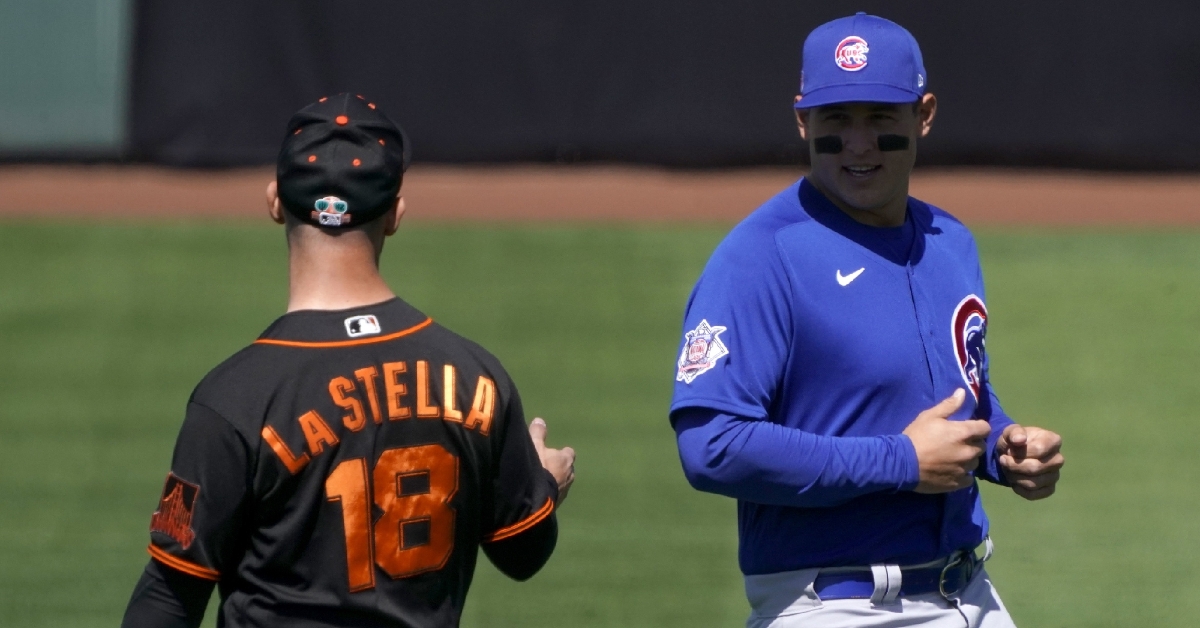 | | |
| --- | --- |
| Cubs News and Notes: Highlights of Cubs-Giants, Cubs PA announcer says goodbye, more | |
---
| | | |
| --- | --- | --- |
| Wednesday, March 10, 2021, 6:48 PM | | |
Hello, Cubs fans out there! I hope everyone is having a great day.
Check out the latest news, photos, and tidbits from spring training with the Cubbies with our latest edition of Cubs News and Notes.
We will try to have this feature several times a week, so everyone gets a summary of what is happening regularly at Cubs camp.
Let's get right to all the Cubs notes!
Unfortunately for fans of the Cubs and Giants, Wednesday's game was not televised.
However, we do have a few highlights and pics of the action in the Cubs 7-6 loss.
Play ball! pic.twitter.com/L697zBjbwC

— Chicago Cubs (@Cubs) March 10, 2021
Cubs pitcher Alex Mills gave up a run in the first inning but settled down after that:
Mills vs. Longoria to end the home half of the first. Mills allowed 1 run on 3 hits. Solano single went off Javy's glove. Posey double was flare into no-man's land vs. slow curve. Mills threw 21 pitches (14 strikes). K'd Yas swinging on slow curve. pic.twitter.com/dIFDMpHjHC

— Jordan Bastian (@MLBastian) March 10, 2021
Cubs outfielder Rafael Ortega stays hot with an RBI single after his walk-off slammy yesterday:
Rafael Ortega stays hot! pic.twitter.com/guDsfAWHPr

— Marquee Sports Network (@WatchMarquee) March 10, 2021
Alec Mills has quietly had a good start to spring only allowing his one run in two short starts:
2.1 IP | 1 K | 1 R

Alec Mills' spring ERA is now 2.08. pic.twitter.com/UHe10jOITT

— Marquee Sports Network (@WatchMarquee) March 10, 2021
All the doom and gloom by Cubs fans this offseason about the pitching but the starters are performing well giving up only three runs total so far:
Updated collective line from Cubs' starting pitchers this spring: 21.1 IP, 13 H, 3 R/ER, 7 BB, 16 K, 0 HR.

— Jordan Bastian (@MLBastian) March 10, 2021
Catcher P.J. Higgins who is battling for a backup catcher spot homered today:
.@pjhiggins7 solo shot trot! pic.twitter.com/MMVr0rvnQr

— Chicago Cubs (@Cubs) March 10, 2021
Young Cubs reliever Manny Rodriguez is throwing some gas this spring:
According to @amartinez_11, who was thankfully more observant than me, Manny Rodriguez was sitting 97-99 mph with his fastball on the stadium gun.

Nice to see. A year ago, Rodriguez was opening eyes, but had to be shut down due to injury.

— Jordan Bastian (@MLBastian) March 10, 2021
Alfonso Rivas was impressive today with a two-run double:
Inside-the-park slam? Nope. Minor Leaguer Alfonso Rivas (acquired in Tony Kemp trade in Jan. '20) knocks in a pair with ground-rule double. pic.twitter.com/0Q3g6Vicya

— Jordan Bastian (@MLBastian) March 10, 2021
Unfortunately for the Northsiders, the Cubs lost 8-7 today:
Final: Giants 7, #Cubs 6. pic.twitter.com/ZzMEQbeBjt

— Chicago Cubs (@Cubs) March 10, 2021
ICYMI: Eric Sogard got a RBI single in his first Cubs at-bat this spring on Tuesday:
RBI single for @EricSogard in his first @Cubs at-bat! pic.twitter.com/dbknOcR3aS

— Marquee Sports Network (@WatchMarquee) March 9, 2021
Former Cubs starter Jon Lester shared that he was tired at times last season because of a thyroid issue that he recently had surgery on:
Jon Lester, sporting a small scar on his neck following thyroid surgery, says the fatigue issue had been going on "for a while," including last season with Cubs. Started doing research, had sense it was thyroid. Ideally would've had surgery over winter but COVID delayed things.

— Mark Zuckerman (@MarkZuckerman) March 10, 2021
Cubs announcer Andrew Belleson is walking away from Wrigley Field and going to pursue his dream of being a sports broadcaster:
Thank you, @Cubs fans!!!! pic.twitter.com/IQotzp93Zf

— Andrew Belleson (@ChicagoCubsPA) March 9, 2021
Best of luck and thank you to Chicago Cubs PA announcer @ChicagoCubsPA as he enters a new chapter in his career.

Let's enjoy Andrew's introduction of the Chicago Cubs starting lineup for the first World Series game at Wrigley Field since 1945. pic.twitter.com/ZspDhVw8fo

— Cubs Insider (@realcubsinsider) March 9, 2021
Newcomer Trevor Williams should be an X-factor coming up this season for the Cubs:
Trevor Williams is gearing up to be a factor in @Cubs rotation

More: https://t.co/49iPGp5gKe pic.twitter.com/WZFUbeoZvo

— Marquee Sports Network (@WatchMarquee) March 10, 2021
Wrigley Field is ready for fans --- well 20 percent of capacity. Enter here to win a chance to buy tickets during the presale:
The Friendly Confines doesn't sound the same without you. #CubTogether

Sign up now for your chance at limited-capacity #Cubs games: https://t.co/BiD3w4rxR4 pic.twitter.com/ujeTTsVuVg

— Chicago Cubs (@Cubs) March 10, 2021
Retro pic of Orval Overall who has one of the best baseball names of all-time:
A #chicago original: Orval Overall, Deadball Era hurler who won 20+ 2X for @Cubs & 108 w 2.23 ERA career. He was a big dude for the time, 6-2 and 215 & tossed, you guessed it, an overhand curve. Here's his @sabr story. Like, RT, and tell everyone about it https://t.co/BNavySPlfx pic.twitter.com/2lXRwaOm7p

— SABR BioProject (@SABRbioproject) March 10, 2021