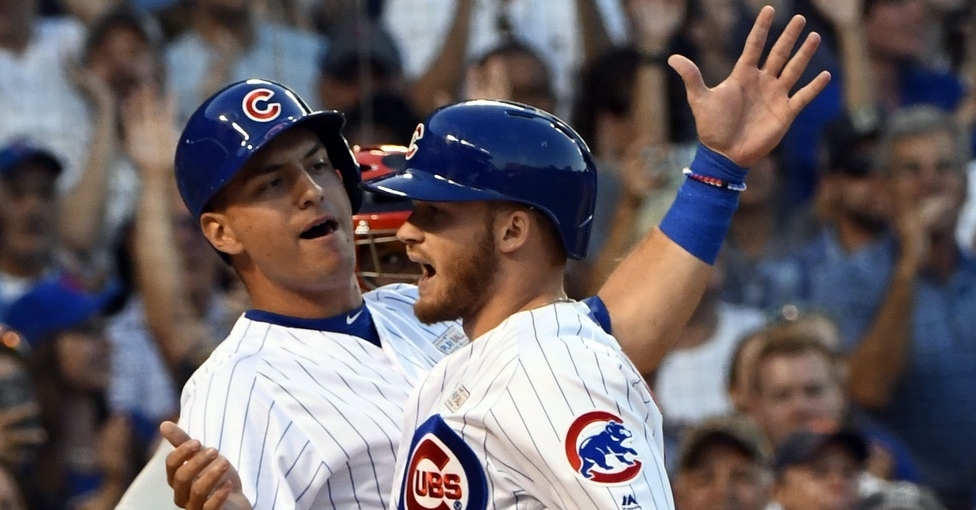 | | |
| --- | --- |
| Cubs need to figure out their CF position in 2020 | |
---
| | | |
| --- | --- | --- |
| Tuesday, February 4, 2020, 11:38 AM | | |
By now, I think it is safe to say that Chicago will not be making any significant trades this offseason as they try to patch the holes they have with the current group of players on this team. However, even though many view the Cubs to have multiple holes, Chicago still has vastly enough talent to compensate for that should everyone be on the same page in 2020.
One of those holes that a lot of people thought they would look to fill is center field where many hoped Jason Heyward would slide with a Nicholas Castellanos signing or at the very least trading for Whit Merrifield. Neither one of those things happen, so the Cubs enter 2020 with both Ian Happ and Albert Almora primed to split the center field duties once again. Ideally, the Cubs would love for one of these two players to take over as the everyday man in center, but a platoon system may be the best thing for both the players and the team at this point.
For those wondering how a platoon may help Happ, all you need to do is look back on last season where a ton of optimism can be had. Yes, Happ may have started the season in AAA and battled through plenty of ups and downs, but once he was promoted to the MLB roster, he never looked back. Happ went through struggles the first few weeks with the Cubs, but once the calendar flipped to September, his production began to increase as his hard work from AAA started to show both in the field and at the plate.
Over the final month of the season, not only did Happ rip the cover off the ball with a .311 average and 1.021 OPS, but he had an 84.6% contact rate way up from his 75.2 career rate. That helped him reach a 73.4% rate on the season up from his career mark of 66%, while his 13.8% swinging strike rate was down from his career 15.5% mark as well.
Even with his lowered swinging strike percentage rate, the strikeouts will still be there to a point for Happ as he struck out in 18 of his 66 plate appearances, which is still 27.3% of the time, but down from his near 33% rate for his career. Happ will also be a guy who works the count and isn't afraid to take his walks from time to time.
Should last September be a sign of things to come, not only could Happ run away with the CF job, but he has the intangibles to be a leadoff hitter for the Cubs as well.
Then you have Albert Almora, who was a huge disappointment last season. Taken as Theo's first-ever draft pick with this organization, the Cubs have had high hopes for Almora as they envisioned him as their CF of the fielder. Don't get me wrong his defense is irreplaceable, but unless he shows tremendous offensive strides this season, he will be nothing more than a platoon player that could be out of a job sooner rather than later.
If you want to have optimism for Almora this season, then you and the Cubs are hoping the pre-2019 Almora shows up as opposed to what we saw last season. To put into perspective just how bad things went for him last season, Almora batted a career-worst .255 with balls in play despite increasing his launch angle and barrel rate (squaring up the ball).
Knowing that he changed his launch angle and barreled up the ball at a higher rate, but still saw his average drop as far as it did, it will be interesting to see what changes Almora makes this spring whether it is to his swing or just his overall approach. One of the things that Theo emphasized this spring when discussing Almora was that he struggled when it came to pulling the baseball, which is surprising in itself. All you have to do is look at the launch angle from that side of the plate, which was less than half his overall launch angle for the season. That means that instead of barreling up the ball on the pull side, he would roll over and get on top of it, beating into the ground or popping it up.
The toughest thing about what to do with Almora is his defense. By now, we know what kind of hitter he will be as he will never wow you with his power or speed. When right, he is going to potentially be a .280 hitter who can surprise you with a home run every now or then. The problem becomes how long can you leave him in the lineup if his numbers are not there?
I get the Cubs want to have his glove in the lineup as often as possible, but at some point, the offense needs to come around, or he becomes a liability in the lineup. As much as I would like for one of these two players to be awarded the starting CF job this season, I think the best option for the team is to use them in a platoon role. Almora crushes lefties, while Happ is a switch hitter who can bring power from each side of the plate. Whatever direction the Cubs go, this will be a battle to watch this spring.