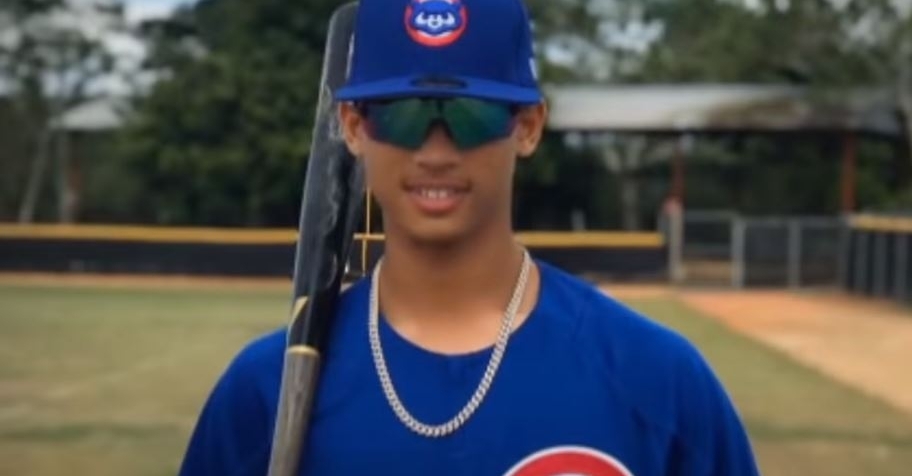 | | |
| --- | --- |
| Cubs set to officially sign top prospect | |
---
| | | |
| --- | --- | --- |
| Monday, January 11, 2021, 9:50 AM | | |
I'm am sure by now, most of you heard the news that a Kyle Schwarber to Cubs reunion is out of the question.
After signing a one-year 10-million-dollar contract with Washington this weekend, Schwarber will be heading to the Nations Capital, pending a physical to give the Nats the lefty bat they have been longing for since Bryce Harper's departure. Oddly enough, fellow former Cub Starlin Castro is there, as is Manager Dave Martinez, so the Cubs connection from the world series days will undoubtedly be something they talk about.
While that took center stage this weekend, the Cubs managed to make another minor league signing by adding Nick Martini to the fold for outfield depth.
With Donnie Dewees rumored to have torn his ACL, Martini could play a more prominent role this season and maybe someone to watch in terms of making the MLB roster as a bench piece and extra outfielder.
With the big-League club still looking for their first significant move, this could be a massive week for the Cubs farm system as they continue to retool the organization. Recent history has shown the Cubs being a huge player in the international signing day period and having tons of success in the process. A lot of the Cubs top 30 prospects have come from the International Free Agent side of things. Add in the prospects sent to the Cubs from San Diego, and they too come from the international ranks.
At long last, the Cubs are about to get last season's top international star into the fold as Cristian Hernandez is about to enter the organization.
That time will come in five days, as that is the official time frame for him to sign on the dotted line. Hernandez is a player that nearly every scout is high on as the shortstop will be an essential part of this franchise for years to come.
Yes, you heard that right, another shortstop, but Hernandez isn't just any old shortstop for the Cubs to plug into their system. Once he is signed, Hernandez will instantly become a top 10 prospect in this system with the potential to be a top-five depending on how scouts view him. The Cubs will then have both Ed Howard and Hernandez as top 10 prospects, and the Cubs will need to decide whether to let him start his career in the Dominican Rookie League of Arizona.
Signing another shortstop may not be appealing to fans, but they will be loaded in that department, playing to leverage in trades down the road. Adding Hernandez to a group that already has Howard, Kevin Made, Rafael Morel, and more makes this team the best overall shortstop system in baseball.
The problem is that not all these guys can play that position, so the Cubs will have to figure out how to accommodate them in terms of their development. Certainly, some of these players will be able to switch positions, but at some point, trades will have to be made to acquire talent for different positions and setting yourself up for another title run.
Ranked anywhere from the sixth-best to the second-best overall international prospect, Hernandez is the real deal and is viewed as a potential five-tool player. Not only that, but he also has the potential to be plus at every single one of those tools. Hernandez may only be 17, but he certainly doesn't look like it standing 6-2 and weighing 175 pounds. People have compared his body to a young Alex Rodriguez and Manny Machado, but his play resembles Javier Baez. Those are some great names to be compared to.
Not only is he a big shortstop now, but he is expected to get bigger and will stay at shortstop as he moves through the minor league system. He has a knack for hitting the baseball, and his approach and overall abilities will give him a chance to be a high average hitter. Along with the high average, Hernandez is expected to be someone who can hit for power and could ultimately give you a .300 average with 30 plus homers every year.
Defensively, Hernandez not only has soft hands but a plus arm, which allows him to make plays across the infield. He is quick to read the ball and has exceptional footwork, which plays well in the batter's box. Unlike most young prospects, Hernandez is a student of the game, and scouts rave about his instincts and overall high baseball IQ.
He has also impressed everyone with his make-up and work ethic, which is why he has been so highly regarded thus far. Hernandez will play a massive role in the Cubs' future and where the team goes from here. Out of all the shortstops in the system, he and Howard have the best chance to stick long term, but Hernandez would have the edge.