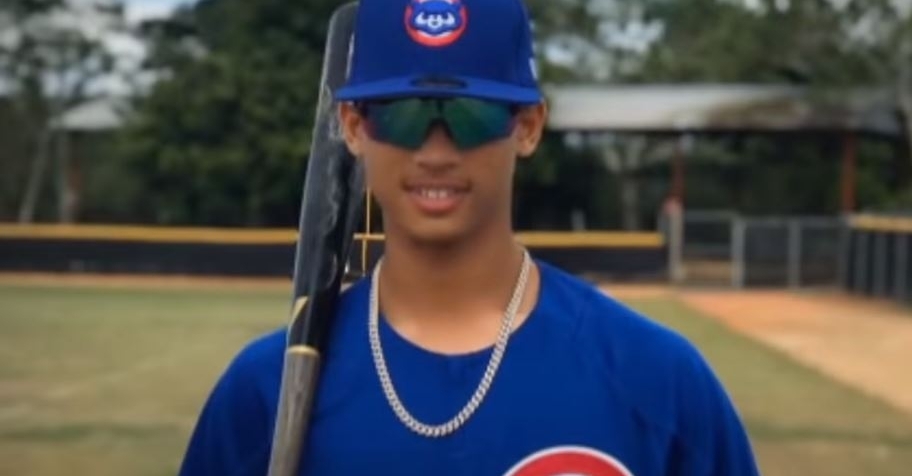 | | |
| --- | --- |
| Cubs set to sign several top international prospects | |
---
| | | |
| --- | --- | --- |
| Friday, January 15, 2021, 8:03 AM | | |
The Cubs haven't done a whole lot to get fans excited this offseason.
Instead of worrying about what to do for this season, the Cubs have shifted their focus to the future. That all starts at the minor league level, where the Farm system is getting better and could be on the verge of significant improvements this year.
While that is a fine line to toe in terms of strategy, Cubs have won the World Series once banking on their farm system, and they are hopeful that they can do that again. Despite fans not getting overly excited about the offseason so far, Friday could be an excellent day for Cubs fans, especially when you think about the future.
Lost in the shuffle of COVID 19 last summer was the International Signing period, which typically happens in June or July. With the draft getting pushed back to July and shortened by 30 rounds, the international signing period was also pushed back, with tomorrow being the day teams can sign International Free Agents.
We have seen the Cubs as the favorites to land Cristian Hernandez in recent weeks. Still, now, it looks like the Cubs are set to add four more international players, with Hernandez giving them five International signings this season. These signings are often years away from making an impact for the franchise, but these are also the signings that could ultimately improve a farm system in a drastic hurry.
Cristian Hernandez is one of the top prospects in the 2020-21 international class.

He's been dubbed 'Baby A-Rod' by some evaluators.

Hernandez is expected to sign with the Cubs for around $3.5 million.

His story: https://t.co/ccNp1UOekN pic.twitter.com/kt4asABqpr

— Baseball America (@BaseballAmerica) January 15, 2021
Another reason why this international signing period is significant as it seems very likely to be the last time teams can reach a deal with players ahead of time. With a new Collective Bargain Agreement looming in the future, look for the league to institute an International draft by 2023 that could be five rounds.
As things sit right now, the Cubs have over five million to spend on international players, not counting contracts given for under 10k. 40 or 50% of that cash will be given to Hernandez, who could end with over three million when it is all said and done. That would leave the Cubs roughly with two million left to play with to go after some more players, and if projections are correct, the Cubs will be adding a total of five players, counting Hernandez.
Dividing out the remaining two million for four players won't be easy, and there is a chance the Cubs may spend more than what they have available at this point. Unlike the Luxury tax and how that penalizes a team, should the Cubs go over the amount they have to spend, they would lose money in the next international period, which may not be all that bad depending on the success this year.
Along with Hernandez, the Cubs are the front runners to sign C Moises Ballesteros, OF Daniel Ferreria, OF Offerman Hernandez, and LHP Carlos Cabera. All of them come with some risks, obviously, but considering the young age, they come with a lot of potential.
Some of the newest Cub players that signed today from the International class. ?????? #Cubs

Welinton Quintero
David Benítez
Cristian Hernandez
Oferman Hernandez
Ronny Corniel

(??: @gianguzman7) pic.twitter.com/oQk80656BS

— Cubs Zone ™? (@CubsZone) January 15, 2021
On Friday, the Cubs are set to sign 5 international free agents. Most Cubs fans know Cristian Hernandez, but the Cubs should sign OF Daniel Ferreria (Throws R/ Bats R; DR), LHP Carlos Cabrera (VZ), OF Oferman Hernandez (R/L; DR), and C Moises Ballesteros (R/L) pic.twitter.com/3v7OHCJR5b

— Duke Leto Atreides?? (@RealCubsAnalyst) January 10, 2021
Here is a little more about each of the other players involved.
Moises Ballesteros: Chicago certainly loves their catchers, especially of the International variety. Ballesteros is another one of those players hailing from Venezuela. Unlike Hernandez, who is seen as a top 5 player, Ballesteros is way down the list but still comes in the top 50. A left-handed bat, Ballesteros generates a ton of raw power with relative ease. A small build, he has yet to find the weight room, but when he does look for more power to increase.
Daniel Ferreria: The Dominican born outfielder has been decked out in Cubs gear for months now, so it is no secret his desire to land in Chicago. A young player who continues to grow into his own, Ferreria continues to improve as a player, especially on defense. Ferreria is a work in progress at the plate and tends to be ahead of most pitches thrown his way. To reach the level the Cubs hope he can, he needs to learn how to recognize pitches to avoid struggling on off-speed stuff.
Offerman Hernandez: Much like many of the other players mentioned in this story, Hernandez has not only Cubs stuff all over his Instagram but Javy Baez pictures across his wall. A right-hander by trade, Hernandez bats left-handed and projects to be a right fielder. He is similar in body type to Jorge Soler and Felix Stevens (Currently in the Cubs System), so it will be interesting to see how he pans out.
Carlos Cabera: Last but not least is Carlos Cabrera. The lone pitcher expected to sign on this day, the Cubs have had some success landing international pitchers as their current prospect list is loaded with them. A smaller left-hander compared to others, Cabrera has a lot of deception in his delivery and has excellent command for someone his age. Right now, Cabrera is a two-pitch guy, using a fastball and curve to find success. He is most likely destined to begin his career in the Dominican Rookie league, but if he continues to show good command could wind up in Arizona.