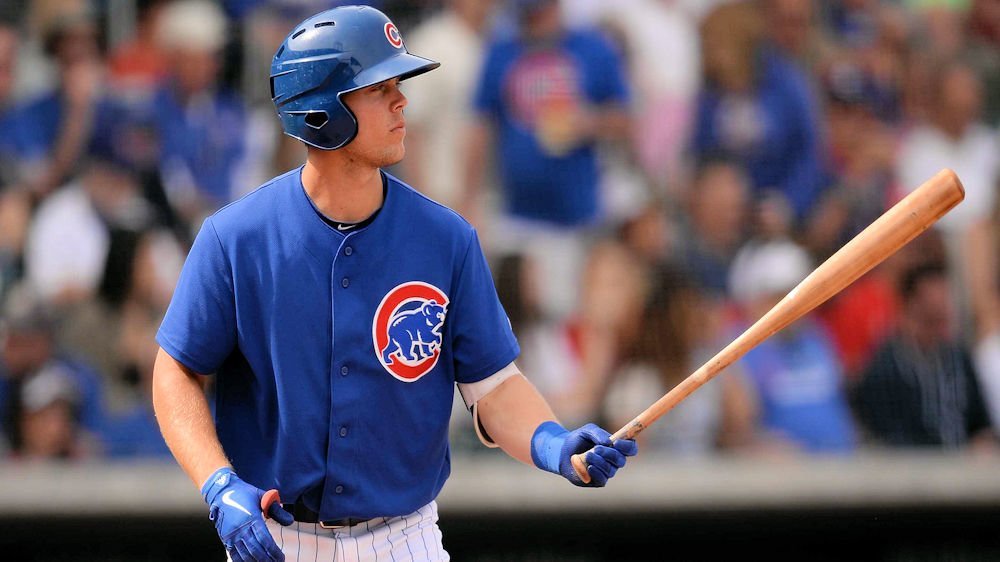 | | |
| --- | --- |
| Down on the Cubs Farm: Nico Hoerner set to return, Eugene remains hot, highlights, more | |
---
| | | |
| --- | --- | --- |
| Tuesday, June 25, 2019, 12:02 PM | | |
In what was a rough night on the farm with the Cubs going 1-3, some good news overshadowed their overall struggles. That news came from the Tennessee organization as Nico Hoerner has begun working out his fractured wrist and is set to return to action in Arizona this weekend. They don't know to this point how long that stay will be, but he needs some game action before he can return to AA outright.
IOWA CUBS 4 – Round Rock Express 6: With the rubber match set for Monday, the Cubs were looking for another series win as they sent Trevor Clifton (2-7) to the mound. After a very promising start to his outing, things unraveled in the sixth inning as Clifton went on to allow 4ER on 5h, to go with 5BB and 4K in six innings of work as the Express rallied off six runs the final four frames to come away with a 6-4 win.
As mentioned above, scoring was at a premium early on as both teams were kept off the board through five innings. It was in the top of the sixth when things began to go south for Clifton and the boys as Round Rock displayed some patience with timely hitting. With one down, Kyle Tucker reached on a single, before consecutive walks from Clifton loaded the bases. With a double play still intact, Iowa elected to stay with Clifton, which proved to backfire as one swing from the suddenly red-hot Joshua Rojas ended the shutout bid as a Grand Slam made it 4-0 Express.
With Randy Rosario now in the game Round Rock continued to build on their lead as they were back at it in the eighth inning. The Cubs didn't help Rosario early as a fielding error to start the inning is never a good sign. A pair of singles followed that error as Rojas picked up another RBI to make it 5-0 Express. Down but not out, Iowa finally got on the board in the eighth as they began to make things interesting late.
Struggling to find his way lately, Ian Happ started the inning off with a walk ahead of a Taylor Davis single putting two men on. With one out, Jacob Hannemann also took a walk to load the bases giving Iowa their best opportunity to score on the night. Dixon Machado put an end to the shutout bid with a single as Iowa was on the board 5-1. Mark Zagunis added a two-out single two batters later, and just like that, it was 5-3 heading to the ninth.
Drew Ferguson was able to push the lead back to 6-3 with a single off Dakota Mekkes in the top of the ninth as the Cubs were down to their final three outs down by three. Robel Garcia did his best to keep Iowa in the game launching his 13th homer of the season to make it 6-4.
A home run and some fine defensive plays earns Robel Garcia @EMCInsurance Player of the Game honors! pic.twitter.com/jTq8helvW0

— Iowa Cubs (@IowaCubs) June 24, 2019
With one out, Davis came up with a huge double as the tying run was now at the plate. Unfortunately for Iowa, Davis would be left stranded on the bases as they couldn't cash in late falling 6-4 to drop the five-game set.
Iowa is 42-35 on the season as their lead over Memphis is starting to shrink. Davis had the hot hand in this one, as he was the lone Cub to record multiple hits with two. Zagunis, Garcia, Machado, and Hannemann all added one hit of their own in the game. Happ went hitless again 0-3. But with a walk, he managed to keep his average above .220 sitting at .222 for the year.
The I-Cubs fall just short of the comeback after falling behind 5-0. We open a new series tomorrow against Omaha. pic.twitter.com/7KuQJkqd20

— IowaCubsGameDay (@IowaCubsGameDay) June 24, 2019
TENNESSEE SMOKIES 6 – Montgomery Biscuits 2: Already with a series loss, the Smokies turned to Cory Abbott with hopes of ending the series on a positive note. Abbott (5-3) got back to doing what he did in May by tossing five innings of 1ER ball against just two hits allowed as the Tennessee offense backed him in a 6-2 win.
The lone run off Abbott came in the top of the third as it was the Biscuits striking first. Three pitches into the inning it was Brett Sullivan connecting for his fifth of the season putting Montgomery in front 1-0. That lead was short lived as the Smokies offense busted out for four runs over the next two frames to seize control of the game.
Starting in the bottom of the third, it was a pair of singles from Christian Donahue and Connor Myers to lead things off as the Smokies had a pair of runners on base. After a wild pitch advanced both runners into scoring position, Roberto Caro made it three hits in a row with another single as Tennessee was on top for good 2-1. That combination continued to wreak havoc in the bottom of the fourth as a Donahue single and Myers double pushed the lead to 4-1 after four.
The two-run innings theme continued in the seventh as once again the Smokies were looking for more. A leadoff walk to Vimael Machin got the inning started as another leadoff runner was on base. Two batters later it was P.J. Higgins getting in on the action as his two-run homer capped off the Tennessee scoring with a 6-1 lead. Jermaine Palacios managed to pick up an RBI single in the ninth off Jordan Minch, but it was nowhere near enough with the Smokies winning 6-2.
Despite the 35-39 record, Tennessee received great news with the win as top prospect Nico Hoerner is set to make a rehab start this weekend in Arizona signaling a return to the lineup soon. The Donahue and Myers tandem in the bottom of the order certainly proved to be problematic as the duo recorded three hits each which accounted for half the teams total. Higgins added a pair of hits to go with his 2 RBI's, while four others tallied one. The Smokies received 2 2/3 scoreless innings of relief from Jake Stinnett before Jordan Minch finished things off the final 1 1/3.
SmokiesCenter 6/24 vs Montgomery: Timely hitting and 7 K's from Cory Abbott lifted the Smokies to a series finale W pic.twitter.com/pBO6mdPEX2

— Tennessee Smokies (@smokiesbaseball) June 25, 2019
MYRTLE BEACH PELICANS 1 – Winston – Salem Dash 3: The rough start to the second half continued for the Pelicans as they dropped another tough one Monday 3-1. Making a start was Javier Assad, who did everything in his power to secure a win. Assad allowed an early run but managed to settle down to finish his outing with 1 ER in five innings of work. His ERA is at 3.34 for the year.
The lone run Assad allowed came in the bottom of the second as the Dash greeted him with a pair of hits to open the inning. First, it was Zach Remillard grounding one off Assad as he reached first with an infield single. Craig Dedelow followed that up with a double, as Remillard was thrown out trying to reach home on the play. JJ Muno gave the Dash a 1-0 lead with a sacrifice fly to center as Assad got out of what could have been a long inning.
Still down by a run in the fourth, the Pelicans offense finally broke through as they looked to get going. Zach Davis continued his recent surge in offensive play picking up a leadoff single to start things off. Two batters later it was Miguel Amaya lacing a double to center as Davis scored from first to tie things up 1-1.
.@mamaya_9 ties the game!! ????

His RBI double makes it 1?-1? in the 4th!! pic.twitter.com/0Iw8h331NE

— Myrtle Beach Pelicans (@Pelicanbaseball) June 24, 2019
Luke Reynolds would then add a single to put runners on the corners, but the Pelicans were unable to scratch across more runs which proved to be costly later.
With a battle of the bullpens now in play, Jesus Camargo was on the hill for Myrtle Beach looking to keep things tied in the seventh. Dedelow made up for his baserunning mistake as he connected for his 10th of 2019 to give the Dash the lead for good 2-1. Muno was hit by a pitch shortly after ahead of a Jordan George single putting runners on the corners. With no outs and a huge scoring chance in play, Evan Skong picked up an RBI groundout to make it 3-1, but Camargo bared down to keep things there as Winston-Salem had a chance for much more.
Following a quiet eighth for both teams, the Pelicans were down to their last at-bats with hopes of sending the game to extras. A leadoff walk to Cam Balego was certainly a promising start, but a double play off the bat of Aramis Ademan certainly killed that rally. Another walk to Tyler Payne extended the inning bringing the tying run to the plate again, but once again the Pelicans lacked that clutch hit falling 3-1 on the evening.
The Pelicans are more games under .500 than they have for wins as they are 21-51 this season. Myrtle Beach recorded just five hits in the loss with five different players collecting one apiece. Amaya reached base twice going 1-3 with 1BB and an RBI.
SOUTH BEND CUBS: Off Travel Day
EUGENE EMERALDS 5 – Tri-City Dust Devils 3: The Emeralds are wishing they could see the Dust Devils all season as they just finished taking three of four from them with a 5-3 win. It wasn't all fun and games, however, as starter Chris Allen was rocked in the first before settling down to get through three innings.
With the first batter of the game retired, Jack Stronach doubled to extend the inning, but with two outs it appeared that double would go to waste. That is when Jonathan Soto committed a critical error as his catcher interference extended the inning. A walk to Jason Pineda loaded the bases in front of Nick Gatewood and Mason House as the two of them picked up singles to give Tri-City a 3-0 lead. That would be all the offense they could muster as the Eugene offense erupted in the second.
Looking to erase the first inning from their memories, Danny Zardon got things going in a positive manner taking a walk to lead things off. Following an error ahead of the first out, it was a key wild pitch that allowed both runners to move up drastically changing the outcome of the inning. That is when Edmond Americaan cashed in with his first chance as a single got the Emeralds on the board 3-1.
After committing that key error in the first, Soto made up for it at the plate by ripping another single to bring the Emeralds within one 3-2. As a second wild pitch allowed the Emeralds to tie things up, Brandon Vicens gave Eugene the lead for good with the third single of the inning as the Emeralds went on to plate four runs to take a 4-3 lead.
Still early and looking for some insurance runs, Jake Slaughter provided that in the bottom of the third pushing the lead to 5-3 with his first homer of the season. That would be all the offense the Emeralds would need as Niels Stone was lights out in his four innings of relief allowing just two hits to pick up the win. Riley McCauley took care of the rest by earning another two-out save with 5K's to give the Emeralds the series win 5-3.
After their slow start, Eugene has now won six of their last seven games as they are sitting at 7-4 on the season. Yonathan Perlaza paced the offense in this one, recording a pair of hits in the win while also reaching base on an error in the second. He was the lone Emerald with a multi-hit effort as five other players picked up a hit in the game. Despite a hitless night from Fernando Kelli, he continues to lead the team in batting average sitting at .300.
EMERALDS WIN!!!

The Dust Devils make it interesting in the ninth but McCauley strikes out the side and the Ems will hit the road still tied for first in the division ?? #ItAllStartsHere pic.twitter.com/ZgLRadwnQ6

— Eugene Emeralds (@EugeneEmeralds) June 25, 2019

Tags: Cubs Baseball
,
Trevor Clifton
,
Randy Rosario
,
,
Taylor Davis
,
Jacob Hannemann
,
Dixon Machado
,
Mark Zagunis
,
Dakota Mekkes
,
Robel Garcia
,
Cory Abbott
,
Christian Donahue
,
Connor Myers
,
Roberto Caro
,
Vimael Machin
,
Jordan Minch
,
Jake Stinnett
,
Javier Assad
,
Zach Davis
,
Miguel Amaya
,
Luke Reynolds
,
Jesus Camargo
,
Cam Balego
,
Aramis Ademan
,
Riley McCauley
,
Yonathan Perlaza
,
Fernando Kelli