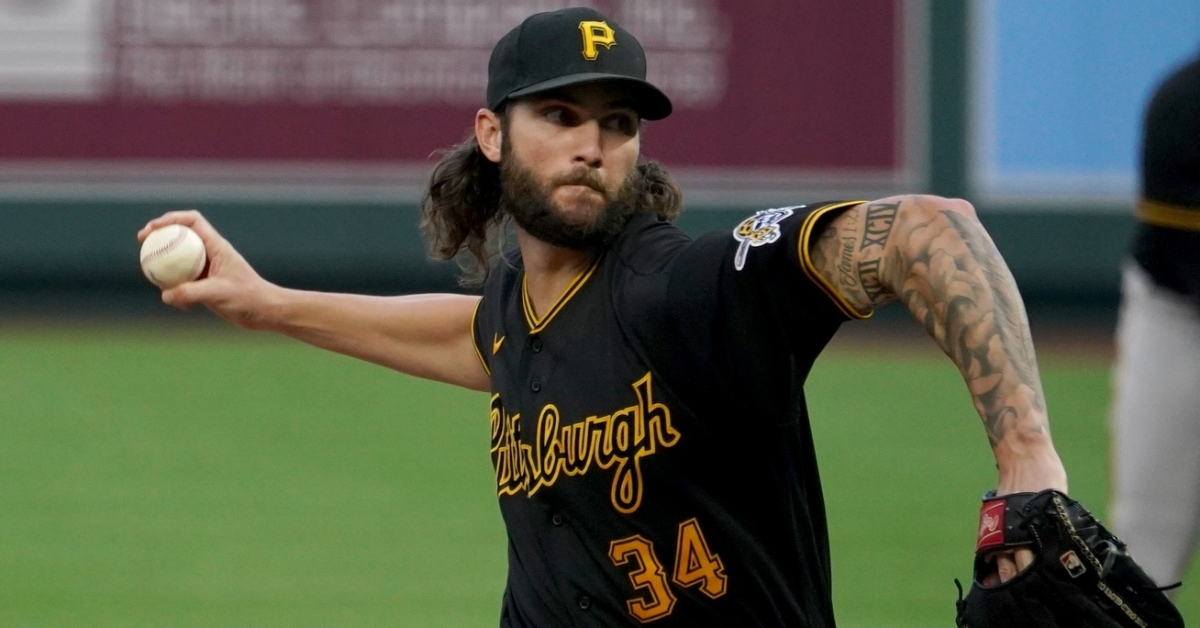 | | |
| --- | --- |
| Free Agency Talk: Trevor Williams could be viable option for Cubs | |
---
| | | |
| --- | --- | --- |
| Wednesday, January 20, 2021, 11:38 AM | | |
Spring training is a month away, and there is still a lot unsettled with this roster. One thing is for sure, should the team roll out this current roster, they can still compete in the NL Central as that division hasn't done much of anything to improve. If there was one team in that division who you could rule out, it might be Pittsburgh as they appear to be in fire sale mode themselves.
Earlier this week, the Pirates traded Joe Musgrave to the Pirates and have plenty of holes to fill in the rotation. Mitch Keller should be back this season, but with Jamison Taillon recovering from Tommy John and Chris Archer, a free agent, Pittsburgh will be hurting. Another pitcher that has been on the Pirates staff for the past few seasons has been Trevor Williams, who opted to hit the free-agent market in November.
Could he become another low-cost option for the Cubs, hoping a change of scenery helps get him back on track?
Before getting the call to the MLB, Williams was a top pitching prospect in the system and was looked at as being middle to top of the rotation arm. When he was coming through the system, the Pirates had Gerritt Cole and Taillon anchoring the staff so bringing Williams along slowly was something they could do.
Williams made his debut in 2016 and since then has struggled to find consistency with the Pirates. Across his five MLB seasons, Williams has posted a 31-37 record with a 4.43 ERA. Not to mention his last few seasons have been extremely rough, and the Cubs have benefitted from that many times. Since the start of 2018, no team has hit Williams harder than the Cubs. As much as the Cubs would miss facing him, he would love to be on the other side for once.
Many fans may call a signing like this dumpster diving at this point, but I look at it as a low-cost, high reward signing. So why would the Cubs think about bringing in Williams if he has struggled so much? Well, for starters, there are three reasons why the Cubs may take a flyer out on him, and it's the things the Cubs desperately need.
First, Williams is still relatively young, as he is currently 29 years old. That means he still has plenty of baseball left in that arm. Second, his contract will come extremely cheap as he was set to make around 3.5 to 4.5 million in arbitration. The Cubs could have him, I think, for approximately three million, which fits into their financial plans.
The next reason why the Cubs could look at him is his velocity, which has shown no signs of decline. Typically, he throws in the 93-95 range, but even that seemed a bid up last year, often touching 96-97. The Cubs lack overall velocity in their rotation, so any form of that would be an excellent addition.
Finally, although this hasn't happened much, he has proven to be a great pitcher when Williams is on. Take 2018, for example. After posting a 7-9 record in 2017 with a 4.07 ERA, he put together his best season to date, winning 14 games and dropping 10. What stood out the most was his 3.07 ERA, as Williams was tough to square up that season.
The trend hasn't been pretty in his two seasons since going 9-17 with a 5.70 ERA. That is certainly not something you want when you have a rotation already shorthanded. I may be in the minority in this, but I think a change of scenery could do wonders for Williams, and he would have a shot to deliver in Chicago.
If you look at his entire body of work in the minors, Williams was far more consistent, going 25-26 with a 3.12 ERA. The win-loss ratio isn't excellent, but his ERA was strong in the minors, which shows he suffered from a lack of run support. His command was also much better in the minor leagues, so something happened from the minor league side of getting in Pittsburgh.
Williams has been healthy for his career's brunt with an oblique injury as the only hiccup thus far. He hasn't had any arm issues, which is critical in bringing in a starting pitcher. If the Cubs were to consider Williams, you would have to think they would offer him a deal somewhere in the line of 800,000 to one million dollars. That would put the contract in line with Shelby Miller.
The Cubs could also essentially sign him to a minor-league deal with an invite to spring training, tying incentives into the contract. Should he make the roster, who knows what could happen.
Flashy signing, no, but one that could be done if the Cubs continue to stockpile depth in the minors.