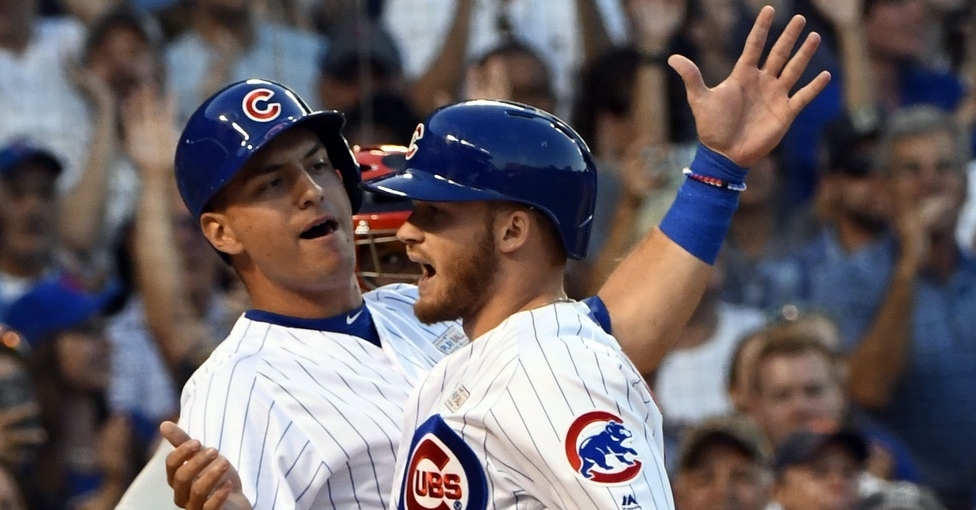 | | |
| --- | --- |
| Cubs News: Happ-Almora battle is heating up this spring | |
---
| | | |
| --- | --- | --- |
| Friday, March 6, 2020, 11:49 AM | | |
Coming into Spring Training, there were only a few positional battles that were yet to be decided for the Cubs as they move toward the 2020 opener at the end of the month in Milwaukee.
While second base is far from settled, with Nico Hoerner, David Bote, Jason Kipnis, Robel Garcia and more duking it out for the starting job — centerfield is much more narrow, but more complex battle.
When players reported to came near the end of February, Ian Happ seemed to be favored to get the starting nod. While Albert Almora, who was once viewed as the potential centerfielder of the future, seemed prime to be his backup and defensive replacement in the late innings.
A scorching hot start to the spring from both Happ and Almora have made David Ross' future choice on opening day a much tougher one.
Happ has had an interesting career as his 24 homers in his rookie year in 2017 made him look like a potential cornerstone in the lineup — and he followed that up with a great spring training in 2018 that earned him the leadoff spot out of camp.
That experiment did not go too well for Happ, who struggled and limped to the finish line in 2018 with just 15 home runs, 44 RBI, and a .233 average.
Happ hoped for a different result in 2019 and was instead demoted to Triple-A Iowa to start the season where he was instructed to focus on his defense in center field as well as polishing his approach at the plate — which included valuing contact, striking out less and being more patient — especially from the right side of the plate.
When Happ eventually returned to the majors in the middle of the summer, he impressed. He finished the season with 11 home runs, 30 RBIs and a .264 batting average — ending the year on such a hot streak that he was named NL Player of the Week in the final week of the regular season.
On the flip side, Almora was the first draft pick of the Theo Epstein regime, and his debut came in 2016. He appeared in just 47 games, but his stellar defense and smart instincts on the base paths helped the Cubs win their first World Series title in over 100 years.
The next three seasons were pretty full for Almora. He appeared in 132 games in 2017 and ended the year with a .298 batting average in 299 at-bats.
His metrics rank him near the bottom in almost every category over the last season and a half. The offensive struggles mixed with his unfortunate foul ball that permanently injured a little girl led to his usual superb fielding taking a hit and his mentality being out of whack.
However, for both players, this offseason has allowed them to clear their heads and return to Mesa with a refined focus, and the success has been apparent.
Both Happ and Almora have had 15 at-bats thus far this spring as of Thursday afternoon.
Happ has a .467 average with a .933 slugging percentage and a 1.404 OPS to go with two homers and eight runs driven in. Additionally, Happ had two more hits yesterday.
Almora is hitting .533 with a 1.000 slugging percentage, a 1.588 OPS, two bombs, and six RBIs.
In 30 trips to the plate combined, only three strikeouts as well.
In Happ, you have a switch-hitting bat with versatility defensively all over the diamond, whether it be at first base, second base, third base or in the outfield. Happ is very patient at the plate with a lot of power as well.
Almora is a more sound defender at any of the three outfield positions, but slower on the base baths than Happ is. Almora puts the ball in play at a high rate and also is typically a lefty killer.
Maybe a platoon in centerfield is what's best to get both of these players their fair shot at the center field job. Happ against righties and Almora against lefties may be an excellent place to start. Then again, there is a reason I am writing and not managing.
But for now, David Ross, the ball is in your court, and the pen to write the lineup card is in your hand.