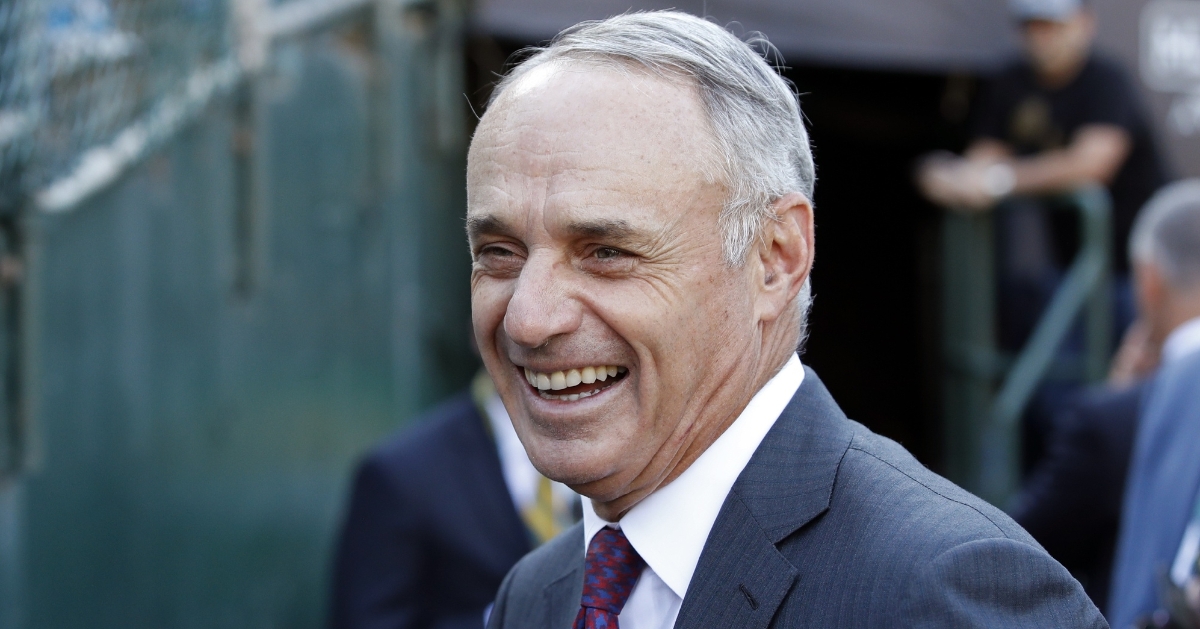 | | |
| --- | --- |
| MLB proposes delay of 2021 season with full play | |
---
Oh no, here we go again. After witnesses what fans witnessed last season between the MLB and the Players, it appears we could be on the verge of that once again. However, this time things seem to be on better terms. At least for now.
With the COVID 19 Pandemic now reaching a full calendar year from when it started and watching both NBA and NHL shorten their 2020-2021 seasons, MLB is hoping to do the same as concerns over current restrictions could threaten spring training and more. As of now, Spring training is scheduled to start on time on February 17, with the regular season getting underway on April 1.
Rob Manfred said the goal is to start the season and spring on time and play a full 162 game set with fans in the seats where allowed. Those fans were supposed to be showing up for spring training games, but with Arizona seeing a massive surge in COVID cases, things may not look the way it was planned.
In response to that and the growing concerns of potential spiking in the coming weeks, the MLB proposed a new offer to the players that affect things going forward. On Friday, MLB presented the Players union with a 154-game proposal with full pay if they can delay the season by a month and extend it by a week.
In fairness to both sides, that offer is a much better offer than what was put forth last season and only takes out eight total games this season. The NBA cut out 10 games, while the NHL cut out 33% of their season, so you can see the thought process behind this proposal. This new proposal would allow fans, coaches, and players more time to receive the COVID Vaccination if they choose to and could allow for the current surge in cases to potentially decrease. There has been some decrease over the last week, but not enough to feel comfortable quite yet.
With this new proposal, spring would no longer start February 17 and instead start on March 22. That would also push opening day back from April 1 to April 28 but would extend the regular season into October instead of the end of September. This doesn't seem like a bad idea or proposal at this point, but some concerns still come with agreeing.
Along with this current offer, a universal DH and expanded playoffs have once again been added. The playoff format wouldn't be 16 teams like it was last season, but instead would go down to 14. The Union has second thoughts about an expanded postseason because it would allow some teams to win fewer games to get in. They could essentially elect to hold on to their finances and field a team with less financially taxing players to get in. Another report out there that cutting the season by eight games could affect stats, but to me, that is just foolish.
While nothing has been agreed upon or denied yet, we know that the Union is mulling over this proposal and discussing it this weekend. Despite this new proposal being very fair, in my opinion, some union reps feel by agreeing to this deal it would give Manfred that much more authority to shut down the season and less margin for rescheduling games. The Union also isn't too fond of the universal DH or expanded playoffs, but at least the sides are talking.
Union likely to reject MLB proposal to delay season, and might not even counter. A number of players believe it is too late in offseason to revise schedule. Possible that parties can revisit expanded playoffs/DH before start of season, but union opposes expanded playoffs.

— Ken Rosenthal (@Ken_Rosenthal) February 1, 2021
Talking is the key phrase right now, as negotiations were not pleasant last year. Should things go down that road again, get ready for a rocky next few weeks as things will turn ugly in a hurry. However, one of the benefits of the two sides talking now is that it gives them more time to figure things out.
Teams are still three weeks away from spring training, so if things get figured out by the 17th, there shouldn't be an issue. The worst possible thing would be to have pitchers report on the 17th, start to get in-game shape, to have things shut down through the end of March suddenly. Given how the discussions went last season, I don't see any way the Union budges at this point unless they are forced to.
Both the NBA and NHL needed to shorten their upcoming season, in my opinion, because their season was delayed by four months and ended at the time the new season would begin. Players needed time to reset and recover, and a mini offseason needed to happen first. Unlike those two sports, Baseball already went through a shortened season and finished their season on time. They have already gone through a normal offseason and are set to take the field in three weeks for spring training.
I understand the health and safety concern side of things, but baseball should be the least of the worries in terms of being safe. Football went through an entire season without too many issues, and both the NHL and NBA have recovered after some breakouts early in the year. Baseball is played outside, and for the most part, players are socially distanced all game long.
If having fans in the seats is a concern, they made it work during the NLCS and World Series, so why can't they make it work now. I get that not every city or state will want fans, but for those that do, open and let 30% of the people in.
Teams already lost billions of dollars in overall revenue last season and are expected to lose hundreds of millions again this season with limited attendance for the foreseeable future. Delaying the season and cutting out games takes more money out of these franchise's pockets, which isn't a good look long term. I say start the season on time and get through spring the best you can.

Upgrade Your Account
Unlock premium boards and exclusive features (e.g. ad-free) by upgrading your account today.
Upgrade Now