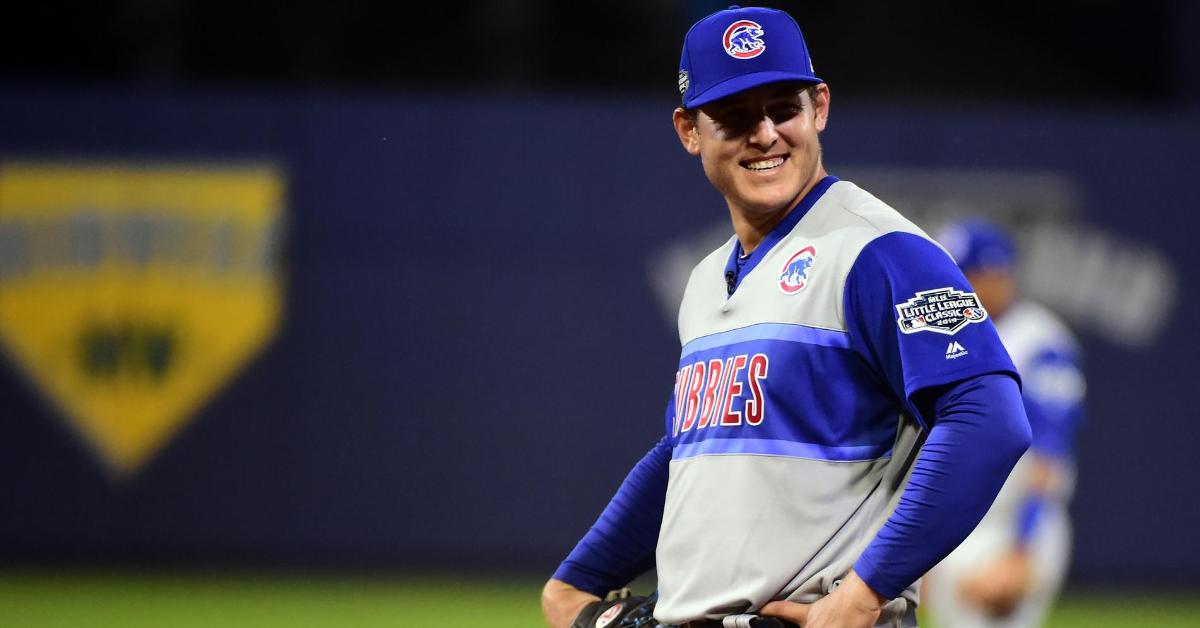 | | |
| --- | --- |
| Predicting 2021 Opening Day Cubs Roster: Offense | |
---
| | | |
| --- | --- | --- |
| Tuesday, February 23, 2021, 6:28 PM | | |
We are less than a week away from Cubs baseball as the first spring training game is right around the corner. This is the time of year when every team feels like they have a chance to win it all and looks to show what they got during the month-long slate of exhibition games.
For the Cubs, no spring training could be as important as this one. Not only do they have a bunch of roster spots that need to be filled, but they have made several pitching changes that need to pan out for them to be successful.
Add in an inconsistent offense that ultimately could be playing for extensions, and you have a team that appears to be hungry.
This offseason could be a blessing in disguise for this team as, for the first time in seven years, they are not seen as the favorites in the division. That essentially could leave this team hungry as they could go out looking to prove something this year. Players like Javier Baez, Anthony Rizzo, and Kris Bryant have the most to prove this season as they are all coming off terrible 2020 campaigns. With all three of them entering their final year with the team, this becomes a prove-it season where if they perform well, extensions could be in order.
At this point of the season, I feel we have a pretty good feel about who will be on this roster and who won't be. However, with the additional 26th man once again being added, there are still some spots up for grabs that need filling before all is said and done.
I think the opening day roster will look like this on for the offensive side of things:
Catchers (2) Willson Contreras and Austin Romine: Losing Victor Caratini was a massive blow for this team as it left the Cubs without a backup catcher. Guys like P.J. Higgins, Jose Lobaton, and Miguel Amaya were all options heading into the winter, but none offered the Cubs what they were looking for at this point. Amaya would have been an exciting addition, but he needs to start at this point in his career. Adding a guy like Romine was vital because he backs up Contreras and Rizzo.
First Base (1) Anthony Rizzo: In terms of the roster, Rizzo is the only first basemen on this roster, so that he will be starting as many games as possible. That doesn't mean he won't get days off from time to time. Rizzo has dealt with a nagging lower back across his career that always seems to bother him early in the season. Look for guys like Romine, David Bote, Hoerner, Bryant, or even Happ to find themselves seeing time at first throughout the season.
Second Base (2) Nico Hoerner and David Bote: The Cubs have been looking for a left-handed-hitting second baseman to platoon with Nico Hoerner this season. After both Kolton Wong and Jason Kipnis came off the board, it didn't leave this team with many options, so look for Hoerner to take over second base full time. With less than 160 professional games of experience, Hoerner will continue to go through growing pains, so look for Bote to see plenty of time at second too.
Shortstop (1) Javier Baez: Coming off his worst season since his rookie year, Baez has a lot to prove if he wants to earn that long-term extension. The MVP runner-up in 2018 was off to another great start in 2019 before a broken thumb ended his season early. 2020 was a different story as Baez looked lost all season long. This is a massive year for him as he has all the tools to be in the MVP conversation once again. Now it becomes the case of trying to put them together.
Third Base (1) Kris Bryant: Although Bryant may be listed as the lone third baseman on the roster, Bote will see plenty of time at third, just maybe not as much in the past. Bryant has seen time in the outfield the past few seasons but looks for the Cubs to play him at third unless needed in shorthanded situations. Much like Baez, Bryant is coming off a terrible offensive season and has a lot to prove since winning the 2016 MVP. If he goes out and delivers a strong year, expect the Cubs to talk extensions with him this offseason as they try to keep him long-term.
Outfield (4) Joc Pederson, Ian Happ, Jason Heyward, Jacob Marisnik: As things sit in the Cubs outfield right now, this will be an intriguing area to watch considering who is no longer with the team. Both Albert Almora and Kyle Schwarber are gone, with Pederson and Marisnik taking their place. Pederson will take over the everyday duties in left while Marisnik will see sparing starts from time to time but will be used as a defensive replacement quite often.
Final spots (2) Ian Miller, Cameron Maybin, or Trent Giambrone: With 26 players on the roster once again, look for the Cubs to carry 13 position players and 13 pitchers. 11 of those 13 spots appear to be locks at this point, leaving two spots up for grabs. Typically, the Cubs only carry four outfielders, but given the versatility of Happ, I could see them adding a fifth outfielder out of camp.
Maybin is undoubtedly someone who makes a ton of sense given his ability to play all three positions. He is a veteran and would be a great leader in the clubhouse. Miller is another guy to watch as this is the first chance to get a fair shake. Not much of a hitter, Miller's speed is irreplaceable and is certainly someone who would often be used as a pinch-runner. Should the Cubs add both, that makes Marisnik a question as they won't carry six outfielders.
Giambrone, to me, is the biggest wild card of all the players, and it goes back to the past two springs. Looking at numbers, Giambrone has been the team's best hitter during the last two spring seasons and has wound up in AAA both times. His average has never been excellent, but he provides 20 plus homer power with 20 plus steal potential. He cannot play both corner outfield spots, third base and second, giving the Cubs another utility man. Chicago loves utility players, and if he has another great spring, Giambrone could bring some versatility to the team.

Tags: Cubs Baseball
,
Anthony Rizzo
,
Kris Bryant
,
Willson Contreras
,
Victor Caratini
,
Miguel Amaya
,
David Bote
,
,
Ian Happ
,
Jason Heyward
,
Albert Almora
,
Kyle Schwarber
,
Ian Miller
,
Trent Giambrone