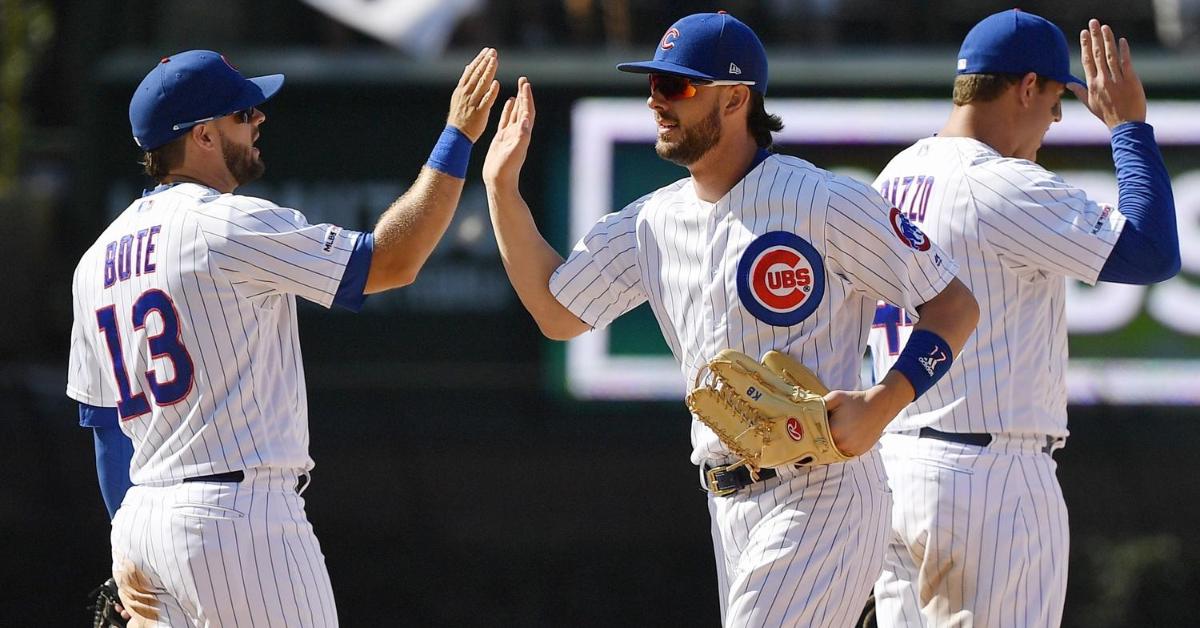 | | |
| --- | --- |
| Cubs News: The latest trade rumblings involving Kris Bryant | |
---
| | | |
| --- | --- | --- |
| Tuesday, December 10, 2019, 3:46 PM | | |
Day 1 of the winter meetings was filled with intrigue, while the Nationals made the biggest splash of them all. It wasn't Gerritt Cole receiving the first big contract of the offseason. Instead, Stephen Strasburg elected to return to the Nationals with a healthy seven-year 245-million-dollar deal. That almost certainly means that Anthony Rendon will be looking for a new home this offseason.
With all the surrounding action going around, you have the Cubs desperately trying to do anything they can to remain competitive. Ideally, the Cubs would love to resign Nicholas Castellanos and bring in some high-priced players, but until they quote "free up some salary space," no moves can be made unless they come from the trade front.
Even with everyone expecting the Cubs to make a deal or two during the winter meetings, it appears that those deals may not come easy either as the Cubs are a long way from reaching any agreement with any team. If dumping salary is the way to go for the Cubs to get moving, then Kris Bryant appears to be the puzzle piece to get that done as the Cubs appear to be using him as sort of a marketing strategy during the early stages of the winter meetings.
What does that exactly mean? Well, for starters, Rendon and Donaldson are the top two free-agent third basemen who will be asking for the most money among third base players. Bryant may be at the same level as those two, but with one or two years of arbitration left, he will be making only about 60-65% of what those two will be asking making it easier for a team to take on his salary.
Right now, it appears the Cubs are willing to deal Bryant to the losers of the free-agent market, or should I say to a team that loses out on the Rendon bidding. Ideally, Chicago would rather trade Bryant for a package sooner rather than later as it could set up their off-season plans. However, right now, it looks as if the Cubs are waiting out the Rendon Free Agent decision with hopes Donaldson follows shortly after. Wherever those two decide to sign, the Cubs will then be able to market Bryant to the teams that have been left out.
I'm not saying that means a trade will for sure happen, but it does indicate that Theo and company are having aggressive talks regarding the Cubs' current third basemen. The biggest issue regarding Bryant right now is the current grievance hearing that the MLB is conducting. As of right now, Bryant is a free agent following the 2021 season. However, should the hearing go Bryant's way, then he would become a free agent following the 2020 season, which could affect the trade market for him.
Why would a team give the Cubs an excellent package for Bryant if he may only stay around for one season? Ultimately, we can say the Cubs are waiting on Rendon and Donaldson, but it seems more like teams are waiting on the results of the hearing to decide whether it is worth trading for him or not.
We have already seen the Rangers, Braves, and now Dodgers reportedly inquiring about Bryant, but at this point, the Dodgers seem more in on Rendon, leading me to believe the Rangers and Braves will continue to discuss things with Chicago. However, as the free-agent market continues to pan out, two more NL East teams have inquired about Bryant as both the Philadelphia Phillies and Washington Nationals have begun discussions with the Cubs regarding Bryant.
For the Nationals, this would make a ton of sense given they just won the world series and are on the verge of losing Rendon, so adding Bryant would provide the nationals with a replacement for Rendon at a temporary cheaper cost and a younger age. Even if Bryant never gets to his MVP form again, putting him in the Nationals lineup will only make them deeper and could help him become a better hitter.
Then you have the Phillies who are desperately trying to do something so they can get over that .500 hump. After spending big money on Bryce Harper last season and adding Zach Wheeler this year, the Phillies have shown they are ready to spend now to contend. Add in new manager Joe Girardi, and things are looking up for Philadelphia. So why add Bryant?
Well, for starters, when a team is going all-in on competing now, they tend to want the best talent, they can get no matter the price. Not to mention third base has been one of the Phillies weaknesses, and it becomes a solid fit. With each passing day, it seems like the Braves can give the Cubs the best possible return in terms of prospects, but should the Cubs and Phillies do business, what would the return be?
Two prospects the Cubs would eye from the Phillies will be righty Spencer Howard and third baseman, Alec Bohm, as well as one or two MLB players. Bohm would be the centerpiece prospect in the deal as he is projected to have a big-league stick despite limited minor league experience (60 games). Howard, on the other hand, (second-rounder in 2017) has made just six starts at AA and will not be big-league ready until 2021 at the earliest. These two players, despite being rated very highly, are just prospects and may not pan out, so would it be worth dealing Bryant for that?
The other thing to look for if this deal comes full circle would be what and who would the Cubs want in return from the Phillies big league roster. Philadelphia has talent, but outside of Harper, J.T. Realmuto, and Rhys Hoskins, they are not loaded in terms of position players with Aaron Nola leading the way in the rotation. That means the Cubs will have to be selective with who they want, but two players seem like they would be a perfect fit.
Scott Kingery would undoubtedly be one the Phillies would have to move as him and Bryant both play third base. Should Bryant be on his way to Philly, Kingery would lose his natural spot, making him an ideal piece to send to Chicago. Although his average is nearly 20 points lower than what Bryant generally has, his power potential is off the charts and would easily be a 25-plus homer guy at Wrigley.
The one player to keep your eye on would be Jean Segura as he is two years away from free agency himself. Two of the biggest wholes the Cubs have on their roster right now are second base and leadoff. Segura would not only fill the leadoff role but could solve the problem at second base even if he doesn't play second base. Since coming into the majors through the Brewers system, Segura has bounced around from second base and shortstop before playing primarily shortstop now.
Not saying he couldn't go back to second should the Cubs trade for him, but that could mean Baez going back to second base and keeping Segura at short, which would make the Cubs overall infield defense that much better. With Segura nearing free agency of his own, he could be an excellent filler for Nico Hoerner as they could let him fully develop instead of rushing him to the bigs as they did last season.
Regardless of what the Cubs decide to do either at the winter meetings or later on in the trade market, you can bet KB will be in the center of every conversation as the Cubs look to not only improve their team now but for years to come.