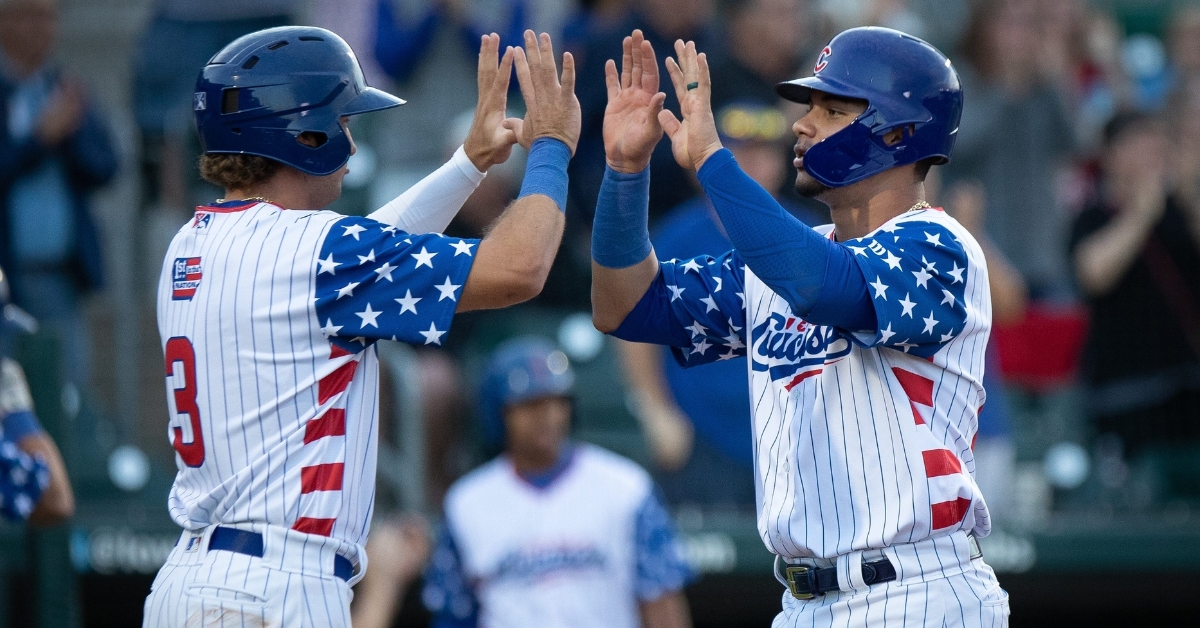 | | |
| --- | --- |
| Cubs News: Triple-A to be delayed a month as alternate sites return in 2021 | |
---
| | | |
| --- | --- | --- |
| Wednesday, March 3, 2021, 12:37 PM | | |
Just when we thought the minor league nightmares were over, they are not. About two weeks after the MLB announced that the AAA season would start on April 9th with AA, A, and Low A beginning May 4th, a tweak in the schedule is already being done, and this time it solely affects AAA. According to ESPN's Jeff Passan, the MLB Alternate training sites are returning in 2021 for at least the month of April.
This now affects the AAA baseball season, which was supposed to begin April 9th as it will now be pushed back roughly a month and perhaps start at the same time as everyone else. This is one of those bad news situations for the minor leagues as teams continue to wait on taking the field after losing all of 2020 to begin. The reason for the delay isn't apparent, but some feel the delay is to wait for more vaccines. In essence, that is a good thing for baseball as they try to be as safe as possible.
"This is a prudent step to complete the Major League and Minor League seasons as safely as possible, and we look forward to having fans back in ballparks across the country very soon," Morgan Sword, MLB's executive VP of baseball operations, said in a statement.
We know how these sites worked last year, and I would anticipate them working similarly, especially for April. The big question is, what happens if these sites get extended past April. Would that mean the end of another Minor League season? Typically, when anything is delayed, it is never a good thing, but in this case, that isn't true.
With more vaccines continuing to be pushed out daily, delaying the AAA season will give organizations a better chance to get everyone vaccinated. Obviously, it is still up to the player if they want the vaccine or not. Still, Minor League baseball is putting safety first, and they feel this will better limit overall exposure compared to sending players nationwide in April and worry about contracting it should they get called up.
Obviously, the AAA teams and the rest of the minor league teams want to get back on the field as soon as possible, but this news may make them smile. A later start date means there is a likelihood of having fans in the seats this season and the possibility of having even more fans than expected, which will be huge for a team's annual revenue source.
The Cubs expect their Alternate site to be in South Bend once again, given the proximity to Wrigley.
With AAA playing their games in Iowa, why does this affect them? Well, for starters, according to the report, unlike last year's alternate site, which featured players of all different levels, this will strictly be AAA players who need to be ready for early season callups. While they are in South Bend, the rest of the minor leaguers will be having their spring training in Arizona. Doing this allows all the minor league seasons to line up and start in early may as opposed to AAA starting three weeks sooner.
Fixed it. pic.twitter.com/2IiFNuLSnF

— Iowa Cubs (@IowaCubs) March 3, 2021
To this day, Major League Baseball doesn't require their players to get vaccinated. As much as teams want to require this, it is impossible to force players to get a shot that hasn't even been on the market for three months.
The selfish sports side of me hates this decision as I love everything about baseball. From high school to college to the minors and pros, baseball is hands down the greatest game. The minor league season has been gone for far too long, and it will be going on 18 months since a minor league game has been played. I am tired of waiting and just want it to start so we can see these prospects again.
The sanity and real-world side of me knows why this decision was made. It was made to put safety first, not just in the players but for fans and everyone around. The more time you give people to get the vaccine, the safer it will be to come to the ballpark with fans and more fans, which leads to possibly getting back to full capacity.
The more players and coaches that get vaccines or the longer they wait to start the season, the safer it is. Over the past year, athletes and coaches have been stuck in an isolated lifestyle where the only things they can do is play baseball or go to the hotel. The more shots that are given out in the communities bring the realistic possibility that athletes get back to their old routine of spending time with family and friends away from the game.
There is light at the end of the tunnel, which is a good thing. It now becomes patience as we need to wait for minor league baseball just a bit longer patiently.