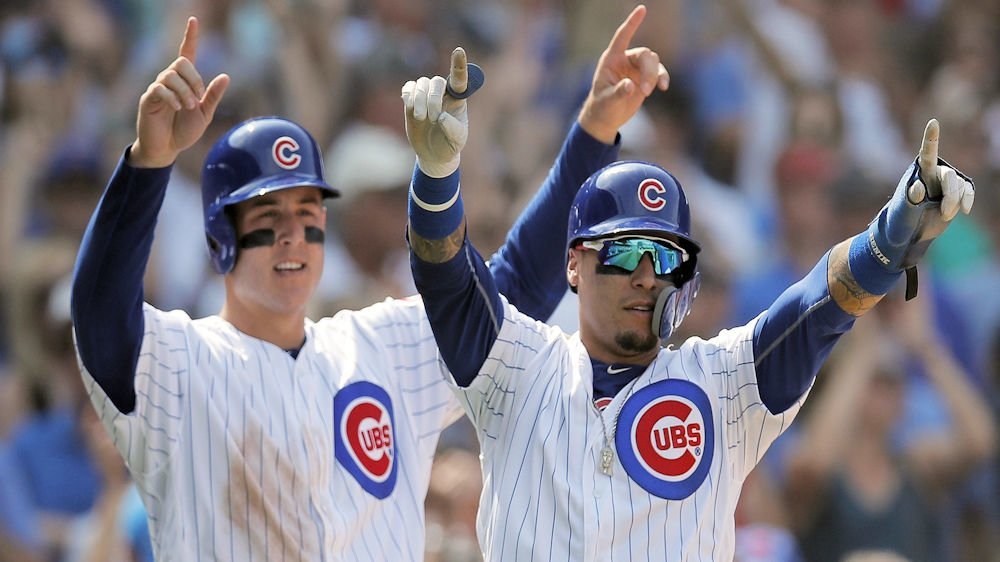 | | |
| --- | --- |
| Cubs News: 2019 Season Projections: Rizzo, Baez, Bryant, and more | |
---
| | | |
| --- | --- | --- |
| Friday, March 1, 2019, 12:37 PM | | |
The 2019 season is an important one for the Chicago Cubs if they look to continue to content for the top spot in the national league.
Even as some players have continued to improve in each season, the same cannot be said for everyone as a large chunk of the roster has not shown the type of development that the Cubs front office has hoped for. It is going to be up to those players to not only drown out the noise from the outside but for them to focus and get back to doing what they know they can do best. If they fail to produce once again this season, it could be the end of the road for them in Chicago.
In most cases, a team that is coming off a 95-win season and 380-plus wins over the past four seasons typically doesn't have a lot of holes to fill entering a new season. The Cubs may fall into the category of not many holes to fill, but they do have plenty of internal issues that need to be taken care of especially on the offensive side of things. If this core group of young players can once again reach that potential that everyone expected from them, there is no reason to believe this offense won't begin to take off again.
Here is how I see the offense looking this season in terms of stats for the infielders and catchers.
ANTHONY RIZZO: Mr. Consistency on the Cubs continues to show why he is the heart and soul of this franchise. This is the one guy you can count on to give you 30-plus homers and 100-plus RBI's every year although his power numbers were slightly down last year. Don't look too far into that as his April was one/if not the worst month of his career before finishing strong to look like the Rizzo; we expect to see. You add that with his gold glove defense, and there are plenty of reasons why Rizzo is the leader of this team and will give you 100% day in and day out.
Projection: 150 G .281 32 HRS 105 RBI's. Rizzo will continue to play 150 games or more if he is healthy. When he reaches those numbers in terms of games played you can expect his numbers to remain where they have been for the past six years. Even if is home run total goes up, the RBI total may go down as other people in the lineup are just as capable of driving in runs as he is. If his eye and willingness to get hit continues to be a part of his game, Rizzo can take the inside part of the plate away from pitchers making it that much easier for him to hit the ball hard.
DANIEL DESCALSO: After trading Tommy La Stella to the Angels, the Cubs needed that left-handed bat that can play multiple positions. Insert Descalso. The former Cardinal and Diamondback will not strike fear in the opponents at the plate, but he is a veteran presence that the Cubs did in fact lack last season.
Don't expect Descalso to be a primary pinch hitter like La Stella was, as he can play multiple positions at a relatively high rate. With Addison Russell suspended to open the season, expect him to get a ton of starts at second base early with a chance to see consistent time there during the year.
Projection: 102 G .247 8 HR 37 RBI's. Like mentioned above, Descalso will not strike fear in you with the bat but knows how-to pick-up hits when needed. He is coming off one of his better seasons, and his power numbers have gone up in the past couple of years. The Cubs are not expecting him to hit for power but looking for someone who is a professional veteran who when called upon can deliver.
JAVY BAEZ: Last year's team MVP will have a lot to live up to in 2019 as he had a breakout year. If it wasn't for his bat, this team might have been out of playoff contention by mid-September instead of playing in the wild-card game. Sure, Baez will continue to frustrate fans with his constant swinging at bad pitches and low walk rate, but with a .290 34 111 slash line a season ago, fans have come to the realization that is who he is and will probably always be.
Along with his breakout at the dish last season, Baez will continue to flash gold glove defense where ever you stick him on the diamond. That indeed is a blessing for aging pitchers who are beginning to pitch more to contact instead of strikeouts. The one part of his game that not many took notice too until last season is his baserunning ability. Whenever he is on the bases, it seems like the game slows down for him much more than anyone else. The reads he gets on balls, the ability to swim around tags, and just his aggressive nature makes him a nightmare for pitchers and must-see TV.
Projection: 154 G .278 28 HRS 89 RBI's. I don't want people to look at these numbers and freak out thinking it would be a disappointment if this what he posted. The reality is, last season was a career year which is why he was in the running for the MVP all year. I don't expect his average to be in the .290's too often as pitchers will throw him fewer strikes until he can show more patience. Even with that in mind, Baez can still hit balls further than most people can hit strikes. His presence in the middle of the lineup will be huge once again as the Cubs hope the projection continues to rise.
ADDISON RUSSELL: The curious case of Russell will be a storyline to follow all season long in Chicago. Once viewed at to be a cornerstone in this organization, injuries and off the field issues have quickly flipped the script on him putting himself in an interesting position moving forward.
Talent wise, Russell possesses some of the most athletic skills on defense in terms of shortstops making him a must play when he is ready to go. The big issue outside of his early season suspension is the bat as it has not development near the rate the Cubs expected it to after his 21 hr 95 RBI season in 2016. Sure, injuries have played a large role in why that has happened, but the average and lack of power in the past two seasons must be alarming to the front office as it is to fans.
Projection: 123 G .265 Average 15 HRS 57 RBI's. This is a big year for Russell as his future on the Northside will be dependent on two things. First, once he returns from his suspension, he must continue to grow as a person and learn from this experience as the Cubs will be monitoring it closely all year. Secondly, when given his second chance this year, the bat better wake up or the Cubs won't hesitate to release him or trade him next offseason.
Russell knows he has a lot to prove to himself and the fans of Chicago and I expect him to use that as motivation. Before being suspended and injured last season, Russell finally started to show improvement at the dish despite the power still not there. His average even reached .280 at one point before falling back to the .250 range. I expect big things from him this season as the batting average should go up and power stroke may begin to return.
KRIS BRYANT: If there was a person who was excited to see the offseason this year, Bryant was that man. The 2018 season is indeed one to forget for KB as a nagging shoulder injury led him to become a shell of himself and missed nearly half of the year.
With a healthy shoulder and fresh mind in 2019, Bryant appears readier than ever to take the field this year. The former rookie of the year and MVP has one challenge he needs to figure out this season, and that is what type of hitter he wants to be. Does he go for more power and less average, or more average and less power? To me, if he can lie somewhere in the middle, it will be more than enough for him to reach MVP levels once again.
Another issue he must overcome is will getting hit in the head affect his ability to crowd the plate this season. It seemed after that HBP, Bryant was not the same in terms of standing in the box. How could he be though, taking a 96 MPH heater off the head would scare anyone and would almost certainly alter their approach at the plate.
Projection 155 G .288 35 HRS 100 RBI's. Bryant is focused and ready to put the trade talks to rest and prove doubters wrong in 2019. A motivated Bryant is a good thing for the Cubs as a return to form for him is like a signing a big-name free agent for a third of the cost. One of the biggest complaints that people make about Bryant is where he hits in the batting order. He normally hits in the No. 2 spot which is not a high RBI spot in the lineup. That may be the case, but it is the perfect spot for him as he sees more hittable pitches because people don't want to put any extra players on base for Rizzo.
WILLSON CONTRERAS: To say he was in a three-month tailspin last season is an understatement as his second half will be one to forget moving forward. With that in the rearview mirror, Contreras is looking to get back to mashing the ball as he did in 2017. Even though we are early in the spring season, it appears that Willy is dialed in for a big a season as he has been mashing the baseball with two homers in early action.
Everyone continues to rave about his throwing ability behind the plate and offensive potential at the dish. That potential was on full display in 2017 when he had his coming out party as one of seven Cubs to slug 20 home runs or more that season. He was on pace to finish somewhat close to that last season until a second-half swoon took him from a top catcher and turned him into a liability down the stretch. This season is a big year for him as he aims to show 2017 was not a fluke and that he indeed will be someone the Cubs can count on.
Projection: 115 G .277 20 HRS 68 RBI's. Willson has the potential to carry the team offensively as he did in July of 2017. He also has holes in his swing that he needs to tame down to cut down on the strikeouts. The biggest knock, however, is his inability to frame pitches at a consistent level. With the age of the Cubs staff and their low velocity, pitch framing is essential for the team's overall success this year. I don't expect to him to catch as many innings this year as he did last year as fatigue may have been a huge reason for his late-season slump. I do, however, still think he catches 110 games or so and will be a huge part of the heart of the order this year.
DAVID BOTE: The man who played hero many times in 2018, Bote's rookie season was a thrill ride that no one expected to see. The MLB leader in terms of exit velocity off the bat, Bote showed what can happen when solid contact is made consistently. However, like most rookies, Bote hit a wall in the second half as pitchers finally began to figure him out. Although not able to make the adjustments last season, Bote has had an entire offseason to build off last year and should be able to adjust more frequently this year than as a rookie.
Projection: 97 G .257 8 HRS 41 RBI's. Bote will have the benefit of playing early as Russell's suspension leaves openings at second base and backup shortstop more often. Based on how he plays during that time will determine how much time he gets down the stretch. I do not expect him to start as many games last year if the roster is healthy, but given his versatility in the infield, Bote will have no problem finding the diamond throughout the season as his numbers should begin to reach respectability.
VICTOR CARATINI: The Cubs backup catcher situation will be something talked about all season long. Many thought the Cubs should have gone out and signed a veteran backup to help Contreras with the small issues he needs to fix. Others felt that Caratini would be the perfect backup because he would not be expected to play as much.
With Miguel Amaya sitting in the minors as the future behind the dish in Chicago, Caratini may be the stop gap for now who could be used as trade bate later down the road. Despite his average not being something to smile about, he can hit with consistent playing time as his numbers in AAA have shown. The thing that will potentially keep him around is his presence behind the dish as he is very good at calling games and is a better pitch framer. Don't expect him to play significantly this season but expect more playing time as he can fill in at first base also.
Projection: 73 G .258 3 HRS 27 RBI's. These numbers may not be eye-popping at all, but they will only go up with consistent time on the field. As a backup catcher you are not expected to play much, but when called upon Caratini will need to produce at the very least at a more consistent level.