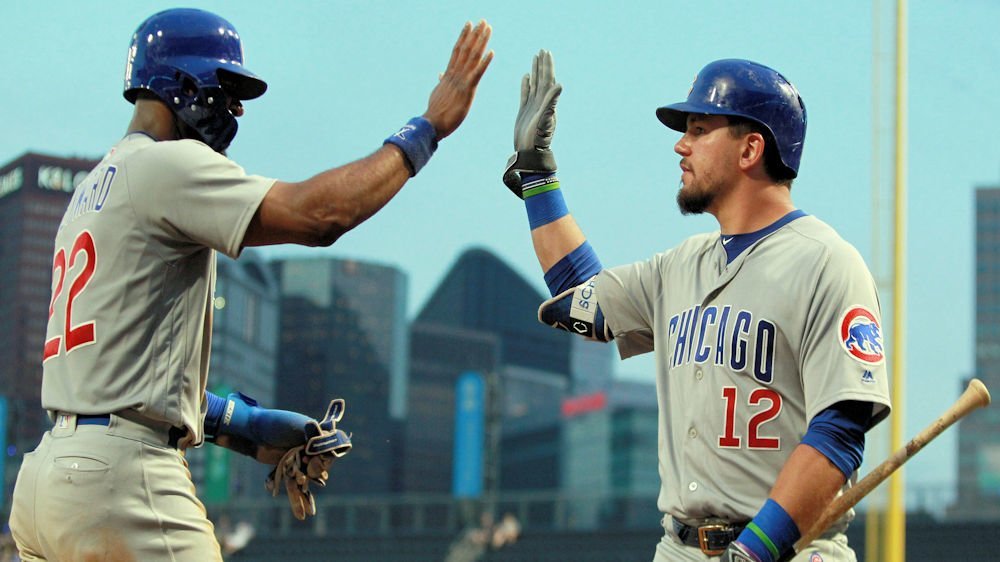 | | |
| --- | --- |
| Cubs News: 2019 Season Projections: Schwarber, Happ, Heyward, and more | |
---
| | | |
| --- | --- | --- |
| Sunday, March 3, 2019, 1:47 PM | | |
In part two of this series with projections on Cubs hitters, here is how I see the offense looking this season in terms of stats for the outfielders.
KYLE SCHWARBER: Schwarbs continues to touch his potential, but never fully reach it which is driving Cubs fans nuts. This will be a telling year for the lefty power hitter as the Cubs need to decide his future now instead of letting the DH argument determine their fate.
Although his average went up in 2018, the power numbers went down especially after the home run derby during the second half. Whether he wants to use that as a valid argument is on him, but all that matters are his numbers during the second half were not pretty. That leads us to this year as Kyle needs to establish himself in the middle of the lineup and deliver.
Projection: 117 G .262 AVG 30 HRS 72 RBI'S. Schwarber has 40 homer 100 RBI potential, but that will only happen if he played 150 or more games during the year. That will never happen unless a DH is implemented in the National League so the Cubs will have to take 120 games from him and live with the production from that. One thing to keep an eye on this year is that Schwarber has gone back to his old stance he had back in the 2015 and 2016 seasons. Whether wanting to try and change things up or going back to something more comfortable, Schwarbs will look to hit Schwarbombs into the Wrigley faithful all season long.
ALBERT ALMORA: The case Almora has made to be the everyday center fielder is loud and clear, but will it be good enough in the end. Defensively, there is no one on the Cubs roster than can play a better game in centerfield than him. Offensively, he has potential which makes him an exciting player moving forward to the 2019 season.
Almora has always been able to hit lefties as his .350 average indicates. The thing that has prevented him from being the everyday centerfielder is his 230 average against righties. Although I expect that to go up this season if Maddon gives him a chance to hit righties more, will it be enough to prove he should play on an everyday basis in 2019.
Projection: 143 G .289 7 Hrs 48 RBI's. Almora showed his potential last season early in the year when he was inserted in the lead off role. His aggressive nature to swing at a first-pitch fastball paid off, and the Cubs offense took off with him at the top. Once he began to struggle, he started shifting down the lineup and seemingly couldn't recover to get back to that level. I expect Almora to get a fair crack at being the leadoff hitter again this season, but should he still find inconsistency in hitting righties, he will probably be back in the eight hole once again this year.
IAN HAPP: Happ is the most interesting player heading into the 2019 season. With Zobrist in the final year of his contract, the Cubs hope Ian can fill the role of Zo for the for seeable future. That also makes him a prime candidate for trade talks given his switch-hitting power and ability to play multiple positions.
With the Cubs potential need to invest in pitching for the future, it wouldn't surprise me at all to see Happ dealt at some point soon. If that happens and the Cubs want to get the full value, they would like to get for him, not only does he have to improve at the plate, but he needs to play almost every day to show his overall versatility. That won't be a problem for Maddon as he likes to tinker with things daily and Happ can play six positions to help accommodate that tinkering.
Projection: 135 G .255 AVG 18 HRS 61 RBI's. Happ may never hit for a high average, but he has plenty of power to make up for that. The one glaring issue he has had has been lack of contact in key RBI situations. Once he can increase his contact rate, not only will playing time increase, but all his numbers will go up in the process. Maddon should once again give him a long leash at the plate this season, but for how much longer if contact continues to fail.
JASON HEYWARD: At this point in the Heyward contract the Cubs are going to get what they get with him so they should stop hoping for more. What you get is arguably the best defensive right fielder in the game and a guy with robust offensive potential, but for some reason cannot reach that level.
The biggest issue I have seen with Heyward is that he constantly changes his swing from one season to the next. I don't think that is the answer, but if something isn't working, you tend to try and fix things. Heyward has always had a jerk in his swing which has not been good for the wrist in the past. However, he has altered his swing a lot less in the past two seasons as more consistent results have come from that.
The Cubs may have overpaid for J-Hey, but they paid for someone who had a great season and was hoping to duplicate that moving forward. It has not happened and if he has another bad season, the Cubs may talk about renegotiating his contract in hopes of bringing in more FA in the future.
Projection: 128 G .268 AVH 13 HRS 65 RBI's. Once again, these numbers are not eye-popping and would be considered terrible for a guy making 23 million per season. In Heyward's case, numbers like these would be positive as the would fall right on his career line for what he produces in a season.
Take away his two 20 homer seasons in ATL and his .291 100 RBI season in STL, Heyward has been a 265-hitter averaging about 13 HRS a season.
For a guy his size, he should be able to hit 30 home runs easy. However, that is not his makeup and for the most part, never has been. Heyward is a line drive hitter who uses the opposite field often and has never been a guy to crush the ball over the fence. As much as Chicago would like him to do that, they can't expect it. Instead, they need to remember he led the team in average with runners in scoring position last season before is an injury. If he can get back to that, this lineup becomes that much more dangerous.
BEN ZOBRIST: Finally is the oldest man on the team in Ben (Zorilla) Zobrist. The fan favorite has been everything the Cubs have hoped for and more as he is the final year of his contract and nearing the end of his career this year. With that in mind, you can bet he will be more motivated than ever to get one more ring to add to his collection.
In order to achieve that goal, Zobrist knows he is a leader and needs to take a more vocal role this season. He fully intends to do that going forward and the Cubs hope it can have a similar effect to when David Ross was here. Zobrist is also coming off one of his best seasons in quite sometime showing that he is getting better with age. Still listed as a utility player, Zobrist mainly plays three positions with 2b, LF, and RF as those spots. Expect more of the same this year with ample rest to keep him refreshed and ready.
Projection: 108 G .275 AVG 11 HRS 54 RBI's. Zobrist is in the final year of his deal and would love to play every day. Given his age and the talent on this roster, that will rarely happen as Zobrist knows what his role is on the team and will be ready to play when called upon.
At 37 years old, there is a high risk of injury this season which is something the Cubs will monitor this year. Expect him to get plenty of rest to help keep his body refreshed so he is ready to go for another playoff push.