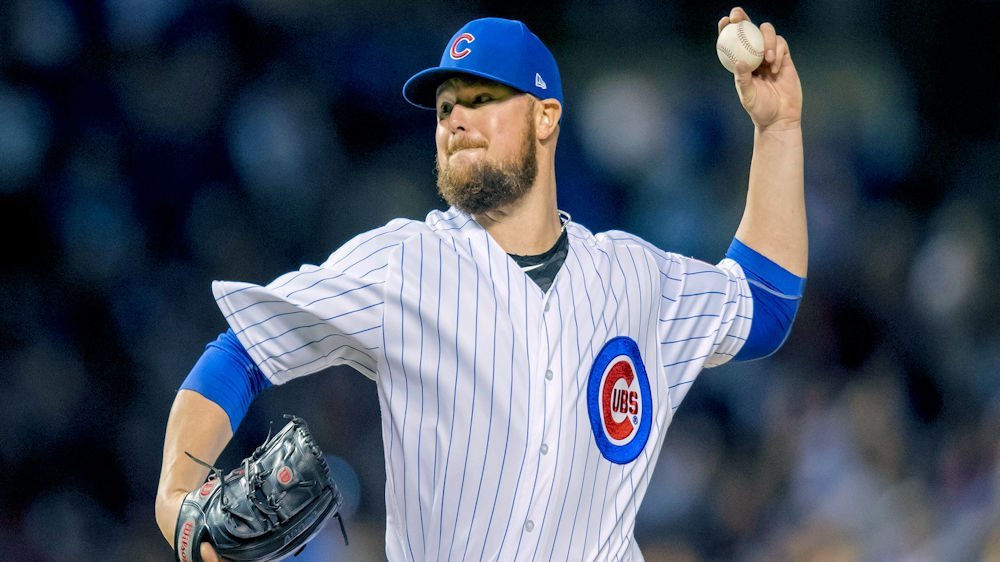 | | |
| --- | --- |
| 2019 season projections: Cubs starting pitchers | |
---
| | | |
| --- | --- | --- |
| Tuesday, February 26, 2019, 12:24 PM | | |
On paper, the Cubs have one of the best and quite possibly the most experienced staff in terms of MLB service. Even with that type of strong resume and veteran leadership, there are still glaring weaknesses that the Cubs staff must overcome if they want to continue to pitch at their previous level.
The first obstacle happens to be the age of the staff as only Kyle Hendricks age 29 is the only starter under 30 years old entering the season. The second and perhaps most significant obstacle to overcome is the team's overall velocity as Yu Darvish is the only starter with an average fastball over 93 mph. That not only makes the Cubs one of the oldest staffs in baseball in terms of average age and one of the slowest also in average velocity making it that much more important that they hit their spots consistently and work the corners.
With those two factors in place, things could go horribly wrong if age catches up to them and they fail to hit the corners, or things could go incredibly right, and they will continue to deliver at the level they have in the past. This is my preseason projections as to what I think the starting staff will put together this year.
JON LESTER: The soon to be 35-year-old is the ace of the Cubs and has earned every penny of his six-year, $150 million-plus deal thus far. At 61-31 with a 3.35 career ERA since joining the Cubs, Lester has been as good as advertised. Despite that, there has been an interesting trend as his odd number of years have not been as good as his even number years in pinstripes.
Dating back to 2015 when he came to the Cubs, Lester, despite a 3.34 ERA that season was just 11-12 overall. He followed that up by going 19-5 with a 2.43 ERA in 2016 before falling back t0 11-8 with a 4.34 ERA in 2017. Last year the pattern continued going 18-6 with a 3.32 ERA, and that was with three weeks of an ERA over eight at one point. Will this trend continue into another season this year?
I honestly don't think so as Lester has reached the point in his career where he knows he is no longer the type of pitcher that can blow you away and knows he needs to pitch to contact and work the corners. That may not work for some pitchers in today's league, but for Lester, he is perfectly fine with that knowing the defense he has behind him. Should he give up hits here and there, Lester will once again be challenged by other teams running games as he continues to struggle throwing to first base, but he always has a knack to find his way out of tight jams.
Projection: 14-8 3.50 ERA. I don't expect Lester to have as good of a season as he had last year, but I also don't see him taking a huge step back either. With the rest of the arms on this staff, Lester can go into the season knowing that he needs to pitch to his game and focus on getting through six innings before turning I over to the bullpen. He will continue to give up hard contact, but the damage should be limited.
COLE HAMELS: The Cubs certainly won this trade a year ago as Hamels pitched like his old Philadelphia self during his two-plus months on the North Side. With a 7-5 record and 2.53 ERA Hamels has every reason to be positive going forward to the 2019 season.
Cubs are hoping that his short stint last season wasn't just lightning in a bottle considering they picked up his 20-million-dollar option for this year. That is a major financial commitment to anyone 35 years old for one season but being in a year-long pennant race may be the fountain of youth he needs.
After struggling in Texas for the past few years and seeing his velocity dropping many began to worry if he was past his prime once the trade was made. Those doubts were quickly erased when Hamels picked up nearly two mph on his average fastball velocity one, he toed the rubber for the Cubs and began to look like an ace once again.
This year will be the first time since maybe his rookie year that Hamels can pitch like an ace without being an ace on the staff. If he can come close to duplicating what he did last season the Cubs will be in a wonderful spot as he is a bonified playoff pitcher looking for one more piece of hardware before he calls it a career.
Projection: 14-9 3.48 ERA. Hamels appeared to be energized last season once the trade was made. Whether that was due to being in a playoff race, the influx of youthful talent, or just a fresh start, Hamels was back to his old self yet again. He has long been on record saying Wrigley Field has always been one of his favorite places to pitch. With a full season pitching in front of the Wrigley faithful, Hamels could be in for a year he soon won't forget as I anticipate great things.
KYLE HENDRICKS: The professor is a close to Greg Maddux as anyone has been since the Mad Dog retired over ten seasons ago. At 52-33 and a 3.07 ERA not only has Hendricks been consistent but has pitched like an ace since his call up five years ago.
Hendricks will not blow you away with velocity as his fastball barely touches 87-88 on the gun, but his ability to locate and command all his pitches makes him a miserable pitcher to face 30 plus times a season. His changeup continues to be his best pitch due to his uncandid ability to release that pitch from the same arm slot as his fastball keeping hitters guessing from one pitch to the next.
The one issue that has plagued him in the past couple of seasons has been the long ball giving up more than 20 in each of the last two seasons. When that begins to happen, it comes from a result of mechanical issues and elevating his pitches. That is fine when you throw hard enough to get away with it, but when you sit around 87-88 keeping the ball down and on the corners is essential to your success in the league.
Hendricks much like Lester, went through a rough patch in the middle of the season that saw him get hit harder than usual and his command falling to career low numbers. Kyle identified a mechanical issue in his delivery, and from that point on finished the season with a 3.03 ERA making him one of the best pitchers in baseball throughout the second half of the season.
Projection: 15-8 2.96 ERA. Kyle could easily be the ace of this staff based on his consistent performance in the bigs. However, his lack of velocity will continue to make him a strong middle of the rotation guy that any team would love to have. Will he get hit and give up home runs? Yes, but the professor also allows the lowest exit velocity in baseball meaning when teams do make contact, it tends to be soft at best. I don't expect him to pitch the way he did in 16, but he can pitch to that potential and shut big-time hitters and offenses down.
YU DARVISH: This signing has not been a failure yet, but it is a huge season for the 126-million-dollar man. When healthy, Darvish has some of the best stuff in baseball which has seen him in the top five in strikeouts for much of his career. The big if with Darvish has always been health and once again that was on full display last year.
After pitching strong for the Dodgers before tipping his pitches in the world series the Cubs decided to pay him hoping that his post-season issue was behind him. Last season was a year to forget as another injury sidelined him for the final 4 months of the season. Even when on the hill, Darvish was far from ace material going 1-2 with a 4.95 ERA and having his mental toughness be called out by numerous fans. Whether it was an injury issue all season, trying to live up to that contract, or just feeling the wrath of the fans on his shoulders, Darvish was never comfortable in a Cubs uniform in 2018.
Projection: 18-6 with a 3.25 ERA. Call me crazy, but I expect a huge year from Darvish in 19. Not only is he feeling healthy and ready to go, but he knows this is a big season for him. With that in mind not only does he want to go out and prove to himself, but to all of Cubs nation that giving him that contract was not a mistake. He may start the season as the No. 4 starter in the rotation, but if he can regain his old form, he may be the ace by the end of the season. That will be huge going forward considering Hamels, Lester and Quintana will be off the books by 2021.
JOSE QUINTANA: With a 70-68 record and 3.60 ERA, Quintana may be one of the best .500 pitchers in all of baseball. That record may partly be due to playing for a White Sox organization that was going no where for much of his career leaving him putting up strong numbers without results. That is what the Cubs thought of him also made a huge trade for him by dealing top prospect Eloy Jimenez and top pitching prospect Dylan Cease for him hoping the change of scenery would pay off in the long run.
The 2017 season it appeared they made the right decision, striking out 12 in seven shutout innings in his Cubs debut before finishing the season 7-3 with a 3.74 ERA on the Northside. 2018 was different story as Quintana was not what the Cubs were hoping for.
Not only was his ERA hovering slightly above the 4.00 mark at 4.03, but his command was at an all time worst with a 2/1 strikeout to walk ratio. That saw his season record fall to 13-11 proving once again that it appears, he may be nothing more than a good .500 pitcher. One thing to keep an eye on moving forward to this season is the change that he made late last year.
After identifying a flaw with his changeup which made it nearly impossible for him to get through a lineup three times, Quintana fixed the problem and went the final two months of the season with a sub 3.6 ERA. That could go a long way moving forward into this season if he can continue to feed off those adjustments he made.
Projection: 12-11 4.14 ERA. I want to think he will have a good year, but until I see otherwise, he will only be a .500 pitcher in my mind. I am sure his command will be better, but will that yield better results in the overall win/loss columns. Even if the problem he noticed last year is fixed, will his stuff be good enough to make it three times through a batting order. If that is not the case, Quintana will be most likely the best No. 5 starter in the game, but for what the Cubs gave up for him, they need a whole lot more.
MIKE MONTGOMERY: Monty is solely on this list because he is the next man up. Injuries will most likely happen throughout the season but let's knock on wood that none of those are overly serious. Shall an injury take place Monty will be moved into the rotation and look to hold things down once again.
Montgomery showed signs of promise last year filling in for Darvish and was starting to show his worth as a starter. He was not the same after his shoulder injury, but still showed Cubs nation they can be confident in having him step in once again if needed.
Projection: 3-3 3.75 ERA. Although I hope most of his action is spent in the bullpen, I expect Monty to make 8-10 starts throughout the year. Whether it comes because of injuries or if it comes during a long stretch of games without an off day, Montgomery will once again be important to stabilize the staff and give it much needed depth beyond the starting five.