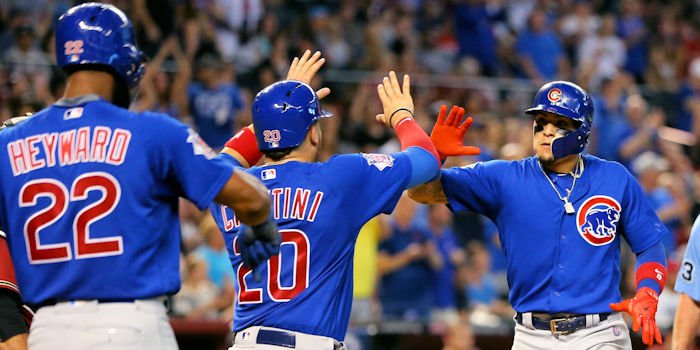 | | |
| --- | --- |
| Cubs News: 25 random thoughts from a wandering mind | |
---
Sometimes, like this morning, there just isn't much of a story to be written.
The Cubs took care of business in Milwaukee last night, although the Brewers certainly made it an interesting game near the end. Trying to keep pace with the North Siders, the Cards beat the Nationals and the once-threatening Pirates toppled Cincinnati. The Cubs are now four games up on the Brew Crew and four-and-a-half up on the Red Birds.
Mornings like these are when writers like me struggle to write. As always, my friend and colleague, Cole Little, wrote an excellent summary of last night's game, leaving me with nothing but some random, scattered thoughts to ponder and write about this morning.
No crafty story today, no stump speeches about who the Cubs should trade, just some fleeting thoughts, so that I can clear some of the clutter out of my mind…
* The Cubs have only 23 regular season games remaining and I'm not at all ready for the season to end.
* Kyle Schwarber tweaked his back last night and he is now being listed as "day to day." Despite him slumping some recently, this isn't good news.
* Ben Zobrist is a very charismatic man and a beast on the field.
* I'm convinced: Javier Baez's sole mission is to make the players on the opposing teams look really, really bad, and he does this really, really well.
* Does Ian Happ even have teeth?
* Signing Cole Hamels and Jesse Chavez almost offsets signing Yu Darvish and Tyler Chatwood.
* I think it was pretty cool that the Rangers nominated Cole Hamels for the Roberto Clemente award AFTER they traded him to the Cubs.
* Jon Lester reminds me of Charlie Brown with a beard.
* Why did Jhoulys Chacin throw to first last night when Baez was literally standing on the bag?
* Despite me griping, even at their worst, the Cubs are still better than most.
* Griping doesn't make you a bandwagon fan, however, turning both the channel and your back on your team does.
* The difference between the beer at Wrigley Field and the beer at Miller Park is that the beer at Wrigley is still being sold in October.
* I never could understand the tailgaters that never enter the stadium- I mean, who pays for parking just to have a cookout? Although, I guess the food and drinks are cheaper that way.
* Tyler Chatwood's theme song needs to be "Walk This Way," by Aerosmith.
* I saw a fan on TV last night that was holding up an upside down and inside-out Cubs' flag; was that some sort of statement, or was she drunk, dyslexic or both?
* Back in the early 80's, "Go Cubs Go" was played prior to the games, which makes complete sense, based on the lyrics. It has, however, become almost synonymous with the "W" flag as part of the ritual when the Cubbies win.
* Harry Caray and Steve Stone were not nearly as fun to listen to as Jack Brickhouse and Jimmy West were, but overall, I still prefer Len Kasper and Jim Deshaies.
* Do the groundskeepers ever get bent out of shape for having to pick up all of those sunflower seed shells?
* Few players in MLB annoy me as much as Ryan Braun does, and I'm not even sure why that is.
* Rivalries may exist more between the fans than they do the players and teams. Case and point: Anthony Rizzo talks with EVERBODY at first base.
* Donate to your favorite player's charity. These guys do as much good off the field as they do on it.
* How many MVP candidates are thinking, "If Baez doesn't win this thing, I'll be shocked"?
* As much as I'd love to have seen a blowout season like Boston is having, the truth is, if the Cubs fail to gain ground over the next couple of weeks, the season may come down to the last few games against the Cards. INTENSE.
* One World Series win by the Cubs in my lifetime just isn't enough.
* Follow me on Twitter @KenAllison18. I could use some more Cubs friends!
Whew! That's it.
Cubs at Washington tonight at 6:05 PM central time. Hey Chicago, what do ya say?