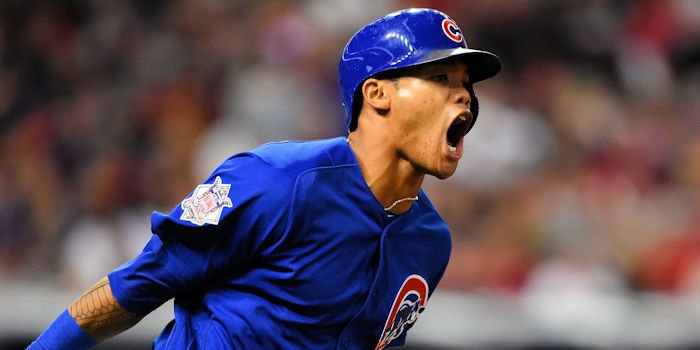 | | |
| --- | --- |
| Cubs News: Addison Russell, MVP (Most Volatile Player) | |
---
| | | |
| --- | --- | --- |
| Friday, September 21, 2018, 1:15 PM | | |
If you are a regular reader of the articles on CubsHQ.com, then you already know that Dan Marich and I seldom agree on anything.
Dan wrote an article this morning about Addison Russel's ex-wife coming forth with allegations of spousal abuse, and what the Cubs needed to do about it; I couldn't agree with Dan more.
Some of your comments about the article on our Facebook pages have disgusted both Dan and me, as you seem to think there's some ulterior motive for her allegations and some reason for her timing. You lost your minds about Daniel Murphy's (non-violent) anti-homosexual remarks, but you may be OK with letting an alleged woman beater play. I tip my cap to your hypocrisy.
First, let's look at Melisa Reidy-Russell's newly releases comments about the situation:
"The first time I was physically mistreated by my spouse, I was in shock," Reidy-Russell wrote. "I couldn't wrap my head around what just happened. … Why did he get so angry? What did I do for him to want to put his hands on me?"
"Of course, I forgave him & assumed it would never happen again. I just thought he had let his emotions get the best of him, he loves me, and he's sorry. I was deeply hurt that he could even be capable of this behavior towards me, I couldn't understand how the man I was so in love with, the FATHER of my child, the man I married just a few months ago could show such aggression towards me."
If true, those words speak volumes.
While some of you are alleging that she's looking for a payday, I'd submit that by coming forward; she may actually be willing to take a big chomp out of the hand that feeds her.
Anyone that knows the first thing about child/spousal support knows that if an income changes by a certain percentage (generally around 15-20%, but this varies by state), then the person paying the support (known as the Obligor), is entitled to a reduction in the amount of support paid. Likewise, if the Obligor's income rises by the required percentage, the person receiving the money (called the Obligee) is entitled to an increase.
If these allegations result in Russell's disbarment from baseball, or if his salary is somehow compromised, Reidy-Russell is going to take a financial hit. By coming out and confirming past allegations (which were originally made a year ago by Reidy-Russell's friends on social media), it would appear that Melisa Russell-Reidy has moved past the concerns of how this might affect her and their child financially.
For those of you who think this is some well-timed conspiracy to submarine the Cubs as they prepare to enter the playoffs, might I suggest going to your local library and finding some books on the Warren Commission and the 9/11 conspiracies. The government could always use a few new conspiracy fanatics to waste their time on, but I must caution you- some of the words are kind of big.
I'm confident that Russell-Reidy's lawyer (Thomas T. Field of Beermann, Pritikin, Mirabelli, & Swerdlove, LLP) has already cautioned her about the possible implications of lying. If her allegations were to be proven false, Addison Russell, for starters, would have legal recourse based on the grounds of defamation of character, slander, and libel, while she could also face the criminal charge of perjury, should she be proven to be lying under oath.
I don't think she's looking for 15 minutes of fame here, not in the least. When the allegations first surfaced a year ago, it was not by Russell-Reidy's choosing. Her friends (who were, probably in fact, looking for their 15 minutes of fame), pounced on the opportunity to spew the allegations, leaving Russell-Reidy in a somewhat awkward position. Presumably mentally unprepared for the fallout, Russell-Reidy refused to cooperate with an MLB investigation.
With Russell's divorce recently finalized (August 30, 2018), Reidy-Russell is now mentally free of the emotional bonds of their marriage and may now realize (if the allegations are true), that she is no longer obligated to protect Addison Russell on any level. Good for her.
Until now, I've left Russell's alleged character flaws out of every anti-Russell article that I've ever written. From a baseball standpoint, I have argued that the Cubs needed to part ways with him due to perpetually weak plate appearances and an arm that appears to be getting soft. Yes, I know he was injured, but if he can't get past that injury, then he serves no purpose as a shortstop.
The bottom line is this: If Russell did abuse his wife, I don't care if he wins a Golden Glove, Silver Slugger and bats .415, the Cubs need to part ways with him.
Addison Russell will not be at Guaranteed Rate Field today according to #Cubs officials pic.twitter.com/gPdFB4u0Xg

— CubsHQ (@ChicagoCubsHQ) September 21, 2018