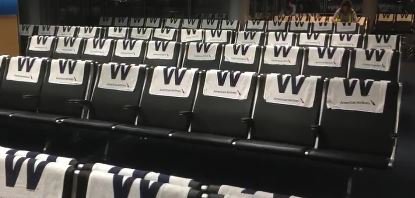 | | |
| --- | --- |
| Cubs News: American Airlines decorates O'Hare with "W" flag | |
---
Cubs fans are excited for Friday night's World Series game against the Indians at Wrigley Field. Fans are pouring in from all over our great country to get a chance to watch the game at a restaurant, bar, or just hang out on the streets of Wrigleyville.
American Airlines has decorated its O'Hare terminal with "Fly the W" flags to show their allegiances for the Cubbies. Check out this video that shows the flags throughout the area.
Oh, hey O'Hare! What a Winning look! Great work by our #AATeam ensuring everyone at ORD is ready to #FlyTheW! pic.twitter.com/HI4aY02td3

— American Airlines (@AmericanAir) October 28, 2016
The Airlines also recently gave out 'Fly the W' flags on each seat on their AA1081 flight from their Chicago flight to Los Angeles.
We love what our ORD #AATeam has done with the place! Check out AA1081's festive decor as it travels from ORD to LAX. #NLCS #FlyTheW pic.twitter.com/YJoW9cpllV

— American Airlines (@AmericanAir) October 18, 2016
All around the world our #AATeam is ready to #FlyTheW in support of our partner the @Cubs! Good morning from #CLT! #WhereIsYourW pic.twitter.com/xZQ1h9l4Yd

— American Airlines (@AmericanAir) October 28, 2016
We're taking this international and yelling #GoCubsGo from Barcelona! So, #WhereIsYourW? #FlyTheW pic.twitter.com/tLZSUW1gyr

— American Airlines (@AmericanAir) October 28, 2016