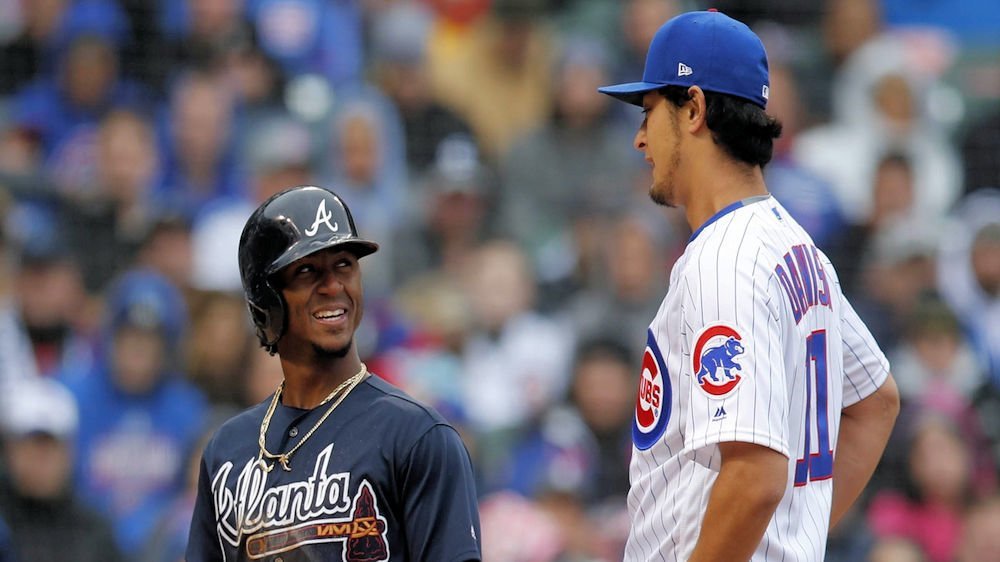 | | |
| --- | --- |
| Braves shut out Cubs at Wrigley Field | |
---
| | | |
| --- | --- | --- |
| Friday, April 13, 2018, 5:39 PM | | |
It was not Yu Darvish's best outing as the 31-year old righthander struggled with his command en route to a 4-0 loss to the Braves in the series opener. Meanwhile, the Cubs lineup was flustered by former-Tiger Anibal Sanchez getting only three hits off the righty through six innings.
A significant factor in today's game was the placement of Kris Bryant at first base instead of his usual hot corner. It was very clear from the get-go that he was uncomfortable playing there. It didn't seem to affect his ability at the plate considering he batted .500, but a couple of plays may have gone in the Cubs' favor if Rizzo was there instead of Bryant. He misplayed a hop from an Addison Russell throw in the sixth inning and missed a ground ball to his right side in the third inning. Bryant did not receive any errors, but it was clear the infield missed Rizzo's presence at first.
Darvish didn't have a much better day. He got into trouble in the first and second innings but worked his way out of it. He had thrown 38 pitches through just two innings and 105 over only four and two-thirds innings.
The Cubs caught a break in the top of the fourth after Dansby Swanson doubled down the left field line. With two outs, he took off for third on a safety squeeze play with the pitcher batting. Sanchez bunted down the line but took the inside of the basepath. He ended up blocking Contreras' line of sight to Kris Bryant at first which caused him to throw the ball away. Sanchez was subsequently called out for interference ending the inning. Statcast determined Contreras' throw to be 88 mph from only about 4o0 feet away from first base. After the inning, Bryant was seen talking with Anthony Rizzo presumably discussing how to field a bullet throw from Contreras.
Darvish imploded in the fifth inning right as he was about to come out relatively unscathed. After giving up a double to Ozzie Albies, he balked him to third and allowed him to score on a wild pitch. Darvish then gave up a single, walk and a home run before promptly loading the bases all with two outs. Brian Duensing bailed Darvish out gettingEnder Inciarte to ground out to the pitcher.
A positive coming out of this game is that Ian Happ seems to be pulling out of his first-week slump. He went 2-for-4 and had the only extra-base hit, a double in the right-center gap in the eighth inning. However, the Cubs have now been shut out three times in their first 13 games by three different teams. Not a good sign moving forward for the offense.
This is the first of two times the Cubs play on a Friday the Thirteenth this year. Their next unlucky day will be July 13 at the Padres.
The second game will be pitched by the Braves' Sean Newcomb (1-1, 4.35 ERA) vs. Jose Quintana (1-1, 4.50 ERA). Game time is scheduled for 1:20 PM CDT although rain might delay the first pitch.