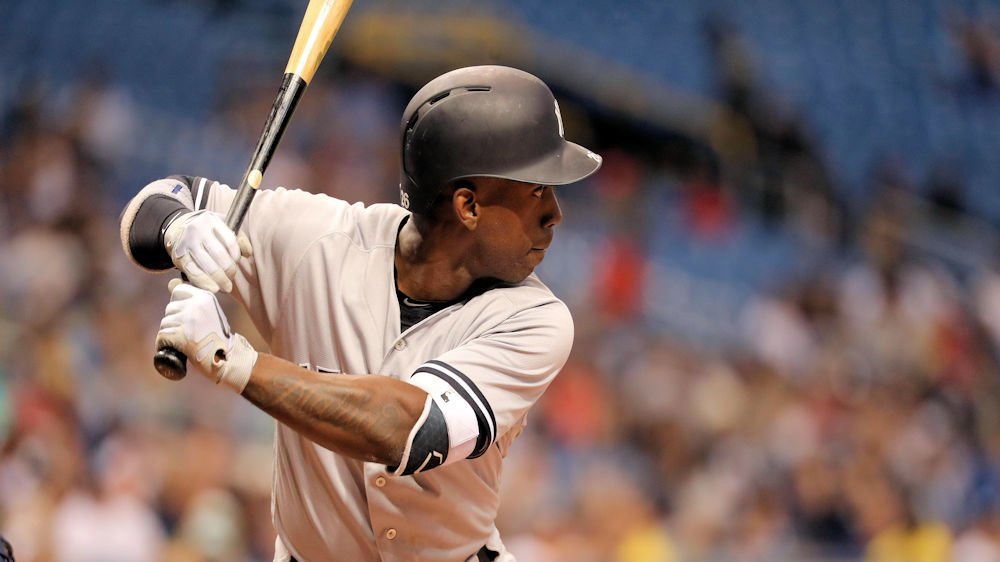 | | |
| --- | --- |
| Breakdown of OF and SS options for Cubs during free agency | |
---
| | | |
| --- | --- | --- |
| Sunday, November 4, 2018, 9:44 AM | | |
MLB Trade Rumors is now projecting that the Cubs are likely to sign CF Andrew McCutchen and pass on Bryce Harper. While I'm not so sure about this, one fact remains: they're usually right.
I knew Harper wouldn't come cheap, and I balked at the $350M projected price tag, figuring that the Cubs could get themselves two to three good players for that much money, maybe even for less. Now I'm reading that there may be some $420M talks, surrounding a fourteen-year commitment- that is just insane. Granted, it still works out to $30M a year, but will Harper even have half that much worth at age forty? Again, I have my doubts.
Andrew McCutchen isn't by any means a bad choice (.255/.368/.424, with eight assists and two errors in 2018), but at age 32, he definitely has age starting to work against him. McCutchen is currently ranked #13 among ESPN's top fifty free agents for 2019.
At this point, the Cubs, fans, media and the prognosticators all seem to feel the Cubs need a power hitting outfielder, but why? A power hitting infielder would serve the same purpose, as the Cubs are trying to overcome an overall offensive power slump, but for some reason, all eyes seem to be on the outfield.
Had Jason Heyward opted out of his contract, I could see the need to focus on a strong arm and heavy bat to replace him in the outfield, but Heyward isn't going anywhere- at least not until 2020, further leading me to believe that Ian Happ or possibly Kyle Schwarber will be traded. Happ has been a let-down, both offensively and defensively, and I still say he's the likely outfielder to be departing Chicago. I still think the Cubs retain Schwarber unless an AL team comes along looking for a deal on a DH.
Looking past #2 Harper and #13 McCutchen, who of the top 50 remain for outfield help? (NOTE: the following are 2018 stats)
#4- Michael Brantley: 2019 age 32, .309/.364/.468, one assist and two errors.
#6- A.J. Pollock: 2019 age 31, .257/.316/.484, three assists, one error.
#18- Nick Markakis: 2019 age 35, .297/.366/.440, nine assists, two errors.
#35- Marwin Gonzalez: 2019 age 30, .247/.324/.409, four (OF) assists, one error.
Any of the above, including McCutchen, have merit, but age is working against all of them. For all that Ian Happ has had working against him, youth is definitely on his side, as it is for Schwarber. Why then, in the absence of Bryce Harper, are the Cubs still looking for a power hitting outfielder?
Rumors have started circulating that the Cubs are in some kind of cash-crunch, and the fear mongers have further perpetuated that rumor based on Smyly being traded. I'm telling you now, don't panic. While the money supply in Chicago certainly isn't endless, it only makes good business sense to cut your overhead. With the Cubs re-signing Hamels and banking on Darvish's return, Drew Smyly was deemed to be an extra, unnecessary piece in the puzzle, and a way to offset Hamels $20M option.
I still maintain that the Cubs focus needs to be on signing an offensively productive and defensively sound shortstop, as Addison Russell's situation has left them in a quandary. Even if the Cubs manage to circumvent the public relations nightmare for keeping Russell after the allegations of spousal abuse, the team is still left without their starting shortstop for first 17% of the 2019 season.
With the depth of the Cubs' infield and the very real possibility that Daniel Murphy will be leaving Chicago, the Cubs could benefit from any guy who can play either second or shortstop and one that can hit.
Again, relying only on ESPN's free agency rankings, the Cubs have a plethora of choices to fill Russell's void. While Manny Machado is ranked as the #1 free-agent this season, the Cubs won't be getting him, so let's just get past that notion. (Again, stats used are for 2018)
#7- Jed Lowrie: (3B/SS), 2019 age 35, .267/.353/.448, 358 assists, four errors.
#20- Jose Iglesias: (3B/SS), 2019 age 29, .269/.310/.389, 316 assists, eight errors.
#29- Asdrubal Cabrera: (3B/2B/SS, switch hitter), 2019 age 33, .262/.316/.458, 279 assists, six errors.
#32- D.J. LeMahieu: (2B/3B), 2019 age 31 .276/.321/.428, 378 assists, four errors.
#35- Marwin Gonzalez: (super utility, switch hitter), 2019 age 30, .247/.324/.409, 124 assists, eight errors (as an infielder).
#37- Ian Kinsler: (2B), 2019 age 37, .240/.301/.380, 310 assists, nine errors.
#50- Freddy Galvis: (SS/2B), 2019 age 29, .249/.299/.380, 399 assists, nine errors.
Again, age doesn't favor the free agent infielders, making Galvis and Iglesias the most logical choices. The Cubs seem to have faith invested in Nico Hoerner, so a short-term deal on an older player (1-2 years) might suit them, assuming Hoerner plays well in 2019 and stays healthy.
The Cubs have the money to spend, and I don't think they fear the luxury tax, although they'd be fools not to try to avoid it. Everyone, including myself, has embraced the idea of Harper and/or Machado possibly coming to the Cubs, but as time wears on, they just aren't worth it.