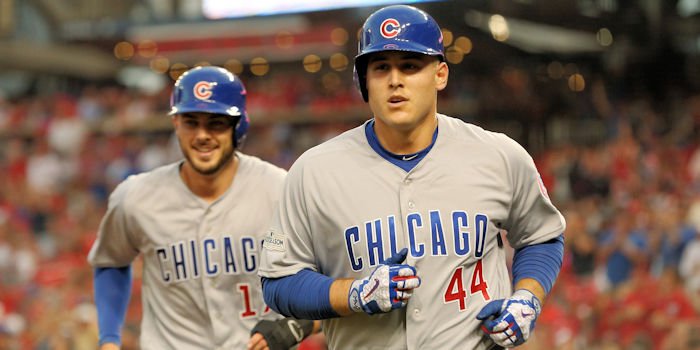 | | |
| --- | --- |
| Cubs News: Breakdown of Vegas odds: NL 2020 Awards with Darvish, Rizzo and Bryant | |
---
| | | |
| --- | --- | --- |
| Wednesday, February 12, 2020, 11:27 AM | | |
I don't want to give the wrong idea here. I think the Cubs have what it takes to make a late postseason push this season. As someone who loves baseball and sees it as the greatest game ever played, of course, it's always about the team. I'm a Cubs fan. Not a Rizzo or Lester or Baez fan. I want the North Siders to win their division, the National League Pennant, and then the World Series.
All that being said, when your team has a few players competing for an individual award, it makes the rest of the season even more exciting. I still remember the 1998 season and how amazing it was following the home run race. Sure, that season, the Cubs made the postseason for the first time since 1989, finishing second in the NL Central with a 90-73 record.
Still, I don't remember watching the Cubbies finish out the season, trying to win the division. I remember watching Sammy Sosa swinging for Mark McGwire. Say what you want about steroids and everything else. As the season came to a close, it was incredible to watch and to say I was a fan. Something I can't wait to tell my four-year-old daughter about.
These individual awards give us something to follow more than a team. In my opinion, following these races closely allows us to identify with the players more as individuals. That's how it did me as a kid, anyway. Sure, I was upset when the Cubs lost a game. That hurts anyone as a fan, regardless of the sport you follow. But, when a player on a team has the opportunity to be better than everyone else in the league at what they do, I think the rest of the team feeds off the excitement.
I wrote my first article with this site focusing on the odds the North Siders had been given as a team this season to win their division, league, and the World Series, as well as the over and under on their win total. In this post, I want to focus on the odds a few players on the Cubs have been given by Vegas when it comes to winning individual awards. For the record, these are the numbers I found as of Tuesday night. You need to know in advance that there's a good chance these numbers can and will change before opening day.
The three awards I'm focusing on are the National League MVP, the National League Cy Young, and who will hit the most home runs this season in the majors. I've picked the Chicago Cubs player with the best odds of winning the award and what I think the player needs to do this year compared to last season to win. Let's get started with the NL Cy Young.
According to Bovada, Yu Darvish has trhe best chance for a Cubs pitcher when it comes to the Cy Young Award as he is listed at +3300 odds to win it. Darvish finished 2019 with a 6-8 record, 3.98 ERA, and a 1.10 WHIP. Darvish threw 229 strikeouts last season while pitching 178.2 innings. He gave up 140 hits, 33 home runs, and allowed 82 runs to score.
I'll be honest, when I first saw they were giving Darvish the highest odds on the Cubs to win the Cy, Young, I didn't know what to think. In my opinion, the main objective he needs to accomplish this year is establishing himself as the Cubs' ace. In my opinion, he hasn't done that yet for a full season.
If Darvish can establish he's the man to beat in Chicago, that will go a long way in getting respect from some of the best hitters in the Central. Until he does this, he doesn't have a chance of being the top pitcher in the National League. I don't see him being a pitcher other teams in the division fear taking the plate against yet.
Also, if Darvish wants any chance of winning this award, he has to have at least 15 wins, in my opinion. He's missed some time since moving to Chicago. Without staying healthy for an entire season, he doesn't have a shot with the numbers he's put up the previous two years. I love the Cubs, and I'm all for putting a couple of dollars on some action, but I don't see this being a bet I'm willing to make, even at +3300 odds.
According to Bovada, Rizzo has the best odds on the Cubs of winning the National League MVP award with +5500 odds. I haven't placed a bet as of writing this, but this one is definitely something to consider. I think the Cubs will have a better season than many fans are saying. It will take a lot of effort, but I think this could be a 93-95 win team.
On top of that, I think the NL Central will be one of the most competitive divisions in the majors. If the Cubs are going to win the division and have the season I can see them having, someone's going to have to step and lead the team. I think Rizzo could be that person.
Last season, he had 512 at-bats. He batted .293, the highest average he's had throughout his career. Rizzo had 27 home runs, 94 RBI's, 89 runs, and 150 hits. He had a .405 OBP and .520 SLG, both categories also the best of his career. But, he struck out 86 times in 2019. This was six more than the number he had a year prior. In case you're wondering, he had 566 at-bats in 2018.
As I mentioned, I could see Rizzo having the type of season that would make him a serious contender for NL MVP. He's always had a tight bond with Ross. The new manager could be the drive Rizzo has been missing to give the extra push. I think Javy Baez and Willson Contreras will be key here. If there are a couple of other Cubs having the best seasons of their career, I think it will push Rizzo. As I said, I really like the odds that come with this bet.
Last but not least. I saved this one for last simply because there is still so much talk on whether Bryant will even be playing in Chicago this season. As of now, he's at +5500 to lead the majors in home runs.
Bryant had 31 dingers in 2019, the second-highest number for a season in his career. He did this with 543 at-bats. In 2016, he hit 39 into the stands on 603 at-bats. For the record, in 2019, Bryant had three home runs against that team in St. Louis, two against the Brewers, and 11 against the Reds.
If Bryant is going to lead the big leagues in home runs, he's going to have to hit more out of the park against the teams he plays the most, specifically the Redbirds and Brewers. If I remember correctly, he made some drastic changes to his swing coming into the 2019 season. I think sticking to it will be significant for his numbers this season.
Because betting is a big part of what I do, I'm just going, to be honest. Yes, I think Bryant will finish the 2020 season playing in Chicago. That being said, I don't even see him leading the Cubs in home runs, let alone the majors.
I'm all for the Cubs winning over 90 games this season and winning the Central. For this to happen, the entire roster is going to show up with the big boy sticks night after night. As much of a fan of KB as I am, I think the Cubs will need two, three, maybe even four batters to have more home runs than Bryant if the Cubs are going to be a serious threat this season. I don't like this bet at all.