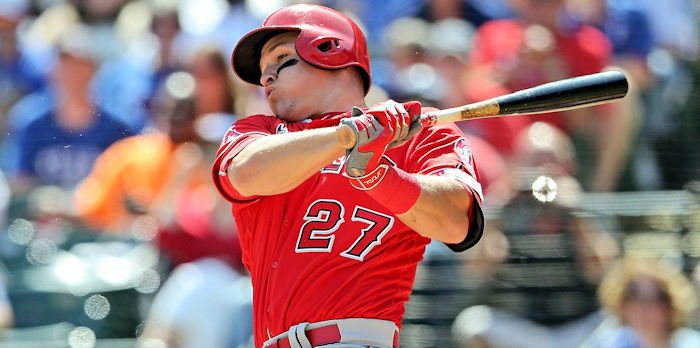 | | |
| --- | --- |
| Cubs News: Breakdown of potential HOF outfielders | |
---
Most fans of baseball know that the game is cyclical. A five-game winning streak is followed by a five-game losing streak. You hit safely in ten straight games and then you go 0 for June. It is the nature of the sport and for those that watch and those that play they get it and deal with things.
It seems like positions are cyclical also. We've had the era of the pitchers, the shortstops, and the relievers at various times in the past 40 years. To my eye, it seems like we are starting another 'era of the outfielder' in baseball.
Growing up, and some would say chronologically only and not emotionally or responsibly, from the mid-1950's to the mid-1970's, I enjoyed watching some of the greatest outfielders to ever play the game. They are the reason that I wanted to and did, become an outfielder.
Ten players from that era are in the Hall of Fame. Hank Aaron, Lou Brock, Roberto Clemente, Al Kaline, Harmon Killebrew (although he played infield often also), Mickey Mantle, Frank Robinson, Billy Williams, Carl Yastrzemski, and the greatest baseball player I ever saw in my life so far, Willie Mays.
These guys all had at least 17-year careers and were perennial all-stars as they represented power, speed, grace, and were mostly all considered five-tool players. It was a great time to watch baseball if you loved seeing outfielders chase down balls and make spectacular catches.
When I watch highlights today I am seeing a similar onslaught of talent in the outfield. Every night there are fantastic catches, great throws, timely base hits, and massive home runs shown from today's outfielders.
By my count, there are at least seventeen guys right now that should be included as 'elite talent' in the outfield. And at least three of them are locks to be future HOF'ers.
HOF Locks: Mike Trout, Bryce Harper, and Ichiro Suzuki.
I said earlier that Mays was the best player I ever saw in my life, but, if he continues as he is going, I will say that Mike Trout could take over that position. If you ever get a chance to watch him do yourself a favor and do so. He is really something special.
HOF Likely: Mookie Betts, Andrew McCutchen, Giancarlo Stanton, and Aaron Judge.
Everything, of course, depends on them staying healthy and having long careers, but they are the next level right now and seem to be tracking for great things.
HOF Not Likely: Kevin Kiermaier, Starling Marte, Brett Gardner, Charlie Blackmon, J.D. Martinez, A.J. Pollock, Rhys Hoskins, Adam Jones, and Gregory Polanco.
All of these guys are very talented and have shown flashes, or seasons, of great things but I'm not sure they have had or will have the consistent big seasons that will lead to the HOF.
Growing up most little league coaches always put the worst player in right field. In the major leagues, most coaches put the best defensive player in right field. Hmm? I laugh at infielders struggling to play the outfield. They always say how easy it is to play outfield, the ball takes forever to get to you. It is way harder to play third base or shortstop. Really? Then why do so many outfielders make a smooth transition from the outfield to the infield? Most outfielders are the most athletic players on their teams and being athletic allows you to be flexible in playing different positions. Of course, as a former centerfielder I may be slightly biased but prove me wrong.
So, there is my list. I'm sure I've missed someone and hopefully, you will correct my omission. It is easy to miss a guy because there are so many talented players right now and as a lover of outfield play I'm digging it every night.

Upgrade Your Account
Unlock premium boards and exclusive features (e.g. ad-free) by upgrading your account today.
Upgrade Now