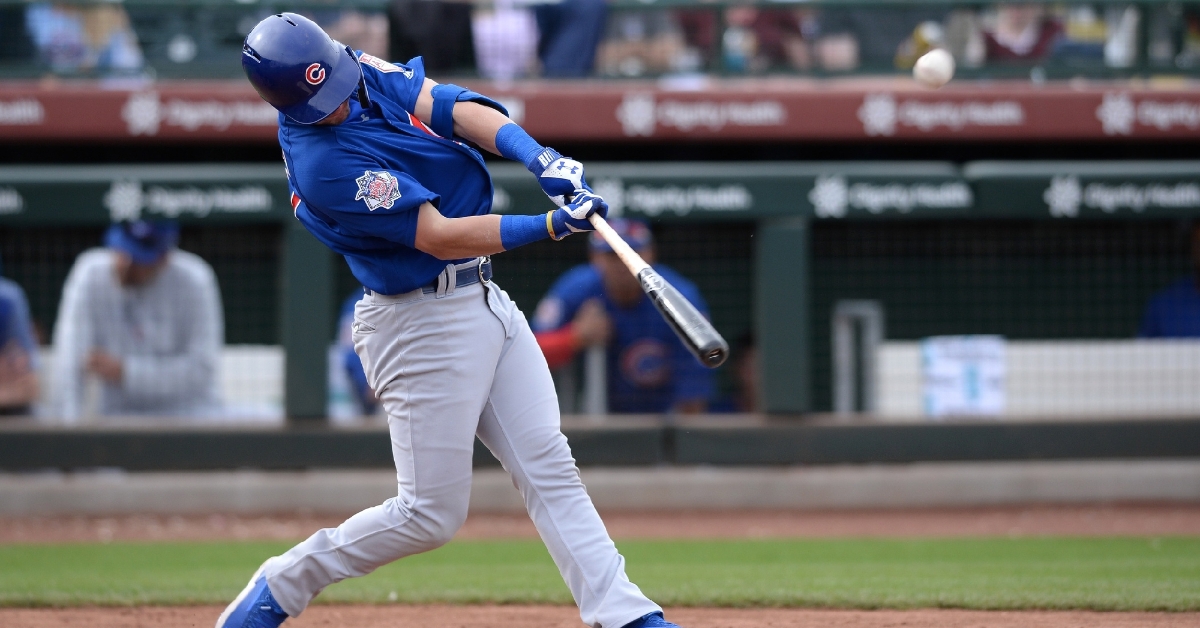 | | |
| --- | --- |
| Breaking down MLB Pipeline's Top 30 Cubs prospects (Part 3) | |
---
As we continue with part three of our top prospect series, we have reached the number where we leave the 20's and enter the teens. This is the time when most people begin to recognize some of these names, as these are the players that have firmly cemented their spots over the past few seasons. Without further ado, let's cut to the chase.
#20 Richard Gallardo (RHP Eugene): The trend for pitchers continues as we have another one emerging at number 20. This one is Richard Gallardo as the 18-year-old international signee is really starting to make strides. Signed by the Cubs in 2018, Gallardo was viewed as the best international pitching prospect that season and earned himself a one million dollar payday in the process.
While the Cubs did their best to limit him in his first professional season, the polish of his craft was evident, which made it clear why he was so highly regarded. Still coming into his body, Gallardo features a fastball that sits 89-93, but can occasionally hit 95 although very rare. Along with his heater, Gallardo features a curveball that he commands better than most teenagers, and it can be a plus pitch down the road. Add in a changeup that he has a good feel for despite being in the early stages, and you can see why he was regarded as high as he was.
In his first professional season last year, Gallardo split between Rookie ball and Short-season ball at Eugene, and he performed very well. In 13 outings (10 starts), Gallardo was 0-2 but posted a solid 3.93 ERA. What is most impressive was his brief stint in Eugene, where he posted a 2.25 ERA in two outings. His command needs to get better, but all that happens with more experience on the hill.
#19 Zack Short (SS Iowa): What short lacks at the plate, he makes up for in the field as he may be the surest handed SS in the Cubs system. That is the biggest hurdle for the former 17th round pick in 2016, as the Cubs have so much SS depth in their system, that Short may be the odd man out soon unless he is traded away for an opportunity elsewhere.
Last season, Short opened the season up at Iowa, with many expecting him to make his big-league debut later in the year. However, a broken hand in April hampered him the next ten weeks, and he simply wasn't the same player. Now fully healthy again, Short is looking to be considered for the MLB roster at some point this season should baseball indeed resume play.
At just 5-10 and 180 pounds, Short brings surprising power for his size mainly because of his quick hands' approach at the plate. The problem with has been Short wanting to pull everything to left as the Cubs are hoping he can shorten his swing and begin to use the whole field. Along with a solid approach at the plate, Short possesses decent speed and great defense, which could help the Cubs in many ways.
In 63 games across three levels last season, Short managed to hit just .235 with six homers and 25 RBIs. Compare that to the two seasons prior where he hit .239 with 30 homers and 106 RBIs, and you can see how much his hand affected him last year. Short needs to get his average up if he expects to be a big-league player, but the pieces are there.
#18 Michael McAvene (RHP Eugene): One of my favorite prospects in the Cubs system is that of last year's third-round pick from Louisville Michael McAvene. Armed with a 93-96 mph heater that can touch 98 with a wipeout slurve, McAvene already has two plus pitches, which has him ahead of some in terms of pitch development. The problem the Cubs have, and it may be a good one to have, is just how to use him long term.
A starter most of his career in college, McAvene had Tommy John Surgery during his freshman season only to return to the mound 12 months later. Once he returned, he became the Cardinals full-time closer, which proved to be the best decision they made. While the Cubs drafted him to potentially be a starter, given the success he has had in short work over the past few years, I think the bullpen is the best spot for him as he has the makings of being the teams future set up man or closer.
In six games for Eugene last season, all starts, McAvene only threw 12 2/3 innings keeping his short innings work continuing from his closing days at Louisville. Not only was McAvene used to that type of role, but he dominated for the Emeralds posting a 1.42 ERA during those six outings. The thing that stood out the most for me was his command as he walked four hitters compared to 20 strikeouts. If that is what the Cubs can expect from him in one or two-inning outings, there is no reason to move him into a starting role.
#17 Chris Clark (RHP Eugene): The Cubs have a ton of pitchers in the Top 30 list as No. 17 is a righty from Eugene. Drafted in the fourth round of last year's draft, Clark looks to be a long-term reliever for the Cubs after dominating for Southern California in years prior.
Another former Tommy John product in high school, Clark was knocked around his first two seasons for USC before finding a home in the bullpen full time his junior year. He posted a 1.03 ERA that season which caught the Cubs attention before selecting him in the fourth round and easing him into pro ball. Unlike McAvene, Clark saw action in nine games last summer, including eight starts. His 23 innings are similar to what relievers throw, but he was seeing extended outings by the end of spring, leaving the door open to mold him into a starter.
Clark continued to be his dominating self for Eugene, posting a 1.96 ERA to go with 4BB and 26K. While his fastball is reliable, but not overpowering sitting around 93-94 mph, his hammer curve ranks the best curveball in the system and has proved to be equally as effective against both left and right-handed hitters. He can top out at 96, but his fastball is known to have a natural sink leading to plenty of ground ball outs. He also has a slider that he continues to work on as well as a change that he didn't throw much last season.
#16 Yovanny Cruz (RHP Myrtle Beach): Make that four pitchers in this group of five as Cruz checks in at No. 16. At just 20 years old, Cruz has been in the Cubs organization for what seems like forever as they signed him as an international prospect back in 2016 for only $60,000. Cruz may be overlooked as he was signed following the Brailyn Marquez deal the year before, but he shouldn't be ignored any longer.
Things haven't been as smooth as he would have liked since signing with the Cubs as he never reached higher than short-season ball his first three seasons before being hampered by tendinitis last season. However, Cruz still has one of the most electric arms in the system, and the Cubs are hoping that starts to show up on the field.
If you are looking for electric stuff, look no further than his fastball that sits consistently 92-96 mph with a top out of 99. His low spin rate allows his power sinker to look slower than it is, which in return correlates to weak ground ball contact and a high number of swings and misses. The low spin rate on his fastball doesn't show up in his breaking stuff as he has shown a much higher spin rate on his slider and pairs that with an advanced change that could be his go-to secondary pitch.
Cruz has a clean delivery and generates quality stuff without much effort. Last season was not a good showing by Cruz, as he went 1-2 with a 6.46 ERA. That was mainly because of the tendinitis issues making it hard for him to feel the ball. For his minor league career, Cruz has appeared in 33 games, 30 which were starts as he has gone 9-6 with a solid 3.70 ERA 46BB/137K. His best season was in 2018, where he went 5-2 with a 2.57 ERA across 11 starts, 13BB/55K.