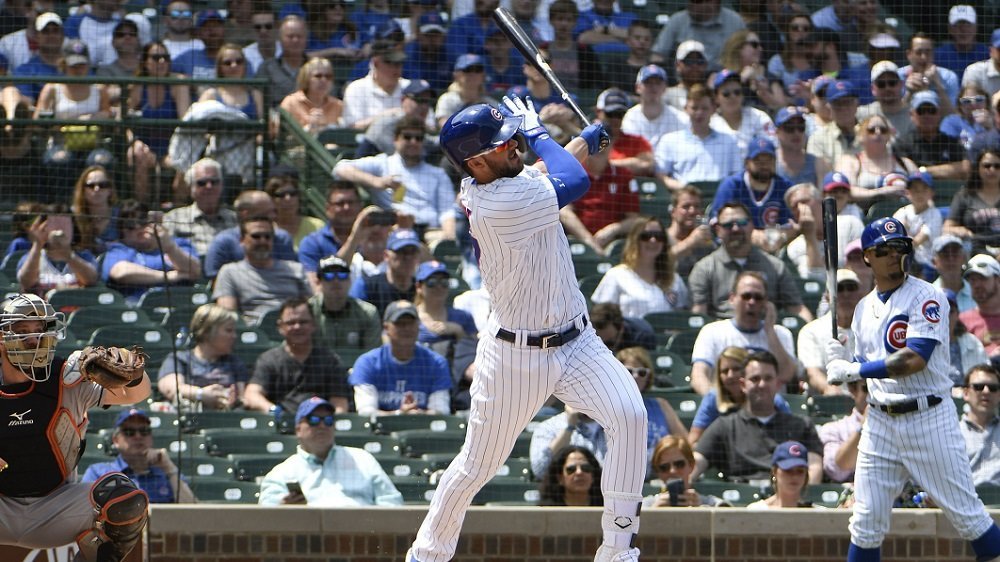 | | |
| --- | --- |
| Bryant hits 100th homer as part of Cubs' onslaught of Marlins | |
---
| | | |
| --- | --- | --- |
| Wednesday, May 9, 2018, 5:52 PM | | |
CHICAGO — As it turns out, a three-game set at home versus the Miami Marlins was the perfect antidote for an ailing Cubs offense. Scoring 31 runs in the series, the Cubs capped off their dominant sweep of the Fish at Wrigley with a 13-4 beatdown on Wednesday. Anthony Rizzo led the charge with a five-RBI game, and Kris Bryant contributed two key RBI, including one that came via a milestone home run.
The Cubs benefited from Marlins manager Don Mattingly's questionable decision to leave starting pitcher Wei-Yin Chen in the game throughout the entirety of an eight-run onslaught that the Cubs produced in the third frame. Chen looked so defeated at times, it was almost as if Mattingly was aiding and abetting the Cubs in their destruction of the Miami left-hander. Giving up nine runs on seven hits and two walks, Chen earned the loss to become 1-2, while his ERA inflated to 10.22.
Chen's first blemish came in the form of Bryant's 100th career home run. A solo blast to left-center in the opening inning, the homer came three years to the day after Bryant's first career homer, and it grouped Bryant with Aramis Ramirez and Ron Santo as the only Cubs third basemen to reach the century mark in terms of home runs.
Kris Bryant hits his 100th career home run on the anniversary of his first career home run he hit 3 years ago. #EverybodyIn #KBOOM pic.twitter.com/L7XqAushmm

— Drunk Rizzo™ (@DrunkRizz44) May 9, 2018
With 100 home runs and counting, Bryant is also the franchise record-holder for the most home runs in a player's first four seasons, having already surpassed Ernie Banks, who hit 93 in his first four seasons.
Congrats to @cubs Kris Bryant on his 100th career home run... Here's a breakdown of all his homers! #Power pic.twitter.com/JfNGbhlnyL

— Daren Willman (@darenw) May 9, 2018
Furthermore, Bryant incited the eight-run barrage in the third with an RBI double to score shortstop Addison Russell and put the Cubs up 2-0. Javier Baez followed that up with an RBI infield single, beating out a throw to first and showcasing that he was clearly unaffected by his recent groin injury. Rizzo then opened the floodgates with a 404-foot three-run bomb to right that provided Chicago with a 6-0 edge.
Anthony Rizzo with a 3-run dinger! #Cubs pic.twitter.com/Kzh77xgJfj

— Aldo Soto (@AldoSoto21) May 9, 2018
Rizzo, who went 3-5 at the dish, has already hit four home runs this month after hitting just one prior to May. His five RBI on Wednesday marked a season-high for the first baseman, who failed to accrue more than one RBI in a game during the entire month of April. Russell had himself a standout game, as well, going 3-3 and totaling two runs and two RBI.
Soon after Rizzo's blast, the Cubs went up 7-0, thanks to a sacrifice fly by recent call-up David Bote. Thereafter, Russell, who started the inning off with a double, skied his first home run of the season to put two more runs on the board and round out the auspicious third inning for the Cubs. Along with Rizzo, outfielder Albert Almora, Jr., and catcher Willson Contreras, Russell was one of four Cubs to tally three hits on the afternoon.
Addison Russell started the 8-run inning with a double and he capped it off with his 1st home run of the season #Cubs pic.twitter.com/UiRobaRO25

— Aldo Soto (@AldoSoto21) May 9, 2018
Several milestones were achieved by the Cubs on the day, including Bryant's aforementioned 100th homer. Also of note, Contreras became the first Cubs catcher to hit two triples in a game since Steve Swisher did so in 1976. In addition, right fielder Mark Zagunis picked up his first MLB hit, and reliever Justin Hancock pitched 1.2 innings as part of his big-league debut.
Three doubles provided the Cubs with four additional runs following the third-inning outpouring. Rizzo hit his first double of the day on a two-bagger to deep right in the fourth that brought home Almora. Later, in the sixth, Rizzo and Contreras hit back-to-back RBI doubles to put the Cubs on top 12-1. Bote, who totaled two RBI for the second straight game, brought home a run in the eighth on an infield single.
Cubs starter Jose Quintana pitched well on the day, as he was supported by the bevy of insurance runs provided by his teammates early on. Lasting six innings, Quintana gave up just one run on five hits and two walks and struck out five, picking up the win to move to 4-2.
With the 13-4 win, which included 17 total hits by the Cubs, Chicago pulled to within a game back of the lead in the National League Central, signifying a quick turnaround from a woeful five-game losing streak last week.