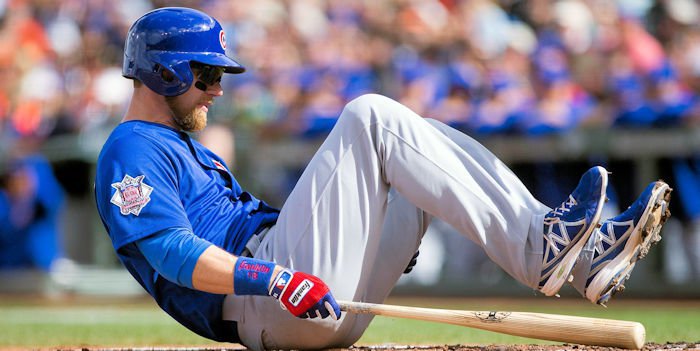 | | |
| --- | --- |
| Bryant homers again but Cubs fall to Giants | |
---
SAN FRANCISCO - Two the elite teams in the National League battled it out on Saturday night as the San Francisco Giants (26-19) defeated the Chicago Cubs (29-12) 5-3 at AT&T Park.
Cubs veteran pitcher Jon Lester entered the game with a splendid 1.11 career ERA versus the Giants but only lasted 2 2/3 innings giving up five earned runs, six hits, and two walks. His performance snapped an astounding streak of Cubs starters pitching through the fifth inning or more in 48 straight games dating back to last season. It was the longest sustained streak by the franchise since 1910.
Matt Cain pitched adequately going six innings giving up six hits, one run, two walks and five strikeouts. He also had one of the key at-bats of the contest with a line drive double to score Brandon Crawford and Gregor Blanco in the bottom of the second inning to make the score 2-0.
Kris Bryant crushed a solo homer to center field to make it 2-1 Giants. He has now homered in back-to-back games, and it was his ninth home run of the season.
More power was on display at the bottom of the inning as Buster Posey smacked a two-run homer to left field for his fifth homer of the season to put the Giants up 4-1.
Anthony Rizzo struck out with two men on the seventh inning to end a serious threat for the Cubs. Rizzo is a dismal 1 for 18 on the current road trip.
The Cubs cut the deficit to 5-2 on a Javier Baez single up the middle to score Jorge Soler.
Dexter Fowler showed some pride as he crushed a solo homer to right field off of Santiago Casilla in the ninth inning to make the score 5-3 in favor of the Giants. Fowler has now hit safely in 23 of his last 28 games.
Casilla got Bryant to pop out, Rizzo to ground out and Zobrist to ground out to help the Giants escape with the hard fought victory.
Cubs righty Kyle Hendricks (2-3, 3.51) will face lefty Madison Bumgarner (5-2, 2.45 ERA) in the rubber match on Sunday night at 7:05 CDT.