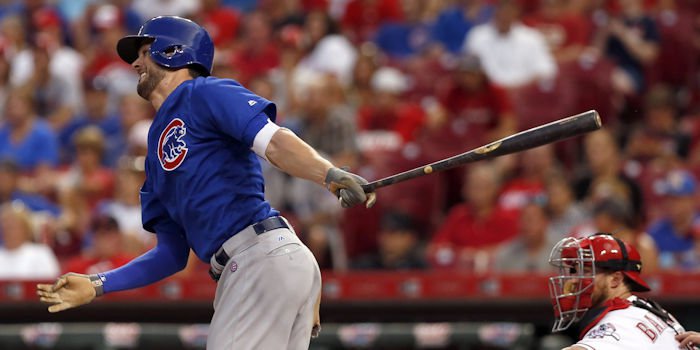 | | |
| --- | --- |
| Bryant's NL best 31st homer leads Cubs over Rockies | |
---
DENVER -- The Cubs came back in retaliation mode Saturday evening as Kris Bryant hit a 3-run homer, and Ben Zobrist added a solo homer to help land their team on top with a score of 9-2 over the Colorado Rockies.
The Cubs faced off against the Rockies Saturday evening the day after losing to them off of an 11th inning walk-off error by Javier Baez. Mike Montgomery made his first start for the Cubs, making him the ninth starting pitcher utilized by the Cubs this season.
The Cubs had an explosive 4th inning as Kris Bryant singled to right scoring Fowler. Ben Zobrist then doubled to deep right center, giving Cubs their fourth consecutive hit in the inning. Anthony Rizzo was able to score off the double and Miguel Montero also singled to right center. The Cubs went into the bottom of the 4th with a 4-0 lead.
Mike Montgomery reached second base on an error by the Rockies first basemen to start off the 5th inning. Dexter Fowler reached on a walk and then Bryant homered to deep center, giving Cubs the 7-0 advantage. The home run was one of the longest hit by at Cubs this season at 471 feet and was Bryant's 31st on the season which is tops in the National League.
The Rockies came alive in the 5th as Nick Hundley homered to left putting them on the board 7-1. Colorado threatened again in the 6th as DJ LeMahieu grounded out, but was able to score Chris Rusin in the process putting the score at 7-2. The Cubs came right back as Montero earned his 3rd RBI of the night in the 7th making the score 8-2.
Ben Zobrist cranked a ball over 390 feet to earn himself a solo home run putting the Cubs ahead 9-2. Trevor Cahill was able to get the last three outs of the game as the Cubs get another win.
The Cubs will continue play against the Rockies tomorrow night as Jason Hammel will face off against Jorge De La Rosa on the pitcher's mound.