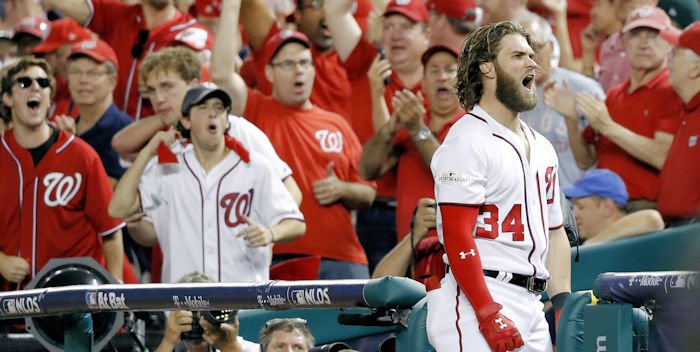 | | |
| --- | --- |
| Bullpen meltdown leads to heart-wrenching loss for Cubs | |
---
WASHINGTON — Over the course of their three-year run of glory, the Chicago Cubs have been spectacular from top to bottom of the batting order, featuring dominant ace starters to bolster the offense's cause. However, middle-relief-pitching questions have always loomed during that stretch and tonight, after blowing a 3-1 lead by way of a relief-pitching collapse, those woes came to fruition for Chicago yet again.
Falling 6-3 to the Washington Nationals after leading 3-1 when going into the bottom of the eighth inning, the Cubs were done in by miserable appearances from a couple of their middle relievers, failing to take what would have been a commanding 2-0 lead. Highlighted by a five-run eighth inning, the Nats, which were sparked by a pivotal two-run homer by slugger Bryce Harper, overcame an offensive drought to come alive late and steal one from the Cubs.
After hitting over 220 home runs in a season that saw a Major-League record set for home runs hit in a single season, the Chicago Cubs followed suit with the theme of the regular season by overcoming an early defensive struggle by way of the home-run ball. Sparked by a solo shot by catcher Willson Contreras and a two-run blast by first baseman Anthony Rizzo, the Cubs gained what seemed for a time to be enough breathing room to coast to a fairly comfortable 3-1 win over the Washington Nationals.
After coming up with a clutch single in the Cubs' Game 1 victory, Rizzo aptly told reporters, "Timely hitting is huge in the playoffs."
Rizzo certainly lived up to that adage in Game 2, as he wasted no time in producing some rather timely hitting, blasting a two-run shot in the top of the fourth that put Chicago up for good. Contreras was the clutch hitter prior to that, however, taking Nats starting pitcher Gio Gonzalez deep in the top half of the second with a 352-foot bomb to left that evened the score at one apiece.
@ARizzo44 crushes a 2-run homer and drives in his other half #Bryzzo!! @cubs lead 3-1!! #LETSGOCUBBIES #NLDS2017 pic.twitter.com/gKNiauZ21W

— Steve (@cubs2009) October 7, 2017
On a night that saw the Nationals accrue a measly two hits through seven innings, practically all of Washington's offensive success before the Harper shot came in the form of one early hit, a homer to right for third baseman Anthony Rendon, a solo blast to right on a 1-1 count in the opening frame. Coming off of Cubs starting pitcher Jon Lester, the round-tripper from Rendon served as a wake-up call for veteran lefty Lester, who proceeded to allow just two hits and two walks in an outstanding six-inning outing.
Jon Lester postseason career (23 G/20 GS)
2.58 ERA, 139.2 IP, 109 Hits, 33 BB, 119 K, 1.017 WHIP#Cubs

— Christopher Kamka (@ckamka) October 8, 2017
Aiding Lester's cause was the quick answer of Contreras, who batted his second career postseason homer on his second-inning shot. Earning two walks, in addition to the four-bagger, in his four plate appearances on the evening, Contreras was the most efficient batter for Chicago on the night.
Willson Contreras ties it up with a home run! #Cubs pic.twitter.com/2uKPjWf5Eb

— Aldo Soto (@AldoSoto21) October 7, 2017
Despite pitching well in his five innings on the rubber, striking out six batters and appearing to be in total command of his pitches throughout, Gonzalez gave up two critical hits that essentially ruined his start. Allowing just three hits, two of the three resulted in runs for Chicago. The second and third runs came in the form of the two-run shot by Rizzo, the sixth playoff home run of his career, which is a franchise record for postseason homers by a single Cub.
Forming a dominant tandem with third baseman Kris Bryant at the heart of the Cubs' batting order, Rizzo followed up a Bryant double in the fourth with a no-doubter over the wall in right field, sending it 386 feet into the bleachers. After that, with Gonzalez clearly rattled, Contreras earned a walk that could have led to the proverbial flood gates being opened for the Cubs. However, two at-bats later, outfielder Ben Zobrist grounded into an inning-ending double play that prevented the Cubs from adding to their 3-1 lead.
Ill-timed ground balls resulted in a few scoring chances for Chicago being wasted in the proceeding innings, ultimately leading to questions of what could have been following Harper's clutch moonshot. After Cubs reliever Pedro Strop pitched a scoreless seventh inning, facing little resistance from the Washington batting order, he was stunningly not given the opportunity to extend his solid outing, with second-year reliever Carl Edwards, Jr., replacing him on the hill.
Struggling in big spots during the 2016 postseason, Edwards, Jr., was presented with a chance to redeem himself, but he fell way short of doing so. After giving up a leadoff single to veteran Adam Lind, who took part in his first postseason at-bat after spending over a decade in the majors, Edwards, Jr., gave up the two-run bomb to Harper that was skied down the right-field line, tying the game up at 3-3.
No doubt. #OnePursuit pic.twitter.com/hdepkmVxKF

— Washington Nationals (@Nationals) October 8, 2017
Thereafter, reliever Mike Montgomery, known for drawing the final out in last year's World Series, did not fare any better on the mound after taking over for Edwards, Jr. Inheriting a runner on first, Montgomery quickly gave up a single and a decisive three-run blast to Mr. National, Ryan Zimmerman. The long-tenured first baseman sent a Montgomery pitch just over the wall in left-center to put the Nats up 6-3, securing the Chicago meltdown.
Perhaps victimized by manager Joe Maddon's questionable pitching changes, a theme of the season, the Cubs wasted a golden start from Lester that was cut short after only 86 pitches. After going 16 innings and scoring just one run, the Nationals came through with a five-run inning when they needed it most, likely salvaging the series and potentially dismantling the Cubs' chances at returning to the World Series.
During the regular season, the Cubs were 67-1 this year when leading by multiple runs when entering the eighth inning, while the Cubs were a woeful 1-37 when trailing by multiple runs upon the start of the eighth. However, the interesting move to have the inexperienced Edwards, Jr., face perhaps the most feared hitter in baseball in Harper caused the contest to deviate from those trends, leading to a defensive Maddon postgame.
"That was the only option," Maddon said after the game when speaking on the questionable decision to have Edwards, Jr., face Harper. "That was the right option. C.J. was the right man for the job. He hung a curveball. The guy didn't miss it. Harper is really good. C.J. is really good. C.J.'s numbers against left-handed hitters is among the best in all of baseball."
Sparked by Harper, who went 2-4 and amassed two RBI, the Nats finished with six hits to go along with their six runs, coming alive in the eighth inning and arguably proving that the bullpen questions that have loomed over the Cubs for a few years now are still not yet close to being answered.
Nats reliever Oliver Perez earned the win to move to 1-0 this postseason, while Edwards, Jr., (0-1) took the loss for his pitiful showing. Washington close Sean Doolittle, who experienced his first save opportunity as a married man, came through to extend his marital bliss, earning the save.
The Chicago Cubs and the Washington Nationals will now transition to the Friendly Confines for the next two contests, as the series stands at 1-1 with a pair of matchups at Wrigley Field coming up. In Game 3, which will start at 3:08 PM CST on Monday, Nationals ace Max Scherzer will battle playoff newcomer Jose Quintana of the Cubs on the hill in what is sure to be an electrifying pitching duel.