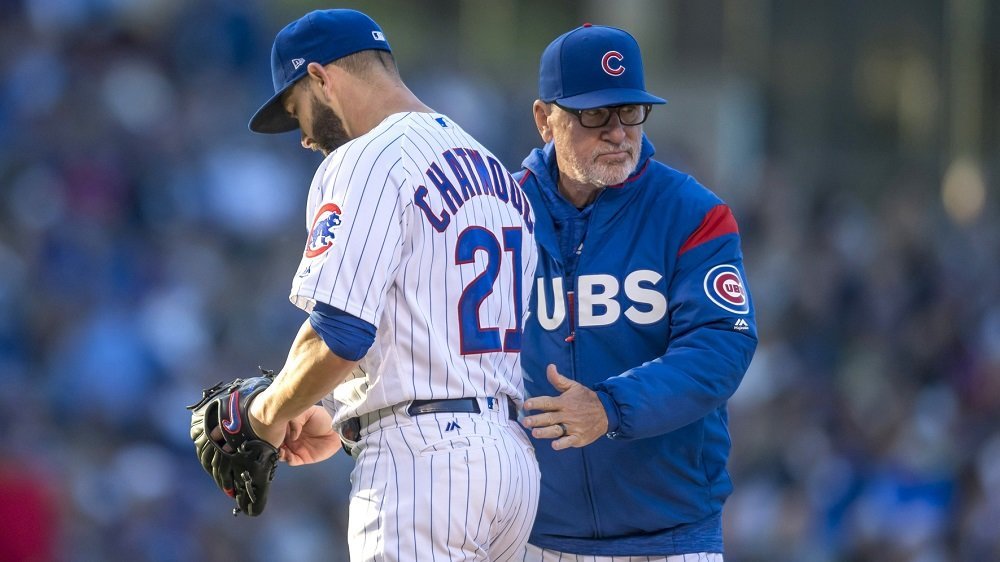 | | |
| --- | --- |
| Chatwood implodes as Indians decimate Cubs | |
---
CHICAGO — Thus far in his first season with the Chicago Cubs, starting pitcher Tyler Chatwood has been rather enigmatic, producing a roller-coaster ride of a start to the year that has featured several good outings and several downright awful outings. On Tuesday, Chatwood produced one of those downright awful outings, placing the Cubs into a 4-0 hole early on against the Cleveland Indians, which culminated in a 10-1 embarrassment at Wrigley Field.
Returning to Wrigley Field for the first time since a game five loss in the 2016 World Series, the Indians avenged themselves by decimating the Cubs to match the largest margin of defeat for the North Siders this season. Converting 11 hits into 10 runs, the Tribe scored four in the third and three in both the fourth and fifth to win comfortably.
Chatwood flirted with disaster in the opening inning by giving up a one-out walk and single but was able to escape unscathed. He walked two batters in the second inning but, with the help of a double play, dodged a bullet then, too. Like he is prone to do, Chatwood melted down in one atrocious inning and did not make it through it, giving up four runs, three hits and two walks before being yanked with two outs in the third.
After giving up a walk and a single to start the inning, Chatwood allowed a three-run home run to Indians third baseman Jose Ramires, which served as his 14th home run of the year. In addition to the three RBI, Ramirez also walked three times on the night. Cleveland first baseman Yonder Alonso scored on a sacrifice fly later in the frame, putting the Indians ahead 4-0.
Pulled after lasting just 2.2 innings on the hill, Chatwood walked six and gave up four hits. Having walked 40 batters in 45.2 innings of work this season, Chatwood has certainly struggled with his command, and it resulted in a dismal start on Tuesday. He has also already walked five or more batters in six starts this year, and the last Cubs pitcher to do that was Carlos Zambrano in 2007. While it took Zambrano nearly the entire regular season to do so, it took Chatwood less than two months.
Cubs reliever Mike Montgomery, Chatwood's replacement, was just as bad, if not worse. Getting charged with six runs as part of a six-hit, two-walk outing that lasted a mere 2.1 innings, Montgomery gave up three runs in the fourth and three runs again in the fifth. The Tribe took a 5-0 lead on an RBI single from veteran outfielder Melky Cabrera, a recent addition to the Cleveland roster. In the next at-bat, second baseman Jason Kipnis cranked a two-run single to right.
Cleveland's seven-run lead increased to a 10-run lead with one swing of the bat in the fifth, as Alonso hit a bases-clearing double to deep center off Montgomery. Alonso finished the game 3-4 with three RBI and two runs.
Offensively, the Cubs were far from impotent, collecting just one fewer hit than the Indians. Leaving 11 batters on base and going 0-10 with runners in scoring position, Chicago struggled to convert from start to finish. On the bright side for the Cubs, they picked an excellent night to suffer a scoring draught, as the Cubs' pitching was bad enough to make it a moot point.
Indians starting pitcher Trevor Bauer avoided giving up a run, despite throwing three wild pitches and letting at least one Cubs runner reach scoring position in each of his six innings on the mound. Striking out six to go along with the seven hits and two walks to his name, Bauer benefited from Chatwood's woes, receiving the win to become 4-3 overall.
Albert Almora, Jr., and Javier Baez were the lone Cubs to accrue multiple hits on the night, with each collecting a pair of them. In the eighth, Baez tallied his fifth triple of the season, which leads the majors. Coming into the 2018 slate, Baez had only hit three triples in his four-year career, and he has already nearly doubled that total eight weeks into this season.
Chicago's Ian Happ clubbed a home run to deep right that hit off the scoreboard in the bottom of the ninth to prevent the Cubs from getting shut out. Happ now boasts eight homers on the year and has his three dingers in the Cubs' last four games.
Getting beat 10-1, the Cubs fell to 25-20 on the year, while the Indians improved to 23-23. Tyler Chatwood accrued the loss to drop to 3-4. The Cubs and the Tribe will play tomorrow night in what will mark their final meeting of the regular season.

Upgrade Your Account
Unlock premium boards and exclusive features (e.g. ad-free) by upgrading your account today.
Upgrade Now