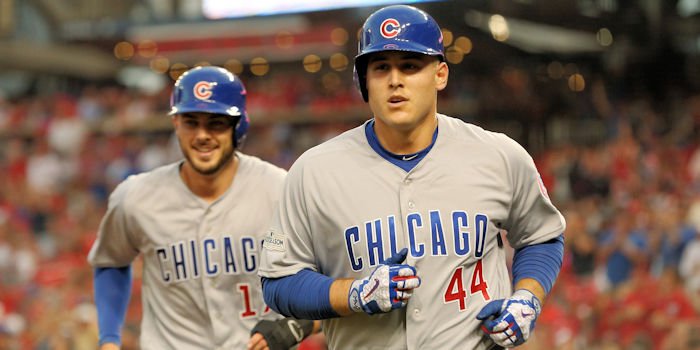 | | |
| --- | --- |
| Chicago Cubs announce 2018 television schedule | |
---
CHICAGO – The Chicago Cubs today announced their 2018 regular season television schedule featuring broadcasts from NBC Sports Chicago, WGN-TV and WLS-TV/ABC 7.
WGN-TV will televise the club's season opener on Thursday, March 29 at Miami at 11:40 a.m. CT. NBC Sports Chicago's first broadcast is on Saturday, March 31 at Miami at 6:10 p.m. CT while WLS-TV/ABC 7 has its first broadcast on Saturday, April 7 at Milwaukee at 3:05 p.m. CT. Additionally, WLS-TV/ABC 7 will televise the club's Wrigley Field home opener on Monday, April 9 vs. Pittsburgh at 1:20 p.m. CT.
In 2018, NBC Sports Chicago will televise as many as 84 Cubs games, WGN-TV will broadcast 45 games and WLS-TV/ABC 7 has 25 games.
Every regular season Cubs telecast on NBC Sports Chicago, including surrounding Cubs Pre/Postgame Live coverage, will be accessible live via nbcsportschicago.com and the NBC Sports Chicago app to authenticated NBC Sports Chicago subscribers.
Chicago Cubs games have been on WGN since 1948, with this year marking the station's 71st season televising Cubs baseball. This will be NBC Sports Chicago's 14th season televising the Cubs and the fourth for WLS-TV/ABC 7.
Len Kasper returns for his 14th season in the Cubs' television booth and will be joined by Jim Deshaies for their sixth season together broadcasting Cubs baseball.
The 2018 television broadcast schedule is attached.
Day Date Opp. First Pitch Station
Thur 3/29 @ Miami 11:40 AM WGN
Fri 3/30 @ Miami 6:10 PM WGN
Sat 3/31 @ Miami 6:10 PM NBCSCH
Sun 4/1 @ Miami 12:10 PM NBCSCH+
Mon 4/2 @ Cincinnati 3:10 PM NBCSCH
Tue 4/3 @ Cincinnati 5:40 PM WGN
Wed 4/4 OFF DAY
Thur 4/5 @ Milwaukee 7:10 PM NBCSCH
Fri 4/6 @ Milwaukee 7:10 PM NBCSCH+
Sat 4/7 @ Milwaukee 3:05 PM ABC7
Sun 4/8 @ Milwaukee 1:10 PM WGN
Mon 4/9 vs. Pittsburgh 1:20 PM ABC7
Tue 4/10 OFF DAY
Wed 4/11 vs. Pittsburgh 7:05 PM WGN
Thur 4/12 vs. Pittsburgh 1:20 PM NBCSCH
Fri 4/13 vs. Atlanta 1:20 PM NBCSCH
Sat 4/14 vs. Atlanta 1:20 PM NBCSCH
Sun 4/15 vs. Atlanta 1:20 PM WGN
Mon 4/16 vs. St. Louis 6:05 PM WGN
Tue 4/17 vs. St. Louis 7:05 PM NBCSCH
Wed 4/18 vs. St. Louis 1:20 PM ABC7
Thur 4/19 OFF DAY
Fri 4/20 @ Colorado 7:40 PM WGN
Sat 4/21 @ Colorado 7:10 PM NBCSCH
Sun 4/22 @ Colorado 2:10 PM NBCSCH
Mon 4/23 OFF DAY
Tue 4/24 @ Cleveland 5:10 PM WGN
Wed 4/25 @ Cleveland 6:10 PM NBCSCH
Thur 4/26 vs. Milwaukee 7:05 PM NBCSCH+
Fri 4/27 vs. Milwaukee 1:20 PM NBCSCH
Sat 4/28 vs. Milwaukee 1:20 PM ABC7
Sun 4/29 vs. Milwaukee 1:20 PM NBCSCH
Mon 4/30 vs. Colorado 6:05 PM NBCSCH
Tue 5/1 vs. Colorado 7:05 PM WGN
Wed 5/2 vs. Colorado 1:20 PM NBCSCH
Thur 5/3 OFF DAY
Fri 5/4 @ St. Louis 7:15 PM NBCSCH
Sat 5/5 @ St. Louis 1:15 PM ABC7
Sun 5/6 @ St. Louis 7:05 PM ESPN
Mon 5/7 vs. Miami 7:05 PM NBCSCH
Tue 5/8 vs. Miami 7:05 PM NBCSCH
Wed 5/9 vs. Miami 1:20 PM WGN
Thur 5/10 OFF DAY
Fri 5/11 vs. White Sox 1:20 PM NBCSCH
Sat 5/12 vs. White Sox 1:20 PM ABC7
Sun 5/13 vs. White Sox 1:20 PM WGN
Mon 5/14 OFF DAY
Tue 5/15 @ Atlanta 6:35 PM NBCSCH+
Wed 5/16 @ Atlanta 6:35 PM WGN
Thur 5/17 @ Atlanta 6:35 PM WGN
Fri 5/18 @ Cincinnati 6:10 PM NBCSCH
Sat 5/19 @ Cincinnati 6:10 PM WGN
Sun 5/20 @ Cincinnati 12:10 PM ABC7
Mon 5/21 OFF DAY
Tue 5/22 vs. Cleveland 6:05 PM WGN
Wed 5/23 vs. Cleveland 7:05 PM NBCSCH
Thur 5/24 OFF DAY
Fri 5/25 vs. SF Giants 1:20 PM ABC7
Sat 5/26 vs. SF Giants 6:15 PM FOX
Sun 5/27 vs. SF Giants 7:05 PM ESPN
Mon 5/28 @ Pittsburgh 12:35 PM ABC7
Tue 5/29 @ Pittsburgh 6:05 PM WGN
Wed 5/30 @ Pittsburgh 6:05 PM NBCSCH
Thur 5/31 @ NY Mets 6:10 PM NBCSCH
Fri 6/1 @ NY Mets 6:10 PM NBCSCH+
Sat 6/2 @ NY Mets 6:15 PM FOX
Sun 6/3 @ NY Mets 12:10 PM ABC7
Mon 6/4 OFF DAY
Tue 6/5 vs. Philadelphia 7:05 PM WGN
Wed 6/6 vs. Philadelphia 7:05 PM NBCSCH+
Thur 6/7 vs. Philadelphia 1:20 PM NBCSCH
Fri 6/8 vs. Pittsburgh 1:20 PM NBCSCH
Sat 6/9 vs. Pittsburgh 1:20 PM ABC7
Sun 6/10 vs. Pittsburgh 1:20 PM WGN
Mon 6/11 @ Milwaukee 7:10 PM NBCSCH+
Tue 6/12 @ Milwaukee 7:10 PM NBCSCH
Wed 6/13 @ Milwaukee 1:10 PM WGN
Thur 6/14 OFF DAY
Fri 6/15 @ St. Louis 7:15 PM ABC7
Sat 6/16 @ St. Louis 7:15 PM FOX
Sun 6/17 @ St. Louis 1:15 PM NBCSCH
Mon 6/18 vs. LA Dodgers 7:05 PM NBCSCH
Tue 6/19 vs. LA Dodgers 7:05 PM ABC7
Wed 6/20 vs. LA Dodgers 1:20 PM WGN
Thur 6/21 @ Cincinnati 6:10 PM NBCSCH
Fri 6/22 @ Cincinnati 6:10 PM WGN
Sat 6/23 @ Cincinnati 3:10 PM ABC7
Sun 6/24 @ Cincinnati 12:10 PM NBCSCH
Mon 6/25 @ LA Dodgers 9:10 PM NBCSCH
Tue 6/26 @ LA Dodgers 9:10 PM WGN
Wed 6/27 @ LA Dodgers 9:10 PM NBCSCH+
Thur 6/28 @ LA Dodgers 2:10 PM NBCSCH
Fri 6/29 vs. Minnesota 4:05 PM NBCSCH
Sat 6/30 vs. Minnesota 1:20 PM ABC7
Sun 7/1 vs. Minnesota 1:20 PM WGN
Mon 7/2 OFF DAY
Tue 7/3 vs. Detroit 1:20 PM NBCSCH
Wed 7/4 vs. Detroit 1:20 PM WGN
Thur 7/5 OFF DAY
Fri 7/6 vs. Cincinnati 1:20 PM NBCSCH
Sat 7/7 vs. Cincinnati 1:20 PM NBCSCH
Sun 7/8 vs. Cincinnati 1:20 PM WGN
Mon 7/9 @ SF Giants 9:15 PM NBCSCH
Tues 7/10 @ SF Giants 9:15 PM ABC7
Wed 7/11 @ SF Giants 2:45 PM NBCSCH
Thur 7/12 OFF DAY
Fri 7/13 @ San Diego 9:10 PM NBCSCH
Sat 7/14 @ San Diego 9:10 PM ABC7
Sun 7/15 @ San Diego 3:10 PM WGN
7/16-18 ALL-STAR BREAK (Washington D.C.)
Thur 7/19 vs. St. Louis 6:05 PM ESPN
Fri 7/20 vs. St. Louis 1:20 PM NBCSCH
Sat 7/21 vs. St. Louis 6:15 PM FOX
Sun 7/22 vs. St. Louis 1:20 PM ABC7
Mon 7/23 vs. Arizona 7:05 PM NBCSCH
Tue 7/24 vs. Arizona 7:05 PM WGN
Wed 7/25 vs. Arizona 1:20 PM NBCSCH
Thur 7/26 vs. Arizona 1:20 PM NBCSCH
Fri 7/27 @ St. Louis 7:15 PM NBCSCH
Sat 7/28 @ St. Louis 3:05 PM NBCSCH
Sun 7/29 @ St. Louis 7:05 PM ESPN
Mon 7/30 OFF DAY
Tue 7/31 @ Pittsburgh 6:05 PM NBCSCH
Wed 8/1 @ Pittsburgh 6:05 PM WGN
Thur 8/2 vs. San Diego 7:05 PM NBCSCH
Fri 8/3 vs. San Diego 1:20 PM NBCSCH
Sat 8/4 vs. San Diego 1:20 PM NBCSCH
Sun 8/5 vs. San Diego 1:20 PM WGN
Mon 8/6 @ Kansas City 7:15 PM NBCSCH+
Tue 8/7 @ Kansas City 7:15 PM NBCSCH
Wed 8/8 @ Kansas City 7:15 PM WGN
Thur 8/9 OFF DAY
Fri 8/10 vs. Washington 1:20 PM NBCSCH
Sat 8/11 vs. Washington 3:05 PM ABC7
Sun 8/12 vs. Washington TBD NBCSCH or ESPN
Mon 8/13 OFF DAY
Tue 8/14 vs. Milwaukee 1:20 PM NBCSCH
Wed 8/15 vs. Milwaukee 1:20 PM WGN
Thur 8/16 @ Pittsburgh 6:05 PM NBCSCH
Fri 8/17 @ Pittsburgh 6:05 PM NBCSCH
Sat 8/18 @ Pittsburgh 6:05 PM WGN
Sun 8/19 @ Pittsburgh 12:35 PM ABC7
Mon 8/20 OFF DAY
Tue 8/21 @ Detroit 6:10 PM NBCSCH
Wed 8/22 @ Detroit 6:10 PM WGN
Thur 8/23 vs. Cincinnati 7:05 PM NBCSCH
Fri 8/24 vs. Cincinnati 1:20 PM NBCSCH
Sat 8/25 vs. Cincinnati 1:20 PM ABC7
Sun 8/26 vs. Cincinnati 1:20 PM WGN
Mon 8/27 vs. NY Mets 7:05 PM NBCSCH
Tue 8/28 vs. NY Mets 7:05 PM WGN
Wed 8/29 vs. NY Mets 1:20 PM NBCSCH
Thur 8/30 OFF DAY
Fri 8/31 @ Philadelphia 6:05 PM NBCSCH+
Sat 9/1 @ Philadelphia 6:05 PM NBCSCH
Sun 9/2 @ Philadelphia 12:35 PM WGN
Mon 9/3 @ Milwaukee 1:10 PM WGN
Tue 9/4 @ Milwaukee 7:10 PM NBCSCH
Wed 9/5 @ Milwaukee 7:10 PM WGN
Thur 9/6 @ Washington 6:05 PM NBCSCH
Fri 9/7 @ Washington 6:05 PM NBCSCH
Sat 9/8 @ Washington 6:05 PM WGN
Sun 9/9 @ Washington 12:35 PM NBCSCH
Mon 9/10 vs. Milwaukee 7:05 PM NBCSCH
Tue 9/11 vs. Milwaukee 7:05 PM WGN
Wed 9/12 vs. Milwaukee 7:05 PM ABC7
Thur 9/13 OFF DAY
Fri 9/14 vs. Cincinnati 1:20 PM WGN
Sat 9/15 vs. Cincinnati 3:05 PM NBCSCH
Sun 9/16 vs. Cincinnati 1:20 PM ABC7
Mon 9/17 @ Arizona 8:40 PM WGN
Tue 9/18 @ Arizona 8:40 PM WGN
Wed 9/19 @ Arizona 8:40 PM NBCSCH
Thur 9/20 OFF DAY
Fri 9/21 @ White Sox 3:10 PM NBCSCH
Sat 9/22 @ White Sox 6:10 PM NBCSCH
Sun 9/23 @ White Sox 1:10 PM ABC7
Mon 9/24 vs. Pittsburgh 7:05 PM NBCSCH
Tues 9/25 vs. Pittsburgh 7:05 PM WGN
Wed 9/26 vs. Pittsburgh 7:05 PM NBCSCH
Thur 9/27 vs. Pittsburgh 7:05 PM NBCSCH
Fri 9/28 vs. St. Louis 1:20 PM ABC7
Sat 9/29 vs. St. Louis TBD NBCSCH or FOX
Sun 9/30 vs. St. Louis 2:20 PM NBCSCH
WGN: WGN-TV
NBCSCH: NBC Sports Chicago
NBCSCH+: NBC Sports Chicago Plus
ABC7: WLS/ABC 7
FOX: Regional Fox Telecast
ESPN: National ESPN Telecast
All times listed are Central Time and are subject to change