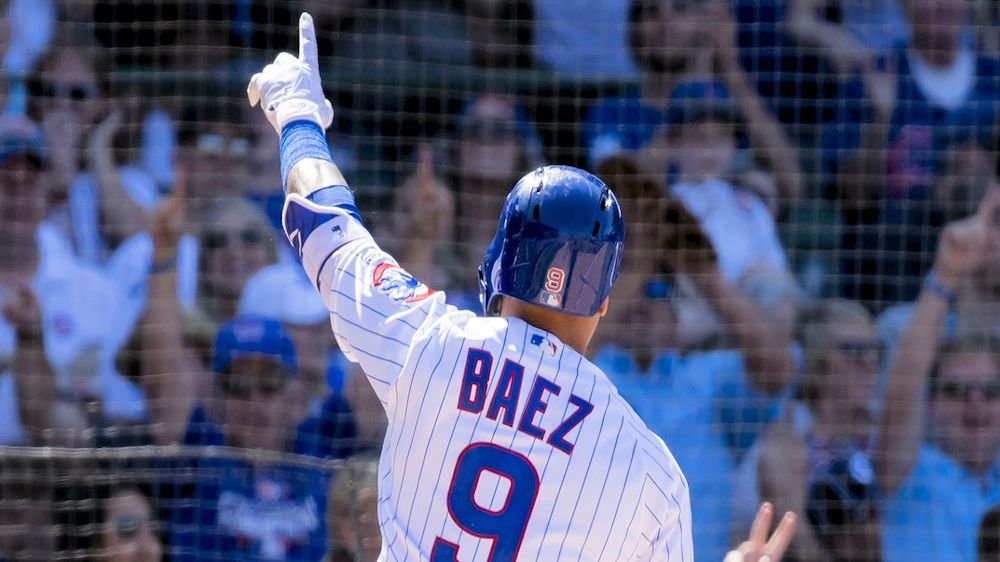 | | |
| --- | --- |
| Clutch Cubs snap losing streak to Reds with late comeback | |
---
CHICAGO — After trailing by five runs on two separate occasions on Saturday, the Chicago Cubs (50-36) mounted a late comeback to break a five-game losing streak to the divisional foe Cincinnati Reds (39-50). Scoring four runs in the bottom of the eighth, the Cubs edged the Reds behind a 4-5 performance by second baseman Javier Baez. Outhitting the Reds 13-11, the Cubs won 8-7 for their seventh win in their last eight games.
Cubs starting pitcher Tyler Chatwood produced one of his trademark inconsistent outings. Despite throwing a career-high 120 pitches in 5.2 innings of work, Chatwood never settled into a groove. Charged with seven runs on nine hits and four walks, Chatwood did the Cubs no favors. His counterpart, Reds hurler Matt Harvey, dominated in the early innings, before the Cubs finally picked up two runs against him in the fourth. Harvey pitched 5.2 innings, as well, and gave up three runs on nine hits and one walk.
In true Chatwood fashion, the ill-fated right-hander gave up his first two runs via back-to-back wild pitches. Pregame video footage showed him throwing a breaking ball in the dirt during his warm-up session on the mound. Apparently, he failed to correct that issue prior to the start of the game, as he threw several low breaking balls that Cubs catcher Victor Caratini had to work to corral in the opening inning. With two outs in the top of the first, Tucker Barnhart and Scooter Gennett came in to score from third base on consecutive wild pitches to make the score 2-0.
The third inning saw Reds third baseman Eugenio Suarez, who has been a certified Cubs killer this season, drilled a three-run bomb to left for his 18th home run of the season. Trailing 5-0 at that point, the Cubs did not give in, as they scored a pair of runs in the fourth. After Chicago left fielder Kyle Schwarber led off with a single, Caratini collected his fifth RBI of the season with a double that bounced off the wall in left-center. Caratini was able to make it to third base due to an error committed by Reds shortstop Jose Peraza on the throw from the outfield, and the Cubs took advantage, as Caratini hustled home on an ensuing RBI groundout by Addison Russell.
Tom Browning calls for a 3-run homer.

TOM BROWNING GETS HIS 3-RUN HOMER. pic.twitter.com/QrNYzZBRH5

— Cincinnati Reds (@Reds) July 7, 2018
The Cubs won in spite of losing slugger Jason Heyward following the third inning. Heyward appeared to suffer a lower-body injury after fouling a ball of his foot in the bottom of the third. Although he was able to finish off his third-inning at-bat, Heyward was pulled at the start of the fourth in favor of Albert Almora, Jr., who took over in center field.
The very painful moment when #Cubs Jason Heyward fouled a ball off his groin pic.twitter.com/V33toP50TE

— Matt Johnson (@MattJ_Sports) July 7, 2018
Veteran Reds first baseman Joey Votto tagged Chatwood with a leadoff double in the top of the fifth and scored soon afterward on a one-out single by Jesse Winkler. With runners on the corners and just one out at that point, Chatwood held his ground by forcing two quick outs to end the inning and keep it at 6-2. Chatwood did not last on the bump for much longer, though, as an RBI single by Votto, who went 2-4 at the dish, that scored Billy Hamilton in the sixth chased Chatwood from the game.
Harvey hit the bricks soon afterward, thanks in large part to Cubs relief pitcher Randy Rosario's first career hit and RBI in the sixth. After Russell, who went 2-3, doubled to right with one out, Rosario brought him home on a base knock up the middle in his just his second big-league plate appearance. Russell was fortunate to accrue the double that set up Rosario's RBI, as a combination of bright sunlight, strong winds and miscommunication by a couple of Reds defenders led to his bloop hit falling in safely for a two-bagger.
.@Randy_Rosario77 is a career 1.000 hitter, the highest batting average in @MLB history. ?? pic.twitter.com/HBNGK80s1G

— Chicago Cubs (@Cubs) July 7, 2018
The Reds bullpen did not fare well on Saturday, giving up five runs and wasting Harvey's efforts. Cincinnati middle reliever David Hernandez was taken deep for a 396-foot homer to left-center by Baez on just his second pitch. The solo shot led off the bottom of the seventh and brought Baez into a tie with Schwarber for the team lead in home runs at 17.
El Mago. Boom. Cubs deficit trimmed to 7-4 after Javy Baez sends one into the bleachers!

Watch on @NBCSChicago or via live stream here: https://t.co/CaQ3FJzL8I. pic.twitter.com/ZJtaRqna7T

— Cubs Talk (@NBCSCubs) July 7, 2018
Baez went on to drive in the tying run in the eighth, an inning that saw the Cubs manufacture four runs on three hits and two walks. Reds reliever Amir Garrett walked the first two batters of the frame and then gave up a single to David Bote that loaded the bases. Jared Hughes was brought in to replace Garrett, and he proceeded to lose the game for Cincinnati.
Zobrist incited the scoring barrage with a two-run double to left-center that came on a low pitch from Hughes, which Zobrist golfed into the outfield. A few at-bats later, Baez hit a comebacker to Hughes that the six-foot-seven-inch reliever clumsily misplayed, allowing Baez to reach for an RBI infield single that scored Bote to tie the game at 7-7.
Baez made what was arguably the most important play of the game for the Cubs thereafter, as he used a one-man hit-and-run of sorts to prevent what could have easily been a double play on a grounder to second base by Anthony Rizzo. Taking off for second prior to the hit, Baez reached the bag with ease and nullified the possibility of an inning-ending double play, thereby enabling Zobrist to cross the plate from third base to give the Cubs their first lead of the day. Garett was charged with three of the four runs scored by Chicago in the eighth, and Hughes, who was handed the loss, was charged with the other one.
Baez and Rizzo team up to give Cubs lead in the 8th pic.twitter.com/tjc3jG2jHX

— Cubs Talk (@NBCSCubs) July 7, 2018
Cubs closer Brandon Morrow, who probably did not expect to pitch in Saturday's contest for most of the afternoon, went three up, three down in the ninth to make the Cubs' 8-7 comeback win official, giving him his 20th save of the 2018 slate in the process. Rosario, who was impactful both on the hill and at the plate, received the win to improve to 4-0 after pitching 2.1 scoreless innings. As for Hughes, his losing stint dropped him to 2-3 and also provided him with his second blown save of the season.