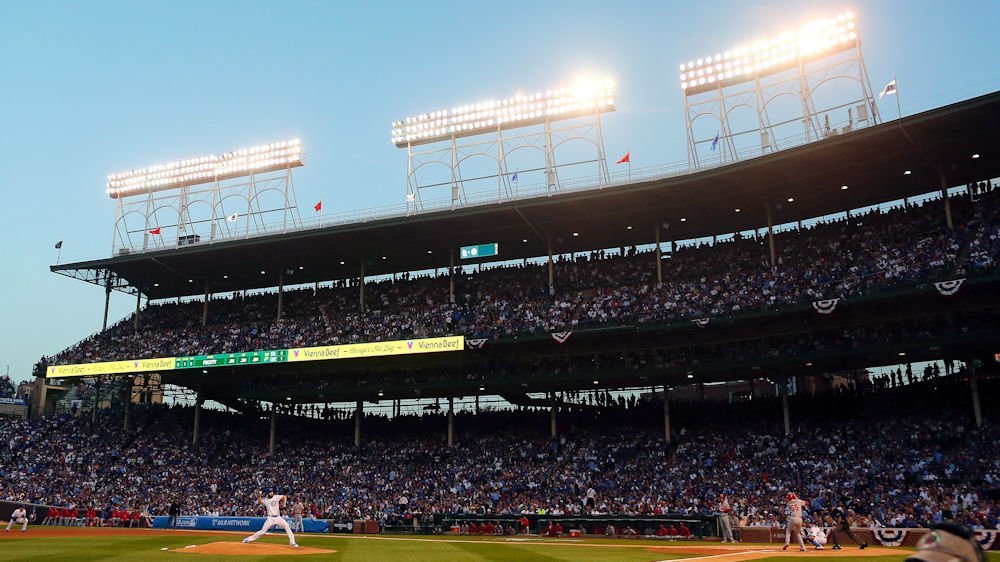 | | |
| --- | --- |
| Commentary: 8-8-88 First Night game at Wrigley | |
---
Thirty-years ago tonight, I sat in front of my TV at my home in Toledo, Ohio, waiting for something I thought I'd never see; a night game at Wrigley Field.
I was almost 23 at the time, and for nearly two decades before, my dad had taken me to games- day games- at Wrigley. I wasn't looking forward to seeing those lights come on, as it seemed the Cubs were turning some futuristic corner.
Having been previously embattled for years over city ordinances prohibiting night games on the north-side, the Cubs took the field against the Phillies, with Rick Sutcliffe on the mound. Under dark and dreary skies, Sutcliffe hurled the first pitch ever in a Cubs', home night game at 6:59 PM, against the Phillies' lead-off man, Phil Bradley.
30 Years Ago Today: Bill Murray & Harry Caray share a beer before the 1st night game at Wrigley Field, Chicago. It seems fitting that the game was rained out! (August 8, 1988) #MLB #Cubs #History pic.twitter.com/TxO8AQ1SNW

— Baseball by BSmile (@BSmile) August 8, 2018
To me, and I'm sure to many others, the game seemed nothing short of surreal. I wasn't used to seeing shadows cast from the lights, at least not from Wrigley Field. Although I knew Lake Michigan was looming large out there over the right-field wall, it seemed almost non-existent in the darkness outside the stadium. Adding to what was already seemingly bizarre to me, living in Ohio meant that I was seeing the game an hour later than Chicagoans, making the night seem all that much darker.
The white of the Cubs' home uniforms seemed brighter than usual, and it was a look that seemed nothing short of odd. The Bleacher Bums looked almost Hollywood-like to me, with their faces illuminated by the stadium lights, as the skyscrapers and high-rises added contrast with their own lights in the background.
It was sensory overload, and I wasn't sure how to feel about it. In my Little-League days, I loved playing under the lights, as it seemed nothing, not even darkness, could halt our desire to play, but it still didn't look "normal" for the Cubs to be doing so, at least not during a home game.
At 8:14 PM, entering the bottom of the fourth, with the Cubbies up 3-1, it was like some dominant, outside force agreed with me, as the skies opened up and torrential rain began to fall. By 10:25 PM, the umpires gave up hope and called the game off, making the first night game at Wrigley, a game that never technically happened. The following night, the Cubs managed to complete their first night game at home, beating the Mets 6-4, but I wouldn't see that game, as it wasn't available in my area.
30 years ago, the @Cubs turned the lights on at Wrigley Field...

Let's look back at 8/8/88. pic.twitter.com/WwCKqSF36m

— Cubs Talk (@NBCSCubs) August 8, 2018
I'm not sure how long it took me to finally watch night games at Wrigley Field without a sense of weirdness about them, but I guarantee that it took me a while. Maybe I'm just old-fashioned or a creature of habit, but to me, those 1:20 PM starts still signify to this day, that the Cubbies are playing at home.
8-8-88: First night game at Wrigley. Writer Roger Angell: "It's another loss to television. The television numbers, dollars, make this necessary." pic.twitter.com/qcJOHGVLJB

— Darren Rovell (@darrenrovell) August 8, 2018
On this date in 1988, the Cubs played under the lights at Wrigley Field for the first time.

Things didn't go as planned. pic.twitter.com/XQmscQX2h0

— ESPN Films 30 for 30 (@30for30) August 8, 2018