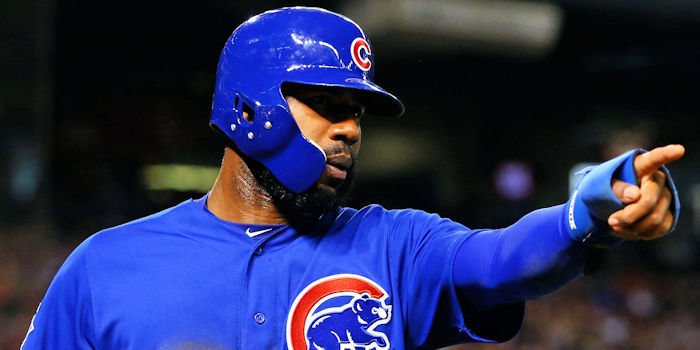 | | |
| --- | --- |
| Commentary: All eyes should be on Jason Heyward | |
---
| | | |
| --- | --- | --- |
| Tuesday, March 28, 2017, 11:19 AM | | |
CHICAGO -- When the Chicago Cubs signed right fielder Jason Heyward to a hefty eight-year, $184 million contract in December of 2015, the signing was a bit striking. Sure, J-Hey had established himself as one of the best two-way outfielders in Major League Baseball, and he was fresh off of a solid season with the St. Louis Cardinals. Therefore, his signing bolstered the Cubs in all facets of the game at the expense of the rival Cardinals. However, with the Cubs signing Ben Zobrist, a batting order mainstay with utility man-like defensive capabilities, and a stable of young, homegrown outfielders waiting in the wing to take their place in the Cubs' starting lineup, doling out that much money for a veteran outfielder seemed somewhat illogical.
Now, over a year after the fact, the Cubs are reaping what they sewed from inking Heyward to the exorbitant deal, as several less expensive outfielders have moved on from the Cubs franchise, leaving behind Heyward, who has been incredibly underwhelming at the plate since arriving at Chicago. Last season, Heyward experienced the most frustrating season of his career with the bat, hitting a career-low .631 OPS. In the postseason, Heyward was particularly inept offensively, accruing a woeful .104 batting average and consistently falling flat in critical at-bats.
To be fair, Heyward's knack of making impressive catches in the outfield was on full display throughout the 2016 playoffs, as was his selfless leadership style, which culminated in what proved to be a highly effective players-only meeting during the now-legendary rain delay in Game 7 of the World Series. But his hitting struggles were too glaring to ignore, and, now, as the 2017 season gears up, all eyes should be on Heyward, as how he starts the season could foreshadow how the Cubs' season will play out.
Helping Heyward's cause is his commitment to improving his game. Despite the fact that he is arguably the top defensive outfielder in baseball, having won his fourth Gold Glove last year, Heyward did not give himself a free pass for his offensive shortcomings of 2016. As a result, the 27-year-old fine-tuned his swing during the offseason, providing video evidence via social media that his crisper, quicker stroke was working wonders as he looked to revitalize his hitting game.
The offseason work did not pay immediate dividends, though, as Heyward began spring training with an 0-15 slump that was painfully reminiscent of Heyward's plate performance from five months prior. He did begin to up his plate performance soon after, but his current .152 spring training batting average does not bode well for a hot start to the regular season.
Rest assured, the Cubs definitely need Heyward to perform well in the hitting department in order to repeat as World Series champions. While other cheaper veteran Cubs outfielders, such as Chris Coghlan, Dexter Fowler and Jorge Soler, have either been traded or allowed to walk away in free agency recently, Heyward, with his exorbitant contract, is likely stuck with the Cubs for the foreseeable future, whether the North Siders like it or not.
While the Cubs boast several young talents in the outfield, such as Kyle Schwarber, Albert Almora, Jr., and top prospect Eloy Jimenez, batting-wise, Heyward is the odd man out, and if he were to falter early on this season, his presence in the starting lineup could pose a serious problem.
With Javier Baez now firmly entrenched as the Cubs' starting second baseman and Willson Contreras firmly entrenched as the Cubs' starting catcher, Schwarber, a natural catcher, and Zobrist, a natural second baseman, are left with playing the outfield as their only option for regular time in the starting lineup this season. Therefore, a four-man logjam between those two, Almora and Heyward could ensue at some point this year, and considering that Heyward is the weak link offensively, the $184 million man could wind up being the odd outfielder out. And having someone bringing home that steep of a paycheck to ride the bench would not be an ideal situation whatsoever for the Cubs.
Adding to the convolution of it all, Cubs manager Joe Maddon showed a propensity during Schwarber's injury layoff last year to play starting third baseman Kris Bryant in the outfield, taking advantage of the outfield volatility left behind in Schwarber's absence. 6'5'' and lanky, Bryant does not exactly look the part of an MLB third baseman, and since he is such a precious commodity in the batting order, Bryant would probably be best suited to eventually transition to a much safer, less taxing defensive position in the outfield. But as long as J-Hey is locked into the right field spot, there is not much room for experimenting with Bryant in the outfield from time to time.
Of course, all of these concerns could be made moot if Heyward were to adequately showcase why he was signed to a $184 million contract in the first place. As dangerous as any outfield slugger in the National League not named Bryce Harper when on his game, Heyward could make the ultimate difference between a repeat World Series-winning season for the Cubs and a disappointing letdown. Furthermore, how the Cubs choose to handle the Heyward situation, particularly how Maddon and his staff choose to play him should his hitting woes persist into the early portion of this season, could have a major effect on the Cubs for the next several seasons.
While this year obviously presents plenty of promise for the Chicago Cubs, one of the few concerns that should attract the watchful eye of the Wrigley Field bleacher creatures is how Jason Heyward handles the most pressure-packed season of his career. It only takes one bad apple to spoil the whole bunch, and should Heyward prove to be no riper at the plate than he was throughout the 2016 postseason, he could find himself quickly plucked from the starting lineup and left to rot in the dugout.

Upgrade Your Account
Unlock premium boards and exclusive features (e.g. ad-free) by upgrading your account today.
Upgrade Now