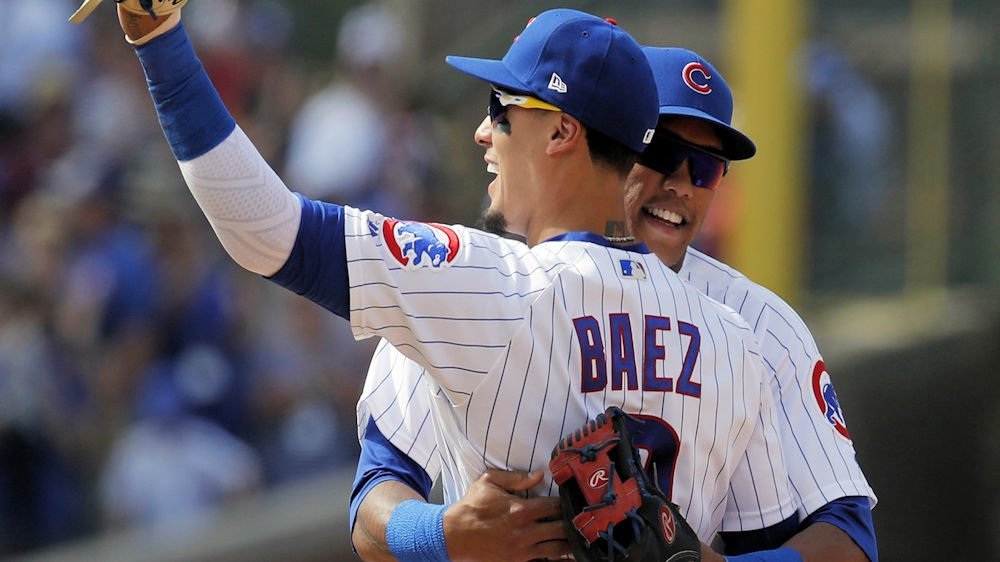 | | |
| --- | --- |
| Commentary: Baez or Russell at shortstop? | |
---
| | | |
| --- | --- | --- |
| Sunday, April 28, 2019, 3:37 PM | | |
Each day we get closer to the return of Addison Russell-- He's back in Iowa at least. Russell is eligible to return from his 40 game suspension on May 3rd against the St. Louis Cardinals. Russell has been allowed to resume baseball activity, but that doesn't mean the Cubs need to rush him back to Chicago when his suspension is over. They already have a good infield, and there is no logical reason for displacing Javier Baez.
Baez finished second in NL MVP voting last season, and this year he's been even better. In his first 25 games, Baez is slashing .333/.369/.676 with nine home runs and 22 RBIs. Conventional wisdom says that these numbers will regress eventually. However, when you watch him play it's pretty obvious traditional wisdom does not apply to Javier Baez. You're talking about a guy who gets RBI hits by throwing his bat at balls in the dirt or can dance around tags in a fashion that would impress Barry Sanders.
Baez has also saved four runs on defense and stolen two bases so far this season. As good as Baez is at moving around the diamond and playing every infield position, focusing on shortstop has brought him to a new level. He is still only 26 and should be well on his way to another all-star game.
Just strictly from a baseball perspective, Russell is a good player, but he is not Javy Baez. Russell is an elite defender and below average hitter. He has been piled up an RBIs in past seasons, but he's never got on base more than 33% of the time. Russell has been a standout player on defense with 57 runs saved at shortstop in his four seasons.
There is no denying that a Russell/Baez double-play combination is as dynamic as it gets, and the infield is the best when they are in the middle of the diamond. That being said, the Cubs should not break things up when things are going well. Baez has earned the right to be the shortstop, and Daniel Descalso has been good for the Cubs at second. Descalso is not the defender Russell is, but he's helped the Cubs with his clutch hitting. Russell may be an upgrade down the line, but as for right now, there's no reason to shake things up.
It's also not like Russell is in danger of losing his job due to an injury; Russell's job has been put in jeopardy by his transgressions. The Cubs don't owe Russell anything and don't own any responsibility to play him. The Cubs already stood by Russell through his suspension when they had the option not to tender him a contract. The Cubs did give him a contract and allowed him the opportunity to continue his career. That's all this is an opportunity, not a promise. It's on Russell to prove his value to the Cubs as both a player and a person, which is something Baez has already done.
Baez has been the Cubs MVP, if not the league's MVP, and has done everything he can to show he's the shortstop. He is the heartbeat of the team and brings energy which they desperately need at times. Javy's value was displayed by his 6.3 wins above replacement last season, but that number doesn't tell the whole story. It may be possible to quantify the value of Javy Baez in terms of production, but how do you put an appropriate value on the energy he brings to the team every day? Baez carried an otherwise anemic offense to 95 wins and a one-game wild-card game, where he knocked in their only run.
Addison Russell can help the Cubs, but not as the everyday shortstop. That job has been filled. If Russell wants to win back playing time he needs to do it through clutch pinch hitting and solid second base defense off the bench. Russell can help keep Baez fresh this season relieving him in lopsided games and filling in every once in a while. But as for who the everyday guy is, that's not up for debate. Javier Baez is the Cubs shortstop.