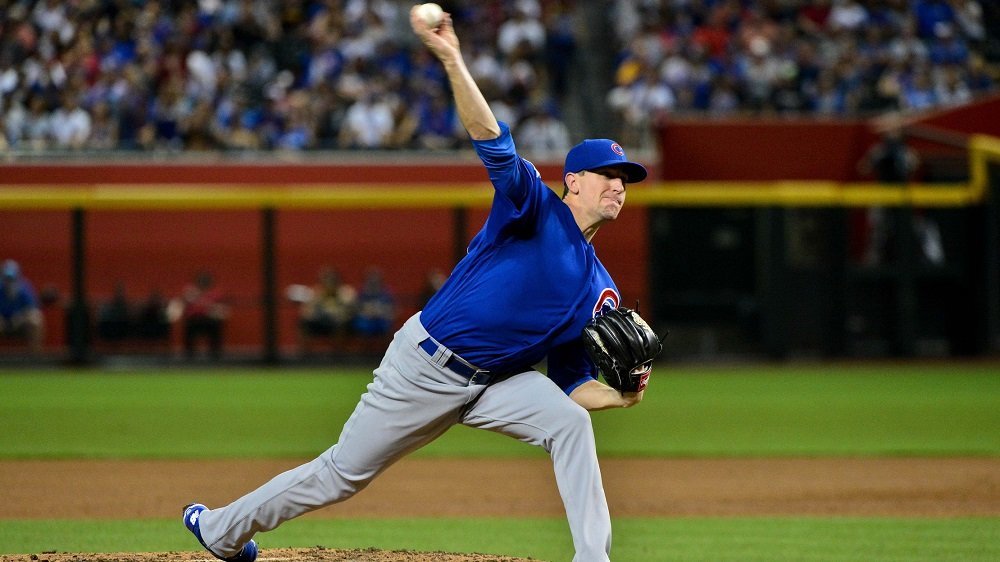 | | |
| --- | --- |
| Commentary: Ban the blue uniform tops | |
---
| | | |
| --- | --- | --- |
| Wednesday, September 19, 2018, 11:49 AM | | |
With the Central Division seemingly in the Cubs' control, and, getting the rotation and batting order lined up for a long playoff run, I wanted to take this time to discuss something that has absolutely driven me nuts for years. Ok, there are a lot of things that drive me nuts every day, but this is something that is fixable.
I want the Chicago Cubs to please burn those blue uniform tops that Kyle Hendricks and a couple others seem to be in love with.
I appreciate the Ricketts family suspending wearing them at home. No that's not true. I love the Ricketts family for suspending wearing them at home. If I am at Wrigley Field for my once, maybe twice a year visit, the last thing I want to see is my favorite team dressed like they have the middle game at Tuesday night 16-inch softball league at Wilson Park.
When I see them wearing it on the road it embarrasses me that my team could not find anything better to wear and it shows the away fans that they have no respect for them. Away uniforms should be the traveling grays period. I will say that last year they broke out the gray "CUBS" uniforms and those looked good also.
The playoffs are starting soon, and a national audience will be watching, many for the only time during the year they see the Cubs. Why not look your best and represent the team and the city properly? White at home and gray on the road. It looks professional. It looks elegant. It looks like you are supposed to look.
I know many of you are rolling your eyes and clenching your fists in disgust, wondering why I picked this topic to write about today. I love this team and I want the rest of the world to cherish this team too and you cannot love a team that looks like they are headed to The Lamplighter after the game for pinball and beer.
I get that MLB wants to sell more stuff, but honestly, do the Cubs really need a gimmick to sell more merchandise? They are one of the top three teams in baseball in sales of merchandise and offering that hideous blue uniform is embarrassing. I mean, the color doesn't even match anything else they wear.
This fashion error is up there with the goofy powder blue uni's, the road jersey's that everyone thought spelled out "CUBA", and the road hats with the red bill and blue shell. I shudder just at thinking of these items.
I am begging the Ricketts family to take the final step, and for the playoffs at least, ban the blue. One Cubs fan will be even more grateful.