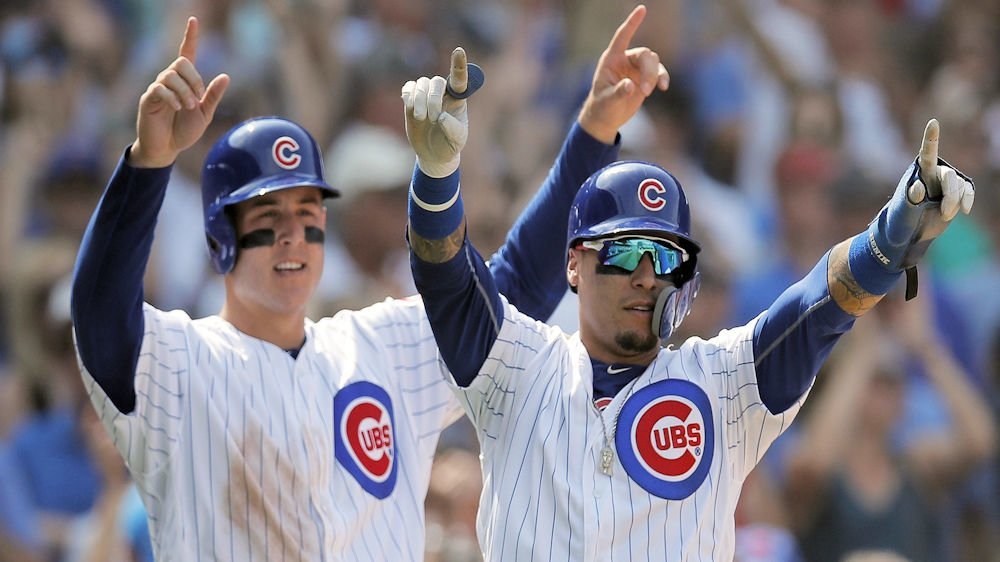 | | |
| --- | --- |
| Commentary: Cubs fans stop freaking out | |
---
| | | |
| --- | --- | --- |
| Tuesday, December 18, 2018, 10:17 AM | | |
The biggest story surrounding the Chicago Cubs this offseason is the fans hand-wringing and consternation about the team not doing anything to improve the ballclub so far. Message boards and social media are overflowing with bad vibes and crying about how the Cubs are the only team not making moves.
The total meltdown over this is becoming embarrassing, and those are just my tweets and postings. Others feel the same way but have their emotions under check better than me.
As your designated levelheaded, even-keeled, sober reality spreading, writer for all things Cubs, I decided to look up the facts to see how bad this offseason has been. As I have made it clear in the past I'm not afraid to not let the facts get in the way of my feelings. This time they help my narrative, so here we go.
I now believe that the beloved only needs to make some minor tweaks to regain their World Series crown.
Let that cascade over your shoulders like a soothing waterfall in Maui as you sip an adult beverage with an umbrella inside the glass overlooking the Pacific Ocean.
Wait, where was I? Oh yeah, the Cubs only need to tweak their roster to get back on top in 2019. Forget Harper, Machado, Thor, and everyone else we have been pining for all winter. What the Cubs need is to fill a few holes with easy to get players and then they need their core group to play like they are supposed to.
When you compare 2016 to 2018 you will see that four out of the eight position players had off years in 2018. Three had better years, and one, Kyle Schwarber, was incomplete versus 2016 since he was hurt all season then. The ninth man, Ben Zobrist, had basically the same stats in both seasons.
Javier Baez, Jason Heyward, and surprise, Kris Bryant (injuries curtailed his season) all had better years in 2018. This is based on OBP/SLG/OPS/OPS+. Willson Contreras, Anthony Rizzo, Addison Russell, and the CF combo of Albert Almora/Dexter Fowler all had worse years in 2018.
If the four players who were down can just come back to have their average seasons, the Cubs will be significantly improved, and let's not forget they won 95 games this past season. Sometimes you have to credit the other team too.
Starting pitching wise, the Cubs leader, Jon Lester, had a down year, as did Kyle Hendricks although he did pitch more innings this year than in 2016. Overall the starting pitching was pretty solid and if they continue to improve 2019 should be even better.
The bullpen is where they need to address issues. While the 2018 squad was better than the 2016 team, the Cubs have lost or will lose, enough guys that they need to fill holes there first. If they bring in 10 -12 fresh bodies in spring training and find 4 to 5 that look good, then they will be fine. Like I've said before, bullpens go over a major overhaul every season on every team.
Unlike the rest of my friends covering and reading about this team, I feel pretty good about their chances in 2019. I know other teams in the division have improved, but other than Milwaukee who had a career year from almost the entire team, the others were so far behind the Cubs that they are still chasing them.
My advice to all of you out there is to enjoy the holidays. Stay safe. Quit picking on your sister already for god sakes. Rest up because we are going to have an enjoyable ride in 2019 cheering for our favorite team.

Tags: Cubs Baseball
,
Kyle Schwarber
,
Ben Zobrist
,
,
Jason Heyward
,
,
Willson Contreras
,
Anthony Rizzo
,
Addison Russell
,
Dexter Fowler
,
,
Kyle Hendricks