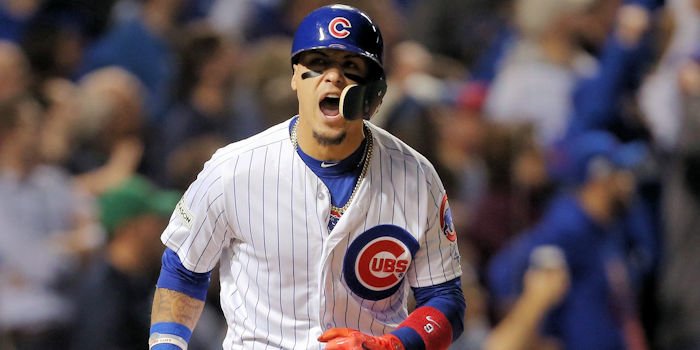 | | |
| --- | --- |
| Commentary: Cubs should trade either Baez, Schwarber, or Russell | |
---
| | | |
| --- | --- | --- |
| Thursday, November 2, 2017, 6:49 PM | | |
CHICAGO -- The Chicago Cubs had another successful season in 2017.
After coming off a World Series win the Cubs won back to back division titles before being bounced by the Los Angeles Dodgers. The focus now turns to the offseason where the Cubs have quite a few roster spots to address. The pitchers spot is perhaps the biggest as the bullpen needs several upgrades and the rotation will need retooling with the imminent departure of CY Young winner Jake Arrieta. The Cubs made a splash with Jose Quintana who will be under team control for several more seasons. I would encourage the Cubs to make another bold deal involving one of three fan favorites; Javier Baez, Kyle Schwarber or Addison Russell. There are too many glaring pitching issues to address so the Cubs positional depth will have to take a back seat if the Cubs want to win the World Series in 2018.
These players are expendable due to the emergence of one player by the name of Ian Happ. The early season call up for the northsiders finished the year with a .253/.328/.514 slash line and 24 bombs in 115 games and according to fangraphs a 1.8 WAR and 113 WRC+ the latter being higher than Baez, Russell and Schwarber. The newest young Cub will be in line for more playing time leaving the Cubs room to move on from more young talent that could be bartered with to acquire more young arms. Here are some candidates that come to mind:
Chris Archer - The Rays may be looking to go through a rebuilding process and the Cubs could be looking to bring back talent that was once in their system. Archer would be a good fit for the Cubs as he is coming off a strong year with a 4.07 ERA, an 11.15 K/9 and a 3.40 FIP. He would certainly bolster the Cubs rotation and could be had for a package including Kyle Schwarber headed to the AL to get into a DH position. Not to mention Archer is under contract until 2022 with the last 2 years being under club option.
Marcus Stroman - Stroman is another young arm who should be on the Cubs radar. He's coming off of a strong second full season in the bigs with a 3.09 ERA and a 3.90 FIP. Stroman is also not set to come into free agency until 2020. Possible trade package would include a middle infielder to play alongside Troy Tulowitzki so it's not far fetched it could include probably Javier Baez or Addison Russell. Though he may leave the Cubs to peruse his budding Rap Career:
All jokes aside Russell is probably the most untouchable of the three players. Though it is hard to say as the Cubs may look to move him because of off field issues he had this offseason. It's also hard to discount how well Javy played during Russell's injury as the team had multiple games where Baez carried the torch. You also have to ask yourself how desperate are you to win now to give up on a slugger like Schwarber who had a great second half. It will be an interesting offseason for the Cubs Brass and they have a lot of tough decisions to make.