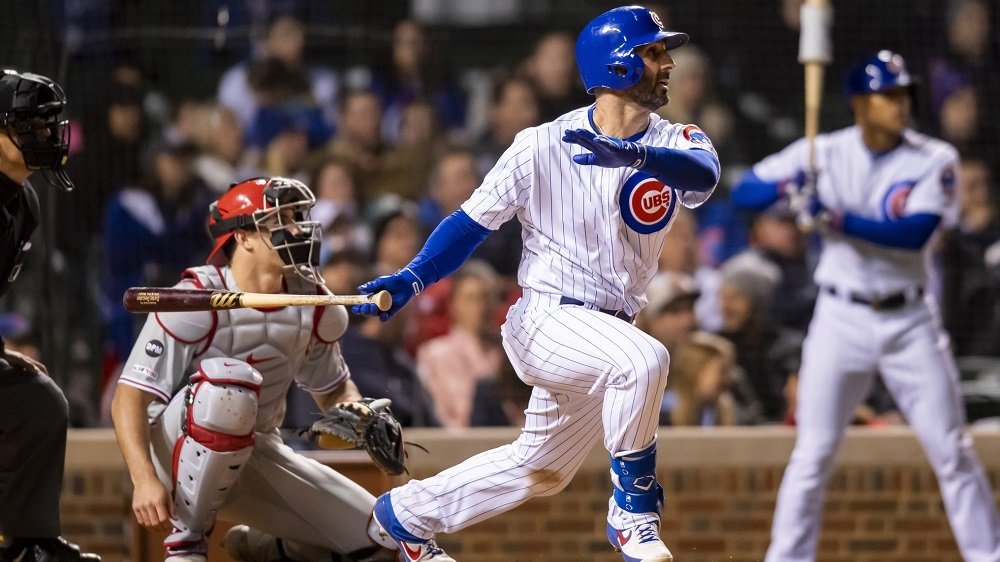 | | |
| --- | --- |
| Commentary: Few trade scenarios to fill hole at second base | |
---
| | | |
| --- | --- | --- |
| Tuesday, July 2, 2019, 10:33 AM | | |
As we have now passed the mathematical halfway point of the season, we can see that the Cubs have many several flaws that need to be fixed if they expect to make a deep run in October. From weak clutch hitting with RISP, inconsistent starting pitching and of course, the ever-changing and imploding bullpen, there is plenty of blame to go around as to why this team has struggled so much since mid-way.
One of the most significant holes on this team happens to be second base as the Cubs need to shore this up quickly. Going into the season, this was a position that was expected to be a platoon-based spot with Ben Zobrist and Daniel Descalso manning that spot. As Zobrist was put on the restricted list in early May, it left the Cubs in limbo as they needed to piece together not only their bench but the second base spot also.
Even though Zobrist wasn't hitting at all, .228 with 0 HR and 9 RBI, it was his leadership in the clubhouse that has been dearly missed as the Cubs just don't have that veteran presence anymore. Since his absence, David Bote has seen most of his time at second base and has done admirably for the most part at that spot, but even he has been scuffling of late causing the Cubs to go with Descalso and Addison Russell more than even they would like to.
Let's be real here, Descalso has no business on this roster right now as he is hitting under .200 over three months in. It is hard to believe that he was one of their best hitters the first three weeks of the season as his contact rate is minimal at best. I know the Cubs signed him to a multi-year deal, but at just .182 with 2HR an 15RBI, Descalso is taking up a roster spot that could be used by anybody else who could perform better than him at this point.
Then you have the embattled Russell who, if you ask me has lost the respect of his teammates on this team. After opening the season on the suspension list missing the teams first 26 games, Russell was optioned to Iowa where he spent nine days trying to get back in game shape. Since being promoted in early May, Russell has hit .252 with 5 HR and 12RBI, but he seems to be losing his bat more than hitting these days and possible distraction in the clubhouse at this point.
I know making one move is not going to solve an entire chest of problems, but it could aid in getting the team back on track, which could eliminate further issues down the road. I have put together a list of three solutions as to how the Cubs could fix their second base problems in hopes of improving the overall morale of their team.
Play Bote every day and DFA Descalso. By now it is no secret that this season is a lost cause for Descalso. My question is, why does Joe Maddon keep putting him out there? Chicago had no trouble releasing Carlos Gonzalez in less than a month as he was hitting .185 since being called up. Why is Descalso any different? Is it because he is an infielder? Is it because he has a multiyear deal? Is it because he is a veteran that they lack since Zobrist left? Whatever the reason, the Cubs need to eat his dead weight salary and move on from him.
Should this move be made, that would open the door for Bote to play much more. Bote may only be hitting .257 for the season but has 9 HR, and 34 RBI as his power has continued to increase with tremendous exit velocity. He is also in his first full season as he is still trying to perfect his overall approach at the plate. Add in the fact that he signed a four-year extension this past offseason shows you all you need to know about what the Cubs feel about him. So, what are they waiting for to pull the trigger and give him the starting spot?
Option two is probably the least likely to happen, but it can't hurt. I would send Russell to AAA and call up Ian Happ, Trent Giambrone or Robel Garcia. Due to his suspension at the beginning of the season, Russell sat for a month after spring training without seeing baseball action. Once he was eligible to return, Russell was sent to AAA for just nine days to get him back in baseball shape.
Russell needed more time and never should have been called up when he did. He needed at least a month if not more at AAA to get a regular game routine under his feet while using his time in AAA as an extra spring training of sorts. The sooner he heads back to AAA not only to play every day but to get back on track, the better he will be in the long run.
Should this move be made, the Cubs would need someone to get called which is where Happ, Giambrone, and Garcia come into play. As I said, I see this as the least likely scenario, so hear me out. For Happ, I genuinely believe his time with the Cubs has come to an end given who the club has promoted in the past month. Happ hasn't done much to gain the trust in the Cubs front office as he is flirting around the .220 mark with 11 HRS and near 40 RBI's. He is still taking his walks, but his high strikeout rate is a major concern going forward. However, as a switch hitter who has demonstrated good power the past two seasons, Happ cannot do much worse than what the Cubs have now can he?
Giambrone is another player that I would like to see up at some point as he is having an impressive season in AAA. After bursting on the scene during spring training, Giambrone has continued that during his season with Iowa despite just hitting .232 on the season. His team-high 18 homers is a promising statistic as that could provide the Cubs with a power boost at another infield spot.
Then there is Garcia who continues to mystify the entire Cubs organization. After the Cubs accidentally discovered him a few years ago in Italy, Garcia is starting to make the front office look good despite an absurd 39% K rate this season. After opening the season with Tennessee, Garcia was quickly promoted to Iowa where he has connected for 15 HRS thus far. Add in the six he has from Tennessee which still leads the team; he has 21 to lead all players in the organization, tied with Javy Baez on the MLB roster. Garcia certainly has the potential to hit for a ton of power on the big stage, but his K rate is somewhat alarming, which a huge reason is why he will not be up for a while.
The final way to fix the second base issue and seems more likely to be the top option is trading for someone who has multiple years of control. Although several names may be available, two names continue to swirl in my head as it can solve various issues at one.
The first name is Kansas City outfielder Whit Merrifield. Notice I said outfielder and not infielder, that is because Merrifield has seen more time in the outfield this year as the Royals have brought in some good infield prospects. This has been a name that was swirling around last season as I thought the Cubs might entertain this during the offseason. With the Royals in full rebuild mode and Merrifield at the beginning of a three-year contract extension, this would be an obvious deal to make if the price is right.
Not only is Merrifield 30 years old, but you would have him for two more years after this season solving your leadoff hitter options for the future. Currently, Merrifield is hitting .303 with 11 HR and 43 RBIs to go with 11 steals. Add in the fact that he can play both 2B and corner outfield spots; it would allow him to be the everyday second baseman while also giving players off in the outfield which makes this a win-win for both teams. I could see the Cubs packaging Happ (who plays similar positions as Merrifield), Colin Rea (former top pitching prospect who is having a comeback season this year), Roberto Caro (potential future leadoff hitter for KC) and a player to be named later to get this deal done.
A second player I would like to see the Cubs inquire about is Dee Gordon of Seattle. Despite the Mariners not being as good as anticipated, I don't see this deal happening despite Gordon being 31 years old this year. Why this would be a good fit for Chicago is like what was said about Merrifield.
First, Gordon is the type of leadoff hitter the Cubs have lacked since Kenny Lofton in the 2003 days. He won't blow you away with his average, as he currently is hitting .268, but his tremendous speed can be a game changer. With 14 steals thus far, Gordon now has 322 steals for his career making him a threat on the bases every time on. Speed is something the Cubs certainly are lacking as they rank near the bottom in terms of stolen bases. Gordon would undoubtedly change that as he could provide the spark at the top of the line up that Dexter Fowler once brought which seemed to trickle through the lineup.
Another reason why this is a good fit is that Seattle is looking for prospects and players as they want to build a championship caliber team. That would give the Cubs a prime target to unload both Happ and Russell as both would benefit from a change of scenery at this point. I know it might take more than just those two to get this deal done, but having those two be the focal point would certainly draw interest from the Mariners moving forward.
With the trade deadline officially one month away, the Cubs are certainly going to be active this season unless they fall entirely out of the race by that point. Jed Hoyer has already stated that everything is on the table in terms of what they do which includes trading some of their big-league talent away if it means making the roster and offense better. A lot must be determined before any deals can be made, but at the rate, the Cubs have played since mid-May and the lack of production from second base, this is one area they should focus on come July 31.

Tags: Cubs Baseball
,
Daniel Descalso
,
Ben Zobrist
,
David Bote
,
Addison Russell
,
,
Trent Giambrone
,
Robel Garcia
,
Colin Rea
,
Roberto Caro
,
Dexter Fowler