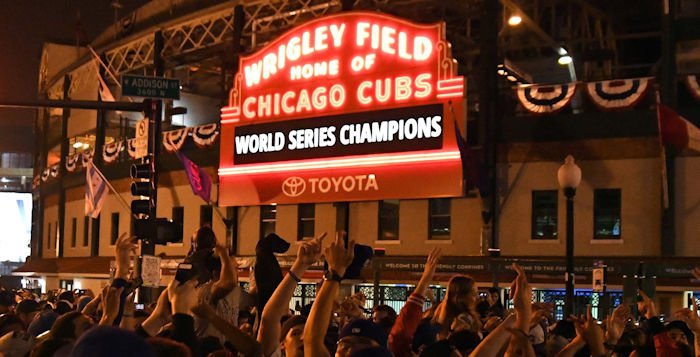 | | |
| --- | --- |
| Commentary: Getting to World Series is crazy hard | |
---
| | | |
| --- | --- | --- |
| Sunday, April 29, 2018, 12:10 PM | | |
Getting to the World Series is hard and winning it is even harder but winning it back-to-back is crazy hard. Ask any Cubs fan how difficult it is to get to the World Series, and they will tell you all about 108 years of futility.
The last team to repeat as World Champs are the New York Yankees who did it three times in a row from 1998 – 2000. The last team to appear in back-to-back World Series are the 2014 and 2015 Kansas City Royals, losing in 2014 but winning in 2015. That might be an even harder feat.
I have been thinking about all this as I watch the Los Angeles Dodgers struggle this year while the Houston Astros continue their onslaught against the American League West. While the Astros lead by 1.5 games over the surprising Los Angeles Angels of Anaheim California United States of America Western Hemisphere, the Dodgers are seven games out of first and only three games ahead of the woeful San Diego Padres.
I wondered why teams that reach this level struggle so much the following year and I believe there are several reasons why.
Physically it is tough to avoid injuries to key players in part because of the toll the prior season has taken on their bodies. The championship season is long, they are playing from February to October, and it wears you out and nicks you up. Toss in the short offseason and you don't have enough time to recover which invariably leads to injuries. It is especially hard on pitchers who don't have enough time off for their arms to recover.
Another major factor is the mental stamina to repeating. Every team says it won't be an issue and with very few exceptions it always is. The reason that teams win championships is that they are focused, prepared, alert, and have the drive to succeed. It is easy to stay engaged and fight through slumps when you are on track to win it all, but it is tough to maintain that laser focus the following year. There are so many things pulling you away from your preparation that you get into this mindset of well, once the playoffs start I'll be ready. Not so much.
Finally, an under-reported aspect is the chemistry associated with winning teams. In the era of Sabermetrics, this part of team sports tends to get poo-pooed, but it is real and essential. Rarely can a team hold on to all the same players from year to year, so it takes time to develop a relationship with new players and not everyone clicks collectively. Additionally, winning teams have a common goal that transcends personal accomplishments and keeps everyone heading in the same direction all year long. The following year it takes time for new players to get on board and sometimes returning players, subconsciously, will say this year is for me. Leadership also is key to a winning team and if the leader is traded or leaves via free agency he needs to be replaced.
I'm sure there are 300 other reasons that you can think of to add to this list, and they are all probably pretty valid reasons too, but I believe these are the key things and if you disagree, write your own column.
Just kidding. Space limits how deep I can get to in this topic.
The bottom line, and back to my original thought, is that it is hard to make it back to the big dance a year after being there. For all the previously brought up ideas it is remarkable that the Royals were not only able to return, but win it in year two, and what the Astros are doing right now is also impressive. I still believe they will hit the wall yet this year but who knows.
For Dodgers fans, they can hold onto the fact that there are still plenty of games for them to turn things around and maybe they will. For Cubs fans, we saw how things turned out last year and are keeping fingers crossed that the Cubs of 2018 is going to be a version of the San Francisco Giants who won every other year earlier this decade. That is a sentence I thought I would never say in my lifetime.