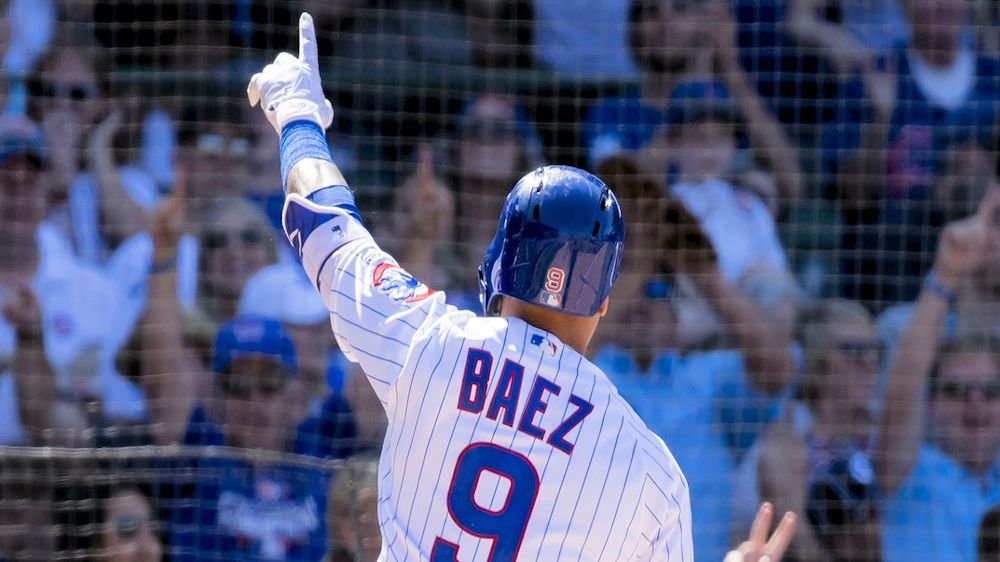 | | |
| --- | --- |
| Commentary: Greatest magic show in the majors | |
---
Cubs second baseman Javier Baez is El Mago (The Magician). Baez bats over .400 against All-Star pitchers. Javier Baez was in the 2018 Home-Run Derby and All-Star Game as a starter. El Mago seems like he can put a spell on pitchers that makes them throw wild pitches when he's on base and this spell can continue on...to the infielders and outfielders.
His unpredictability amps up this unseen whirl of energy that he wields on the field, and when he takes off like a lightning bolt to steal second base, he gives the impression you can tag him out.
Now-you-see-him-now-you, don't...
That mystical lead hand is like an illusion as it nears 2nd base... Time seems to stand still only for a second and then that lead hand disappears like it was never there as his other hand which was the one you should be worried about all along grabs the base. But before you can even try to tag him out, you realize his spell hasn't been broken yet as the ball skips off the glove and rolls to the centerfielder, who mystified, drops the ball like a hot-rock on fire.
So, El Mago continues on his way to third base, and the process starts all over again. This is what it is like for opposing teams.
This is one of the many reasons why I love Javier Baez. He does it all.
And time and time again, he makes you want to watch him, not wanting to miss a beat, whether he's at the plate blasting homers or diving and rolling out swift "cannon-like" throws to any base at any moment securing double plays and gunning down would-be scoring runners.
The explosions off his bat have proved just as formidable as his defense. Baez plays harder than anyone, and that's no illusion. To me, he's the top second baseman in the majors and National League's MVP. I can run you through all of his stats and graphs to try and make you a believer if you're not already?
But to me, that's like trying to explain on paper how unique a rare flower is; when in the end, experiencing its' magic for yourself and taking it in with your own eyes and senses are the only real way you can appreciate the extraordinary qualities of it.
And you have to experience it- like experiencing the talent of Baez. It's the greatest magic show in the majors.

Upgrade Your Account
Unlock premium boards and exclusive features (e.g. ad-free) by upgrading your account today.
Upgrade Now