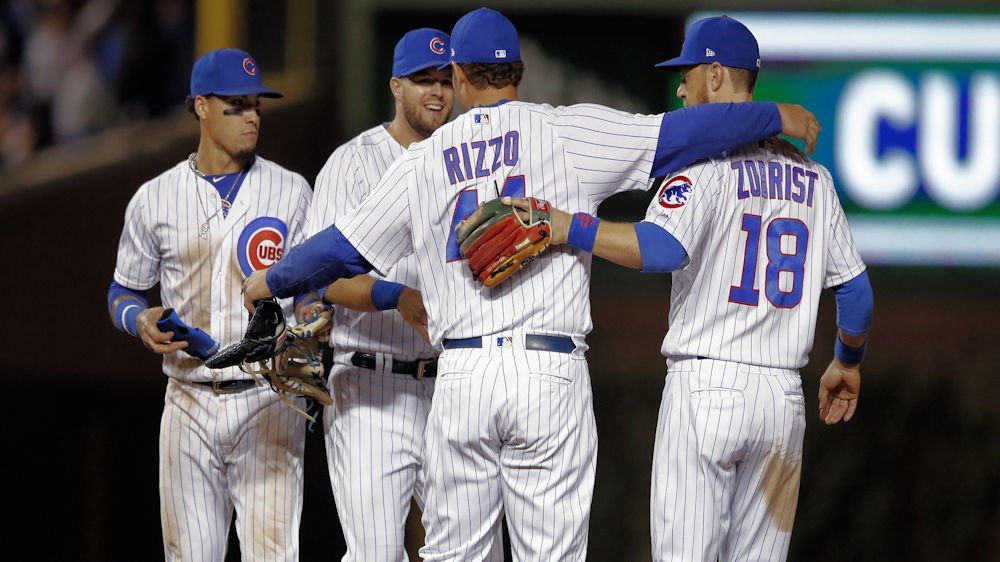 | | |
| --- | --- |
| Commentary: How is everybody's heart? | |
---
| | | |
| --- | --- | --- |
| Saturday, September 29, 2018, 10:17 AM | | |
This is not how Cubs fans expected to be spending their last weekend of the regular season. It was supposed to be a time to get everyone healthy, rest a little bit, and enjoy watching Ryder Cup highlights. For the players, it probably isn't much different.
As we head into Saturday action, the Cubs hold a super slim one-game lead over the suddenly red-hot Brewers, and it looks like they are going to run the table against the Tigers. You hoped last night might have been a game they could steal, but Milwaukee was able to hold them off 6-5.
Our beloved, however, look like they would be more comfortable in a rehab center or emergency ward right now. I haven't seen this much limping and arm swinging since I quit playing softball a hundred years ago. There are 90-year-old people out here by me that look in better shape today.
Today and tomorrow it is straightforward, win and it all takes care of itself. Lose, and you need to hope the Tigers pull off a miracle, or it will be game 163 on Monday. Nobody wants to see that happen if you are a fan of, or on the big blue train.
One pitch at a time. One throw at a time. One gulp of air at a time. Right now, one is not the loneliest number in the whole wide world. I said ten days ago that I wasn't sure if my heart could take these next two weeks and by god, the Cubs are testing my cardiologists' talents.
Luckily, I've been able to distract myself by watching less stressful events like the Ryder Cup and events happening in DC. If it wasn't for those low key and no drama things who knows what shape I might be in.
I see where the team from MO is offering up the possibility of celebrating together Sunday if things work out that way. What a fun idea. My advice for the Cubs is to tell them to go do something almost impossible to themselves and then go out and bury them today and tomorrow and let them watch us celebrate.
But that's just me because I'm an includer and embrace new and different ideas.
I understand the Dodgers and Rockies have a similar set of circumstances to what is happening in the central division but who the heck has the time to worry about two more teams. I'm sure one of them will win something out there, but that is for another time.
To my neighbors, who I know are wondering, if I don't wear the same clothes every day there is a high likelihood the Cubs will lose, so sorry if I offend you but business is business right now, and I'll find a way to make it up to you later. If you have a real problem with this, then please read my suggestion three paragraphs back for advice.
It is four hours before first pitch, and I need to recheck the cable to make sure there are no potential problems. I also need to run to Walgreens to restock my antacid supply.
#EverybodyIn and Go #Cubs Go.