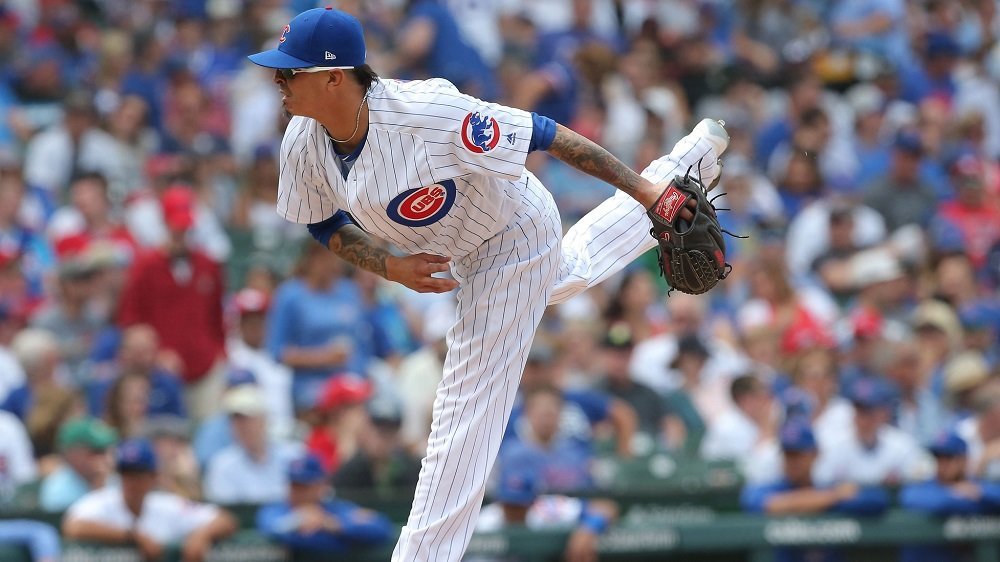 | | |
| --- | --- |
| Commentary: Is it just me, or was Chavez worth keeping? | |
---
Every once in a while, our morning meetings at CubsHQ seem to transform from brain-storming into bumping heads; and this morning was no different.
My colleague, Dan Marich, is not a big fan of relief pitchers. He certainly understands their value but feels most are incapable of repeating seasons with strong performances. I don't disagree that MLB bullpens have a high year to year turnover, but that truism is certainly not a mandate to ditch talent.
While Dan agrees that Jesse Chavez had a fantastic half-season with the Cubs, he's of the mindset that Chavez wasn't great before the Cubs signed him and that he'd be unlikely to be great next season (or beyond) had they re-signed him. I guess we'll never know for sure at this point.
What I do know, is that Chavez came off of a rough first-half in Texas and he turned it around when he donned the uniform of the North-Siders. He gave some stability to a bullpen that had been up and down all season, and when he worked, he did so smartly. I've pointed out on many an occasion that the Cubs needed guys who were more emotional on the field, and Chavez fit the bill. Whether by a fist-pump after earning a tough strikeout, or a thump to his head after giving up a single, Chavez knew how to convey emotion to the fans, and more importantly, to his teammates.
I'm not going to bore you with a ton of statistics here- you all saw what he did on the mound- but does a 1.15 ERA mean nothing? To put it in perspective, Chavez could have been two-and-a-half times worse next season and still had an ERA under 2.88, but no… not worth keeping.
Nobody knows what the Cubs offered, if anything, to keep him in Chicago, but we do know that he migrated to Texas for eight-million over two years. Was it the Cubs alleged "cash-crunch" that prevented him from being re-signed? Highly doubtful. Despite Chavez's career 4.45 ERA, the Cubs are going to need to focus on finding his replacement, and that will almost assuredly cost them every bit as much if they choose to sign an established reliever with any respectable ERA.
The big talk, so far, this off-season seems to be that the Cubs have approached Andrew Miller. Miller has a lifetime ERA of 3.98, only fractionally worse than that of Chavez, and I guarantee he's not signing for less than eight million. True, Miller is younger, by exactly twenty-one months, but it's not like the Cubs would be getting a bullpen ace to replace Chavez for half the age. Not even close. For the record, Chavez pitched to a 2.85 ERA in 2018, while Miller's stood at 4.24.
OK, so let's forget Miller for a minute, what other aces are out there by way of free-agency? Ottavino? Career 3.68 ERA. Familia? Not a bad choice; 3.13 ERA in 2018 and a career ERA of 2.73. How about Soria? Excellent career ERA of 2.88, but then again, he'll be thirty-six years old by the time the 2019 season is a month old.
If the Cubs decide to acquire Chavez's replacement by way of trade, the possibilities are endless, but who will they deal? Happ? Schwarber? Maybe Addison Russell? All options, but now they're going to be cutting into that core that no one can bear to see come unglued.
Based on Dan's litmus test, the Cubs (or any team for that matter) shouldn't go after any reliever who had a good season last year, as he's unlikely to repeat, so why spend the money or the resources? I'll tell you why: It's because the Cubs now have to fill a hole for a guy they should have kept in the first place. Then again, maybe they'd be wise to sign a guy with 6.78 ERA. He'd come cheap, and logic says he's due for his one good season- just don't sign him for two years.