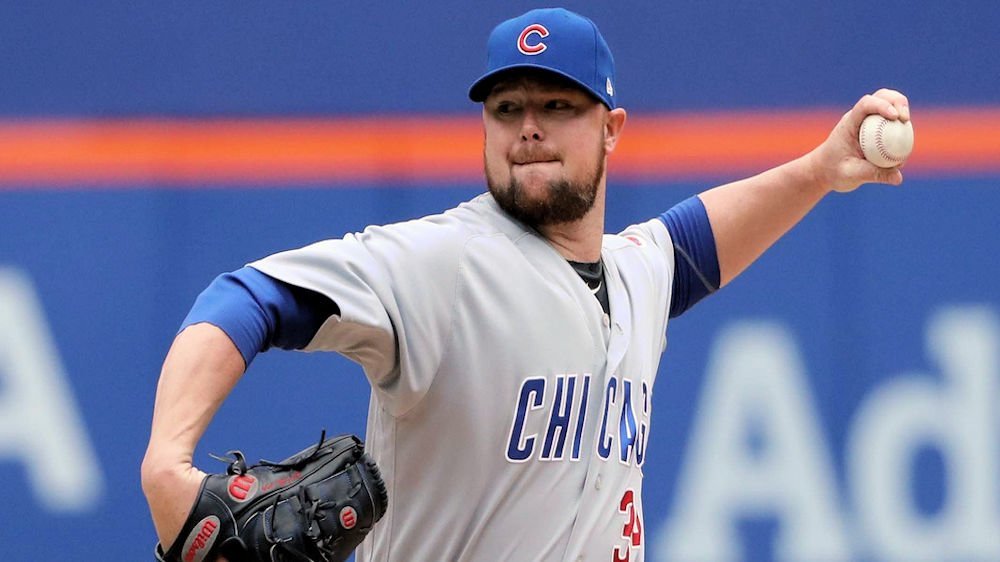 | | |
| --- | --- |
| Commentary: Lester's run brigade | |
---
The thing that I enjoy most about writing commentary pieces is that I don't necessarily have to wait for some hot news topic. Though supported by facts, my articles rely mostly on my own opinions and conjecture. When there's no hot topic of the day, and no time-sensitive material to write about, I often have time to look for the hidden stories inside the stories. I've always been fascinated by numbers and statistics, as I believe they generally forecast the future. As a result, quite frequently I find myself crunching data to see just what a given set of numbers will show.
While doing my research for a commentary that I wrote recently about the many lineups used by Cubs manager, Joe Maddon, I uncovered an interesting statistical fact: "Of the 17 games in which the Cubs scored eight or more runs, eight were games in which Lester started, followed by Quintana (3), Chatwood (3), Hendricks (2), and Darvish (1)." (NOTE: After Tuesday's and Thursday's wins against the Dodgers, and another win Friday against the Twins, the Cubs now have 20 games with eight or more runs. Lester now has nine of those starts, Quintana now has four, and Montgomery joins the club with one.)
I began to wonder how the Cubs' offense responded, based on who started for the Cubs, regardless of the game outcome; again, the results proved interesting.
I started by making a spreadsheet, outlining each start with every starter. I then recorded the team's (not the pitcher's) record, based on which pitcher started the game. Next, I logged and tallied the Cubs' "runs-for" (RF) and "runs-against" (RA). Because Darvish has been on the DL twice, Chatwood on paternity leave, and because Montgomery only has six starts, I also took a per-game average of runs-for (ARF) and runs-against (ARA), so that the results wouldn't be skewed. Last, I also averaged the run differentials.
Here's how the numbers shook out:
Lester: Cubs are 13-3 (.813) when Lester starts, RF-100, RA-68, ARF-6.25, ARA-4.25, run differential +32, average run differential +2.
Hendricks: Cubs are 5-11 (.313) with Hendricks starting, RF-67, RA-66, ARF-4.19, ARA-4.13, run differential +1, average run differential .063.
Darvish: Cubs are 5-3 (.625) when Darvish starts, RF-31, RA-33, ARF-3.88, ARA-4.13, run differential (-2), average run differential (-0.13).
Quintana: Cubs are 10-6 (.625) when Quintana starts, RF-96, RA-65, ARF-6, ARA-4.1, run differential +31, average run differential +1.94.
Chatwood: Cubs are 6-8 (.429) when Chatwood starts, RF-61, RA-59, ARF-4.36, ARA-4.21, run differential +2, average run differential +0.14.
Montgomery: Cubs are 5-2 (.714) when Montgomery starts, RF-35, RA-18, ARF-5, ARA-2.57, run differential +17, average run differential +2.43.
Now, I don't know what in the world I'm supposed to do with all of that data, so let me see if I can draw some inferences…
Regarding the team's best W/L records based on the Cubs' starting pitcher, the order is Lester, Quintana/Darvish (proportionately identical records), Montgomery, Chatwood, and Hendricks.
* The team only has losing records with Hendricks or Chatwood starting.
* Collectively, the Cubs are 33-14 (.702) on days where Lester, Darvish, Quintana and Montgomery start.
* On days when either Hendricks or Chatwood start, the Cubs are 11-19 (.367).
* While the Cubs play .696 ball for Lester, they only play .492 ball (31-30) for all other string pitchers combined.
* The Cubs are almost 4x more likely to lose (3.67 times, to be exact) with a Hendricks start vs. a Lester start.
* Lester's RF is 100: combined, the remainder of the pitching staff has an RF of 290. This means that 34.48% of all runs scored by the Cubs occur on days in which Lester starts.
* On days when Lester starts, the run differential is +32. Combined, the other five starters have a run differential of +50.
* Statistically, Montgomery starts have the highest average run differential (2.43).
* Statistically, the Cubs' offense scores the least for Darvish (4.13 runs per game), and the most for Lester (6.25 runs per game).
Not that it will ever happen, but I'd be curious to ask the position players why they seem to hit better when Lester is the starter. I'd also be interested to know if Jon Lester is aware of just how much impact he seems to have on the team's offense.

Upgrade Your Account
Unlock premium boards and exclusive features (e.g. ad-free) by upgrading your account today.
Upgrade Now