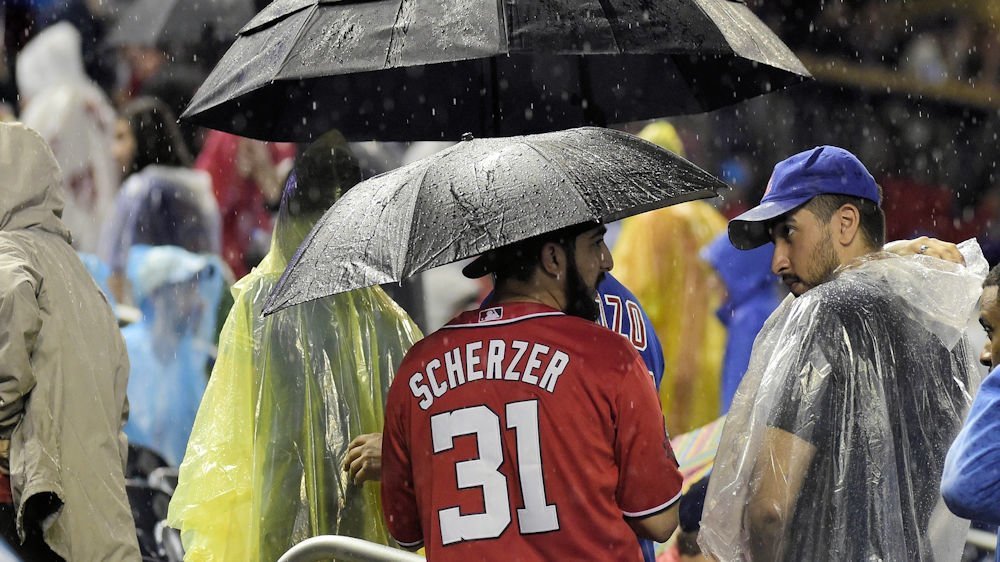 | | |
| --- | --- |
| Commentary: Rain, Rain, Go Away | |
---
| | | |
| --- | --- | --- |
| Saturday, September 8, 2018, 3:00 PM | | |
As the baseball season winds down, the last thing the Cubs needed last night was another game postponed by rain. This has been nothing short of a grueling rod trip for our boys in blue, and having to play a double-header today certainly isn't going to help matters.
On the bright side, the bullpen earned an extra day of rest, but that's about the only positive thing I can see arising from the delay. Jesse Chavez, Steve Cishek and the like have been working overtime lately, and odds were, that the Cubs would have had to have depended on Brian Duensing and Tyler Chatwood had the game proceeded last night- I'm not sure that would have been a good scenario.
While I appreciate MLB trying to get the game in last night, the umpires should have never allowed that game to start, based on the amount of rain that was still falling at the time the first pitch took place. They are not living in the stone-age, and they have access to weather radar just as we do. Even the infamous John Coleman could have predicted that forecast.
In this era of ultra-safety, I'm stunned that the player's union hasn't managed to quell games starting in inclement weather. In addition to risking torn ligaments and twisted ankles from guys slipping and sliding in the wet grass, you also risk batters being injured from errant pitches slipping out of the slippery hands of the pitchers.
MLB has had more than its fair share of injuries from uncontrolled pitches this year, resulting in everything from facial stitches to broken jaws and hands. Subjecting these guys to further potential harm from weather just makes no sense to me.
The fans that choose to buy those nice box seats near home plate and behind the dugouts may be the ones who are asking for trouble when these games begin (or continue) in the pouring rain. Being close to the action and seeing the players up close is a great experience, but nothing like the experience they'll receive when a bat comes flying through the netting after slipping out of a player's hands. While I'm sure the ticket stubs come with a legal disclaimer in about a size-three font, fans will inevitably rake in the bucks and freebies when Little Johnny buys a hot bat in the noggin, all because they had to get the game in.
Short of building domes or stadiums with retractable roofs in every city, I guess there is no safe way to get around playing in inclement weather. While I'm sure that the Cubs would love to play inside when the wind-chill is 35 degrees in early April, I couldn't imagine a place like Wrigley Field being covered by a roof.
Hang in there guys; the rain has got to end sometime.