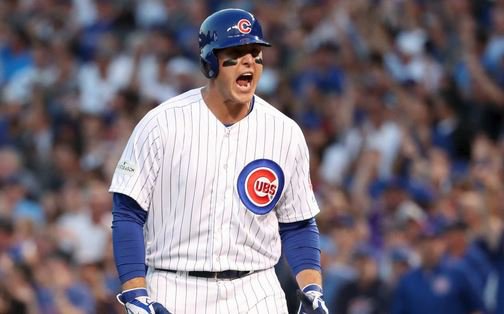 | | |
| --- | --- |
| Commentary: Rizzo should be named captain | |
---
The Chicago Cubs haven't had a team captain since 2004 when it was slugger Sammy Sosa. They really haven't needed one since, but if they were to pick one, it should be #44, Anthony Rizzo.
General manager Theo Epstein and Anthony Rizzo go way back, to the days Theo Epstein was the boss of the Boston Red Sox and he drafted Anthony Rizzo in 2007. Epstein eventually traded Rizzo to the San Diego Padres but kept his eye on him. It wasn't until 2012 as Epstein was the President of Baseball Operations of the Chicago Cubs did he trade for Anthony Rizzo.
From 2014-2016 Anthony Rizzo was the man! He was voted an All-Star from 2014-2016, he was in the top 4 for the National League MVP and he holds the record for being hit by pitches, which is 30, not something you really want to be known for, but it happened. He has won many awards and if I named them all, it still wouldn't make him a great captain.
Anthony Rizzo has made himself a valuable player to the Cubs for many reasons. He's a great defensive first baseman. He's a power hitter, hitting 32 HR, 109 RBI in both 2016 and 2017, with 583 AB in 2016 and only 572 in 2017. Last year his AVG was .273 and in 2016 it was .292. Those stats are pretty much identical for the years 2015 and 2014. So, I think the Cubs plan on keeping him for a little while at least through his relatively cheap contract through 2021.
In the meantime, Anthony Rizzo has become quite the fixture in the community, with the Anthony Rizzo Family Foundation, of which is run entirely by his family, close friends, and management. Anthony provides the leadership. The foundation, a non-profit 501(c)(3), benefits cancer research and the families fighting the disease and has donated over $4 million to Lurie Children's Hospital in Chicago. Why cancer? Well, it is very well known through the baseball community that Anthony Rizzo had limited stage Hodgkin's Lymphoma in 2008 and on November 18, 2008, was told he could lead a normal life, so in 2012, he created the Anthony Rizzo Family Foundation. In 2014, he received the Branch Rickey Award "as a strong role model for young people" and was the youngest player to ever receive it.
Last season, Rizzo also won the prestigious 2017 Roberto Clemente Award for being selected the top humanitarian in the major leagues.
Rizzo also takes time for the fans. It's not unusual for baseball players to take time and sign autographs, but Rizzo listens to them, especially if they are children. He gives his full attention to everyone. He's not perfect and not afraid to admit when he's made a mistake or having some off days. Anthony knows it takes a team effort to win a game; he isn't the player in the game that matters. He might try to boost the other player's mood or just hang with them. He's very wise for all his young years of 28.
He's just the kind of guy you want to be captain of the Chicago Cubs.