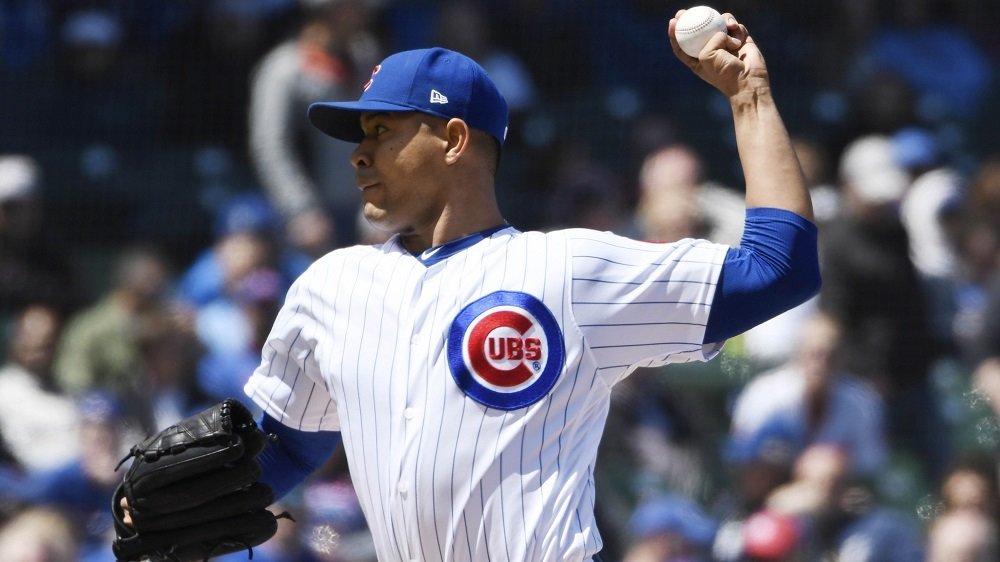 | | |
| --- | --- |
| Commentary: Should Cubs-Yankees discuss a Jose Quintana trade? | |
---
The big topic all offseason was about the Cubs, and they're attempt to get under the luxury tax. We have heard plenty of names come up in trade conversations with Kris Bryant and Willson Contreras as the primary focus, but nothing came from. Another name that was being tossed around a little bit was that of Jose Quintana as he is in the final year of his contract with the Cubs and is owed 11 million this season.
I get that the Cubs do need starting pitching, and considering what you get from Quintana, it is a good deal, but could the Cubs now move on from Quintana if the New York Yankees come calling? Let's be real before we get into this story too much. I want to say I could care less about the Yankee's and what they do, but considering what they are going through right now, this topic must be discussed.
Earlier this winter, the Yankees were dealt a massive blow to their rotation as the big lefty James Paxton had to undergo back surgery and will miss roughly three months this season. Now it appears as if the Yankees may suffer a blow, they may not be able to overcome as 25-year-old ace Luis Severino may be shut down for a while this spring after experiencing some pain in his arm this week.
Severino has dealt with forearm issues in the past, but this is still viewed as concerning. However, the pain he is experiencing now is around the elbow more so than his forearm, and the Yankees are starting to get worried that he may not be able to pitch through the pain much longer. Severino is expected to get looked at by both the team trainer and doctors alike, but right now, we cannot rule out surgery in his near future, which could sideline him for all of 2020 and part of 2021.
With Paxton already done for a few months and the possibility of not having Severino for at the bare minimum the first month plus, you can expect the Yankees to be digging into their pitching depth to help establish some rotational depth behind Gerrit Cole this season. With a roster that is clearly in World Series or bust mode, the Yankees may be forced to trade for the pitching pieces they need instead of counting on the depth in their system.
With that being said, it makes me wonder what type of pitcher the Bronx Bombers would be looking for and if they have the Cubs on their minds in hopes of reaching a deal for a guy like Quintana. Not only is he a lefty like Paxton was, but Quintana has been healthy his entire career and has been not only an innings eater but a solid option as your No. 4 or 5 starter.
The Cubs would love to keep Quintana hence why they picked up his option for this year. However, if their ultimate goal is still to get under the luxury tax this season unless you move Bryant or one of your higher-paid position players, there isn't much the Cubs can do unless they part with Quintana or Chatwood. Given the struggles Chatwood had a few years ago, Quintana seems like a very plausible option.
If the Yankees are that focused on win now and are worried about the health of their rotation, maybe a deal that would offer up some value to the Cubs while taking Quintana off their hands to get them under the tax wouldn't be a bad idea for the Cubs to at least entertain. Getting under the tax now would mean the Cubs wouldn't put themselves in a predicament during the season where they would have to decide to stay over the tax and limit their spending next year or sell off players even if competitive to get under the tax and add to the roster.
It isn't like getting rid of Quintana would hurt the Cubs from a depth standpoint as they have plenty of options to fill out the back of the rotation. As of now, the Cubs appear to have four pitchers battling it out for the No. 5 spot in the rotation, with Tyler Chatwood having the early lead. If Quintana gets moved, Chatwood moves into the NO. 4 spot solidifying his spot while it cuts down the final spot to just three.
Saturday's starter Alec Mills who is out of options, will be on this roster in some capacity this season and would undoubtedly be a candidate for the No. 5 spot if Quintana is gone. No. 2 pitching prospect Adbert Alzolay who is scheduled to start Monday, is also an option for that final spot and will be given a chance to earn it this spring.
Let's not forget about the PCL pitcher of the year in Colin Rea, who elected to stay with the Cubs in Iowa this season, but will too have a chance to compete for the final rotation spot this spring. Add in Jharel Cotton, and the Cubs have options.
None of these options would be as good as Quintana, but the Cubs have depth, and many more choices than the Yankees do at this point, so I am sure the teams could work something out to benefit each side long term. After all, five pitchers battling it out for two spots wouldn't be the worst thing in the world for the Cubs as they know they could use each one if needed.

Upgrade Your Account
Unlock premium boards and exclusive features (e.g. ad-free) by upgrading your account today.
Upgrade Now