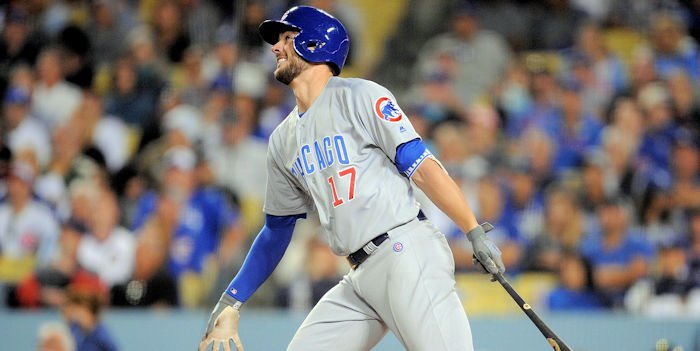 | | |
| --- | --- |
| Commentary: So much for loyalty | |
---
The Cubs are reported to have offered Kris Bryant "well north of $200M" in a pre-arbitration negotiation, and KB and his agent, Scott Boras, were reported to have refused it.
I think before anyone can say whether this was either a smart or a dumb move by the Bryant camp, a lot more would need to be known. If the Cubs indeed offered Bryant $200M for three years, he'd be a fool not to accept, while the same money for 20 years (relax, that's called hyperbole) wouldn't be such a great deal. Still, even if a player could last so long, $200M isn't exactly chump change.
I found it somewhat interesting that this story broke at the same time that there were social media posts by Bryce Harper, stating that the San Francisco Giants may now have a shot at him. Interesting, when you consider the friendship that exists between Harper and Bryant. While I'm not entertaining thoughts of the duo going to San Francisco to play together for the Giants, Bryant's willingness to part ways with Chicago might influence Harper's decision about whether or not to sign with them. As of today, the Cubs are still Vegas' best odds to land the slugging right fielder.
I kind of laugh when readers question my loyalty to the Cubs when I predict trades or suggest that certain players may need to go, but there isn't a ton of loyalty on the player's behalf either anymore, as money dominates the concept of loyalty. I respect guys like Jesse Chavez who would rather retire than to leave the team they love, and Jesse has only been there for less than three months.
While there's certainly nothing wrong with getting the most you can get for your talent, I think some of these guys have forgotten their roots and are willing to turn their backs on their teammates and their fans while in search of the almighty dollar.
When KB (and others) set out on the course to make baseball a career, I dare say the initial objective was to be that one-in-a-million guy who got the chance. Of course, money was always a consideration, but with all of three seasons in the books, you'd expect a little more loyalty to the team that gave you that chance. After all, it isn't like the Cubs are some sub-par team who wins 60 games a year, as indicated by the World Series ring on Bryant's finger, but somehow those keepsakes now seem to be the carrots, dangled in front of other teams' noses, as a measure of why KB (or other players) deserve more.
With MLB attendance down in most cities, teams can't sustain these exorbitant salaries or the greed that comes with them. If the Cubs offered that money over seven years, what will Bryant think his worth will be in a few more excellent years? I'm not suggesting for a moment that these guys don't deserve fair and equitable raises, assuming their performances are worthy, but the days of players rejecting (or teams offering) this kind of money have got to end at some point.
Dexter Fowler chose greed over loyalty this year, and he seemed none too happy with the outcome. Although better under the direction of Mike Shildt, Fowler's life seemed like a living hell with Matheny at the helm, which just goes to show you, money doesn't always buy happiness.
While I'd like to see Bryant remain a Cub, for now, I'm beginning to have doubts as to what his future with the team may be. You've all questioned my thoughts about breaking up the core, but few have questioned the players' willingness to do the same. If Bryant is truly unhappy in Chicago, or unwilling to play for what, on the surface, seems to be a lucrative deal, then I say let him go, there'll be others.