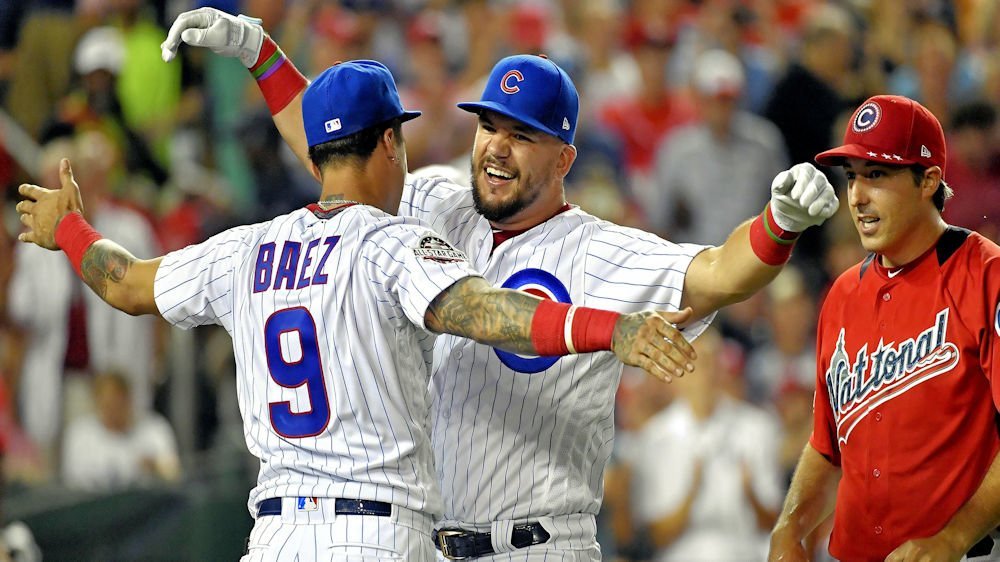 | | |
| --- | --- |
| Commentary: Stop with the Schwarber got robbed nonsense | |
---
| | | |
| --- | --- | --- |
| Tuesday, July 17, 2018, 2:06 PM | | |
I have been a Cubs fan for as long as I can remember and that is at least since 1957 so please don't take this as an outsider offering counsel to other Cubs fans.
You need to get over the All-Star Game Home Run Derby results from last night.
I am embarrassed by the vitriol and hand-wringing of Cubs fans online claiming cheating by Bryce Harper's father and collusion by MLB to ensure Harper won and anyone else lost. The fact he beat Kyle Schwarber has Cubs fans in apoplexy over this result.
The pointless exhibition means nothing. I wish the Cubs didn't have anyone involved in this, to begin with, and especially the two guys they selected who have enough trouble laying off pitches as it is without going all King Kong for two weeks after the second half starts.
So r we just ignoring the fact the Bryce Harper & his dad cheated & did not follow the rules of the #HomeRunDerby ? The previous hit ball must hit the ground before the next ball can be thrown to the batter. Harper needs 4 Home Runs taken away, video evidence. #Justice4Schwarber pic.twitter.com/u0B5FPAlfV

— Franchise ??KLiQ?? (@FranchiseKicks) July 17, 2018
We need to keep everything in perspective. The Cubs are still in first place in the Central division with 2.5 games. Milwaukee is reeling right now and the Cubs need to step on their throats and start running away with this division.
The Cubs still have the best record in the National League and you want them to keep that going just in case Boston or Houston gets whacked in the opening rounds. Wouldn't it be nice to win the World Series at home?
Wasting time, energy, and angst on a meaningless home run derby is not the best use of your time. You will need all of the above to bring home a World Series appearance by our beloved. And if writer Ken Allison is right in his appraisal of Yu Darvish elbow injury then starting pitching is a bigger worry than Schwarber losing to Harper in the derby.
So sit back and enjoy another exhibition tonight and for god sakes stop with the Schwarber got robbed nonsense.